When people assume Mindie Kniss can't be satisfied by husband Sean Stephenson, she is keen to set the record straight
When Mindie Kniss received a message on Facebook questioning her sex life with her husband, it hit a nerve.
As a motivational speaker, used to addressing huge audiences of business people, it takes a lot to rattle the 36-year-old from Arizona, USA. But this was very different – this stranger wanted to know if Mindie had sex with other men to satisfy her needs, because her husband, Sean Stephenson, is only 2ft 8in tall.
"I had to set the record straight," says Mindie. "Just because Sean's disabled doesn't mean we don't have an awesome sex life.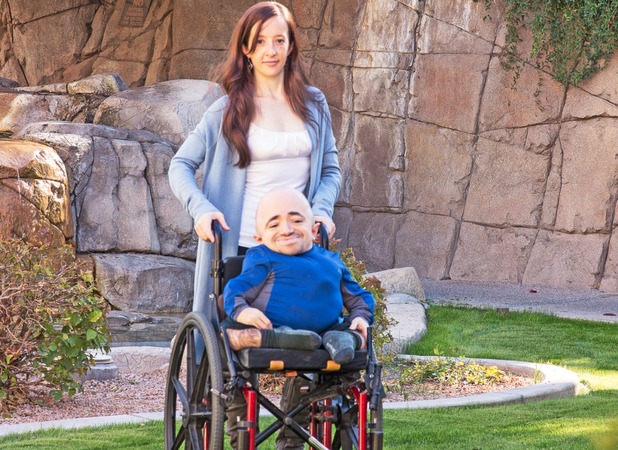 "People make a lot of assumptions when they see me walking beside a man in a wheelchair. They jump to the conclusion that I'm his sister or carer. Then they'll see us hold hands or kiss and you can see the confusion on their faces. It can be really frustrating."
Sean, 35, was born with osteogenesis imperfecta – also known as brittle bone disease – an incurable condition which means his bones are prone to fracture. By the age of 18, he'd suffered over 200 fractures, including his legs, arms, neck, collarbone, ankle, femur and nose. His worst accident occurred in July last year when he fell from his wheelchair while walking his dog, breaking his skull, ankle, kneecap, thigh and hipbone, and he spent two months recovering.
Though he stands at just a little over 33in, Sean refused to let that stop him pursuing Mindie when they were introduced via a mutual Facebook friend in 2009.
Mindie, who lived in Oregon at the time, kept hearing how Sean had made quite a name for himself on the motivational speaking circuit. She remembers: "I was at an event when one of the speakers mentioned Sean – this guy who was three feet tall but living large. He said that Sean had spoken on stage with the Dalai Lama and Bill Clinton. I was intrigued!"
So when Mindie visited Chicago in December 2009, she messaged Sean and asked if he'd like to meet for coffee. As far as she was concerned, it was strictly business – but Sean had other ideas.
"Sean was such a flirt!" laughs Mindie. "He replied: 'I would never say no to coffee with a cute girl,' and I was taken aback because I was newly single and dating was the last thing on my mind."
At their meeting, Sean was charming and interesting and the pair kissed goodbye. Mindie says: 'I was left thinking, "This guy is such a playboy!"'
But over the next few months, their friendship developed into much more and when Mindie visited Sean the following April, the couple spent a weekend in a hotel and became intimate for the first time.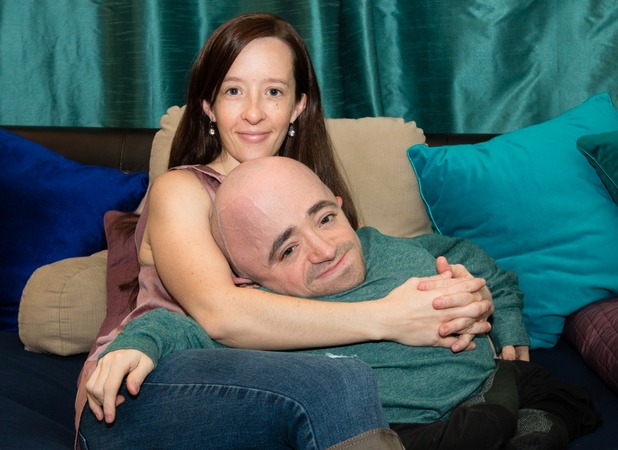 Mindie says: "It was different to having sex with an averaged-size person, of course, but it wasn't a problem at all. There aren't any limits when it comes to sex – there's no position Sean can't manage and I don't have to be extra careful. We have a lot of fun and we're completely fulfilled."
Mindie's feelings for Sean were so strong, she moved to Chicago to give their relationship a chance to grow. Within a year she was ready to make things more permanent. "I'd never planned to marry before, but I could see myself with Sean. Our relationship was not at all what I expected but everything I wanted."
So Mindie was thrilled when Sean proposed on stage in front of an audience of 100 that included family and friends. Shortly before the pair married on 14 September 2012, they moved to Arizona and modified their home to meet Sean's needs.
"Arizona is really flat, which makes life easier for Sean in his wheelchair," Mindie says.
"We've created a gym area where he lifts weights to build his strength. And we've put water dispensers in the kitchen and bathroom as he can't reach the sinks. But there's very little Sean needs help with – just getting in and out of the car, and showering. And he says he makes the showering part up just so he can come in with me! Otherwise, he's fiercely independent."
In their four years together, Mindie has had to adjust to the attention the couple receive. 'It's mostly kids who giggle and point – some parents make them apologise, while others don't know how to react.
"Our online followers can be more intrusive, asking what it's like to date someone in a wheelchair. But the most insulting message came last October, when one woman asked if Sean allows me to cheat on him. She also wanted to know if I was with Sean because he has lots of money, or if I was after the life insurance.
"Sean is better at brushing these things off than me – he's had to do it his whole life. But I couldn't ignore it. So I told her straight – we have a fantastic sex life, bigger and better than most couples we know. He is the only man I need.
"We all have challenges – it's just that my husband's are visible. There are people I've dated in the past who have internal issues that are harder to deal with.
"Life with Sean is an exciting adventure, in our business life and our personal life. I can't wait for whatever comes next."
Samantha Grillo & Su Karney
Reveal is now on Google Plus! Join us here for the latest pictures, fashion and celebrity news!