These three little cuties defied all the odds to be here this Christmas"My unborn baby had a one per cent chance of surviving"Katy Evans, 35, from Hertfordshire, says:
"This Christmas couldn't be any more different to last year. This year, I can't wait to celebrate with my family but last December, I was pregnant and had no idea whether my baby would get a chance at life, let alone see their first Christmas.
I fell pregnant in May 2013 and my husband, Rich, 35, and I were delighted to be having a sibling for our three-year-old daughter, Amber. But from the start, things didn't go smoothly. I suffered bleeding in the first few weeks and couldn't relax until the 12-week scan.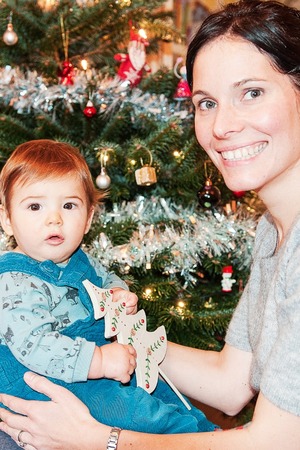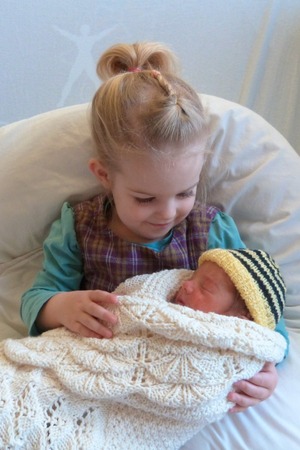 Just four weeks later, my waters broke at home. I didn't even know that was possible but when I looked it up online, I realised just how dangerous it was and my mum rushed me straight to A&E.
Once there, I was diagnosed with Preterm Prelabour Rupture of Membranes (PPROM), a rare condition that caused amniotic fluid to drain from my womb. Nearly all of the precious liquid which keeps the baby safe had drained away.
We were warned that our unborn child had less than a one per cent chance of survival. Even if he or she made it, they may not have developed correctly or survive long after birth.
And there was an added risk of me developing a womb infection.
I was kept in hospital and given antibiotics and tried to come to terms with the fact that I was going to lose my baby. But as I researched my condition online, I read about women whose children had survived. Maybe my baby had a fighting chance after all.
Two days later, when I hadn't miscarried, a consultant came to ask if I wanted a termination. I'd read that women with PPROM were usually asked this, so I had my answer prepared. No. I'd felt my baby fluttering inside me. I wasn't giving up.
I was discharged with instructions to avoid potential infection risks, such as having a bath or going swimming.
It was nerve-racking but as the days crept by, I still didn't miscarry. After two weeks, I returned to hospital for a scan. That's when we discovered the unbelievable had occurred.
My waters had replenished in my womb. The rupture had healed itself. Having never seen anything like it before, the doctors were as stunned as we were. I finally allowed myself to cry. It felt like an absolute miracle.
We were warned there was no way to know how our baby might have been affected and that my waters could break again at any point, which they did just before I hit 34 weeks.
But our son Leo was born healthy, weighing 4lb 13oz on 7 January. He spent 24 hours in an incubator and was allowed home after just five days.
Now he's 11 months old and crawling and laughing just like any other baby his age. So we're extra-excited for Christmas this year. We're having a family party on Boxing Day – because with Leo here, we really do have something to celebrate."
"Doctors offered me an abortion daily"Lisa Davison, 40, from Wallsend, says:
"I was 39 when I fell pregnant with my son, Danny. At first, I suspected the nausea and missed periods were signs of early menopause. After all, I already had two grown-up children – Ross, 21, and Beth, 18.
So when I found out I was nine weeks gone, I was shocked. My partner Darren, 43, and I had been together for 10 years and had never discussed having children. But when I imagined becoming a mother for the third time, I couldn't help but feel excited.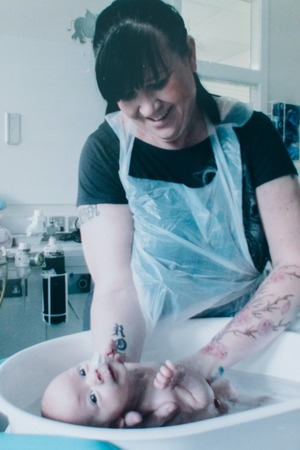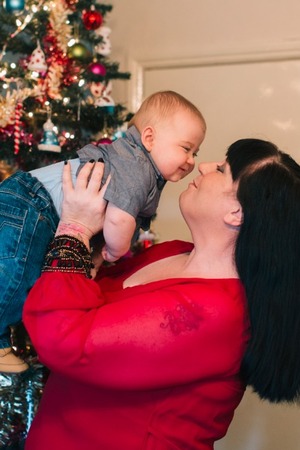 So when I started bleeding just a few weeks later,
I was terrified. I called an ambulance but doctors confirmed I hadn't miscarried and I was allowed home.
Three weeks later, I woke up covered in blood. I was convinced I was losing my baby but doctors told me I was losing blood clots. I was beside myself with worry.
Doctors carried out some tests and found a whole host of problems. There was a blood clot in my womb so big it dwarfed my baby, my amniotic sac had detached itself from the womb wall and my placenta wasn't where it should be.
I was still losing pints of blood when the consultant took me into a quiet room and offered me an abortion. 'This baby is very unlikely to survive and you're putting yourself at risk too,' he told me. 'You could die if you carry on.'
I knew I couldn't terminate my pregnancy. I would do everything I could to bring my baby into the world safely.
For three months, I remained in hospital and was offered an abortion every day. Medics even tried to discuss funeral arrangements with me. But I refused to listen. Every day, my baby was growing stronger.
At Christmas last year, the bleeding slowed down enough for me to go home and when I returned to the hospital for tests in the new year, I was blown away.
My placenta had moved back to the right position, the blood clot had disintegrated and the amniotic sac had reattached itself. The shocked consultant even called for someone to confirm it. I was absolutely delighted.
On 10 March, my waters broke at 33 weeks and Danny was born via an emergency Caesarean three days later. His tiny body was blue and unresponsive. He needed to go on breathing apparatus straight away.
For the first time, I thought maybe the doctors had been right. Maybe it would have been kinder to let him go than face all of this suffering.
At six days old, his bowels failed from a condition called necrotising enterocolitis (NEC) and he had surgery to fit him with a colostomy bag.
But Danny refused to give up. Although he needed to be resuscitated, received blood transfusions and has undergone surgery since, he's made it through.
Now, he's a healthy weight for a nine-month-old and hitting all the milestones. He's a born fighter."
"I went through the menopause at 17"Rachel Merchant, 37, from Derby, says:
"It sounds like a cliché, but it was the pivotal moment that changed my life forever. Not for a single second had I ever thought that I would become a mum. So as I stared in amazement at the positive pregnancy test, I was the happiest woman alive.
Stunned, I called my partner John Gatt, 36, and told him his biggest wish had come true – we were going to have a baby.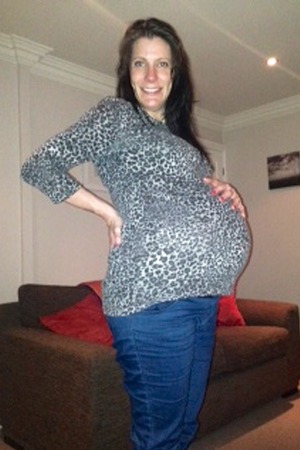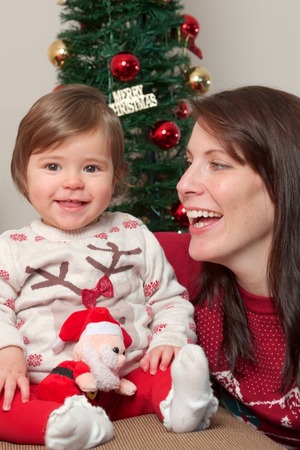 It felt nothing short of miraculous. Because at 17 I went through the menopause, decades before I should have. Doctors said I wouldn't ovulate or produce eggs, I'd never conceive and was prescribed hormone replacement therapy (HRT).
At the time, I convinced myself it was OK. When a friend fell pregnant in her early twenties and had to forsake nights out and girlie trips away, I told myself that I was the lucky one – I had my freedom.
But when my sister had her first baby, I couldn't help but feel envious, as I watched the unique and precious bond she had with her son.
Four years ago, I met John, a self-employed plumber. He could see it was beginning to get to me that I'd never fall pregnant and started doing some research. We went back and forth to my GP and then tracked down a specialist at London's Chelsea and Westminster Hospital, who agreed to see me in June 2013.
After nearly 20 years, she recommended I came off HRT to see what happened. And for the first time in my life I began having regular periods! Tests showed I was ovulating too.
Then six months later, in March last year, I realised my period was six days late. With a heavy heart I assumed my body was simply reverting back to its old ways. I only bought a pregnancy test to rule everything out before I rang my doctor.
Those two blue lines left John and me in a state of shock for days. And the specialist was just as baffled. She couldn't explain what had happened – it went against the years of research she had conducted into the condition.
Although I was nervous throughout my pregnancy, I was also unbelievably excited. For years I'd convinced myself it must be awful to feel sick, tired and hormonal but I loved every minute of it.
Then the icing on the cake came five days before Christmas last year, when I gave birth to our 9lb 6oz daughter. We named her Holly – it seemed so appropriate. She was the best Christmas present we could have ever wished for.
I gave up my job in recruitment and dedicated myself to becoming a full-time mum. Then just a week after I turned 37 in August this year, we discovered I was pregnant again. I'm due in May next year.
So this year, as we watch Holly tear open her presents and play with her new toys, we will have to pinch ourselves to remind us that she is really here."
Reveal is now on Google Plus! Join us here for the latest pictures, fashion and celebrity news!