In the UK, there's been a huge rise in the number of married women signing up to infidelity websites to hook up with married men for sex. Three women reveal what drove them to cheat on their husbands…
With one in seven divorces caused by adultery, it's not that unusual to hear that a couple are separating because one of them has been unfaithful. And with every advance in technology, the ways to be cheat seem to get easier and more plentiful.
But worryingly, this trend is growing. Adultery websites such as Illicit Encounters and Ashley Madison market themselves as extra-marital dating sites for people who want to have discreet affairs. And in the UK, Ashley Madison recently hit the one million member mark.
Perhaps most shocking of all is that the site has reported a huge surge in female members, up 51.2 per cent in the past year. So, what's happening?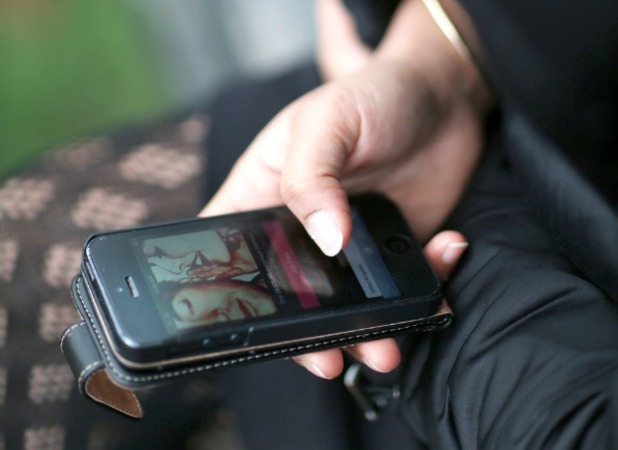 "For me, infidelity sites are a means to an end," says married mum-of-three Emma*. "I don't want to leave my husband, but I'm frustrated at how bored I feel in my marriage. I can't waste the rest of my life feeling dissatisfied. I want to have amazing sex before I get too old. I don't feel guilty about cheating on my husband – if anything, we're getting on better as I'm happier than before."
Emma, who is nearly 40, signed up to ashleymadison.com this summer, and was immediately inundated with erotic messages. She says: "It was a real eye-opener. Lots of them sent pictures of their penises saying 'get in touch if you like what you see'. One man said he wanted to suspend me by my ankles while he did all sorts of filthy things to me!"
Emma hooked up with a man in his mid-thirties. "Like me, he evidently worked out at the gym. It may sound shallow, but if I'm going to cheat on my husband then I want it to be with someone with a good body. I've got a podgy husband sitting at home, so I didn't want more of that," she admits.
Emma met the man in a hotel where they had sex. "It was amazing," she says. "We'd agreed that if the chemistry wasn't there we could back out, but I didn't hesitate – I'll definitely meet him again."
Deepali* is also a member of ashleymadison.com. Married for less than a year, and with a newborn baby, she discovered her husband had slept with more than 30 prostitutes. "I was devastated," she says. "Our marriage was struggling, but it never occurred to me he'd do something so awful."
Deepali kicked her husband out, but her confidence was at an all-time low.
"I'd gone from being a size 8 bride to a size 14 mum, and my husband had made me feel undesirable. I needed to feel like a woman again."
After going online, she met a man in an equally unhappy marriage for sex. "He didn't care about my size," she says. "It made me feel desirable and gave me the confidence to tackle my marriage. I told my husband he could move back in, but only if he agreed to see a therapist and attend a weekly sex addicts meeting."
However, not all affairs end so well. Sarah*, a mother-of-two in her early thirties, has been using infidelity sites for the last two years. Married to a man 20 years older than her, she craves affection. "I still have sex with my husband, but he never holds my hand or cuddles me," she says. "I'm desperate for intimacy, but he's just not interested. I know I should probably leave him, but I don't want to put my children through a divorce – so this feels like the only option."
After three 'intense' affairs, Sarah was shocked to discover she'd fallen for her last lover. "He was everything I was looking for," Sarah remembers. "The sex was amazing and it was the closest I've come to falling in love with anyone – it made me realise I've never felt that way with my husband, which is so sad."
But after six months she got an email from him ending their relationship out of the blue. "I was devastated. He said he wanted to give his marriage another chance. I couldn't believe he'd end it like that – not even a phone call. It felt so cold and clinical."
Sarah never heard from him again, and admits the pain is proving tough to get over. "I still miss him," she says. "I'm not happy with myself for doing this. I never thought I'd be the type of person who would cheat. I question why I'm doing this."
Sarah believes part of the problem is that the infidelity sites bombard their users with messages. "I'll decide to stop having affairs, but then I'm lured back in with an email saying my profile has been getting lots of attention.
"It's difficult to resist the temptation."
And the message is hard to miss. Ashley Madison celebrated their recent success with a billboard advert, while Illicit Encounters has launched their own range of 'mistress' greetings cards that boast slogans such as: "My husband is lazy, his hair is grey. We haven't had sex in so long, he may as well be gay."
Within three weeks of launching, 5,000 had been sold and the manufacturers are now in talks with several major high street retailers.
Meanwhile, Sarah is hanging onto the hope that she'll find the intimacy she's so desperately craving.
"I'd like to think that might be with my husband, but until then I'll keep going online," she says. "I've just started seeing a new man, so who knows what might happen. It'd be nice to find love one day."
By Suzie Dalton
CHEATING: ALL SECRETS & LIES
Counsellor and psychotherapist Pat Bennaceur says having an affair is likely to cause long-term damage: "You may experience feelings ranging from guilt to blame, causing you to cold shoulder your existing partner," she says. "And powerful feelings of love, attachment or even obsession might develop for the new lover. Either way, secrets and lies can be very unsettling to the relationship, creating insecurity, anxiety and loss of confidence."