Let's face it, with the Christmas season upon us, most of us are likely to be suffering from a hangover or two over the next few weeks.
Everyone has a different cure for getting rid of that "morning after the night before" feeling - bacon sandwiches, pints of coke, even chocolate bars.
But forget slouching around on the sofa, watching
Keeping Up With The Kardashians
reruns and gorging on junk food. Apparently, exercise is the best way to blast that headache and queasiness away!
Fitness First has looked into ways that we can kick the dreaded feeling and unfortunately, it doesn't involve staying in bed with a fry-up. Boo!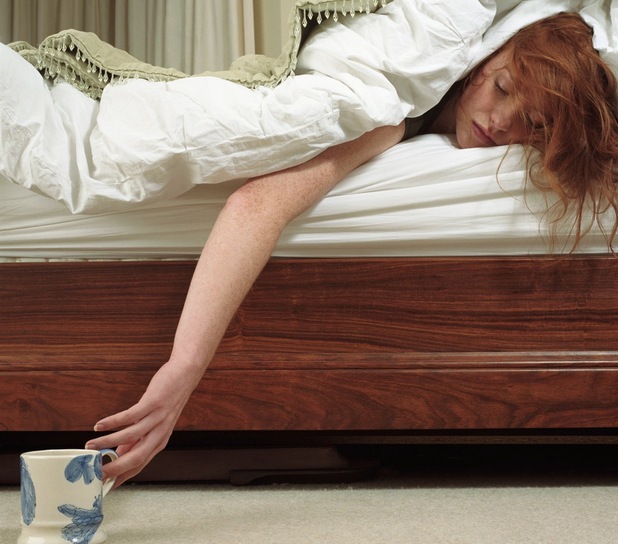 Charlie Banfield from the gym chain explains: "Both yoga and rowing can be especially benefical when trying to overcome a hangover. Yoga is known to get rid of toxins, improve circulation and aid the digestion process and both yoga and rowing increase blood flow – rebuilding energy levels worn down by heavy drinking and poor sleep, so that every part of the body feels oxygenated and rejuvenated."
But if you do find yourself hitting the gym, she warns that making sure you're hydrated is an absolute must.
She said: "As alcohol is a diuretic, your kidneys produce too much urine which leads to dehydration. If your body is dehydrated you won't be able to clear out the lactic acid you produce when you exercise.
"This is because your liver will be working harder to remove the toxic by-products of alcohol instead of converting glucose for the energy you need to exercise."
The fitness expert added: "Therefore rehydration after a heavy drinking session is vital not only to help remove toxins but also to maintain the blood flow through your body, which is essential for circulating oxygen and nutrients to your muscles when exercising."
We'd love to think we'll be reaching for our trainers after a vino (or four) but somehow, we doubt we'll be following our own advice on this one!
Reveal is now on Google Plus! Join us here for the latest pictures, fashion and celebrity news!