Melinda and Dani Phoenix couldn't be any happier that they've both given birth to beautiful babies – fathered by the husband they share...
On 6 September, Melinda Phoenix was overjoyed to welcome her first son Oliver into the world. But it wasn't just her husband Jonathan Stein, 32, who shared her joy. Incredibly, their heavily pregnant wife Dani was beside them to witness the birth too.
And just five weeks later it was Melinda who held 30-year-old Dani's hand when she gave birth to Jonathan's second baby in the space of a month, a beautiful daughter called Ella Lynn.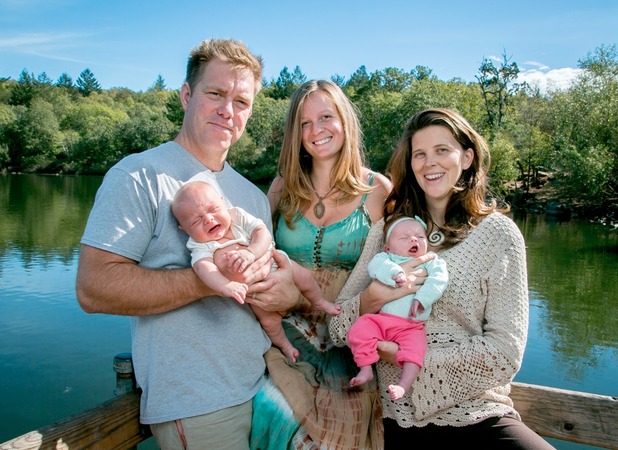 For in this unconventional family from Sonoma, California, there are two wives, two newborn babies and just one husband who all live under the same roof – and share the same bed. The trio believe in polyamory, a lifestyle that practices having more than one partner.
"It might seem strange, but to us it makes perfect sense," says Melinda, 28. "We all love each other and it was our dream to fall pregnant at the same time. We consider ourselves lucky – there's three of us to share the night shifts, Dani and I breastfeed each other's babies and we even split the housework three ways."
Until Melinda met Dani Stinson in 2008, she'd only been in monogamous relationships with men, whereas Dani enjoyed relationships with men and women. But after meeting at a festival, the women knew they were destined to spend their lives together.
On 26 June 2010, they tied the knot in a commitment ceremony on the beach and Dani changed her surname to Phoenix by deed poll. But one year later, despite being desperately in love, Melinda confided to Dani that she didn't just want a wife – she wanted a husband too.
Dani says: "When Melinda first told me she was missing a man in her life, I thought: 'Why am I not enough?' But the more we spoke about it, the more I realised there could be huge advantages to having three of us in our marriage. The hard part was finding a man we could both fall in love with."
Miraculously, the girls didn't have to wait long, when they met Jonathan after enrolling on a building class in 2012. Jonathan, who owns a construction company, says: "When I met the girls I'd just come out of a relationship with my long-term girlfriend. I knew they were married and had no idea they were interested in me.
"But they wrote me a letter and revealed what they wanted. I didn't know what to do. I fancied them both but I had to think long and hard whether I was capable of loving them both. While men might fantasise about such a situation, in reality it is double the responsibility."
To explore their feelings, the threesome went on a road trip for a week. "Something just clicked," says Jonathan. "I'd never heard of polyamory but the more I spent time with Dani and Melinda, the more I fell in love."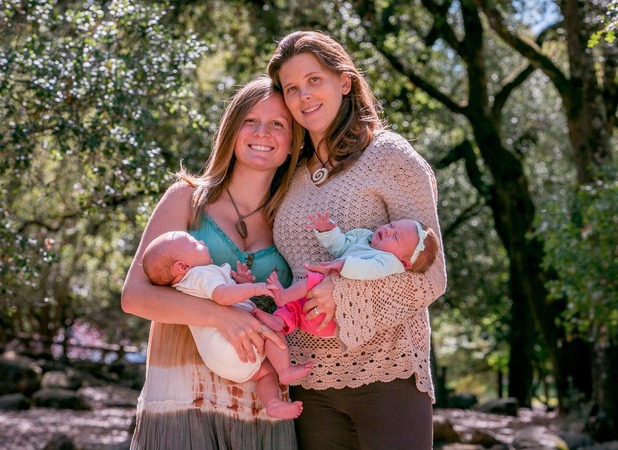 While Jonathan's mum Sandy was supportive, others had a harder time accepting it. Melinda, who's studying Chinese medicine, says: "When we told my mum, she thought we were crazy. Dani's family had a hard time accepting it too. Some of Jonathan's friends thought it was about kinky sex."
As their relationship progressed, the trio also had to overcome their own feelings of jealousy. Dani says: "At times it has been hard to adapt. For me, just being with Melinda was enough, so to see her fall in love with Jonathan was tough.
"But I began to realise I could love him too. And over time, it got easier. There are moments when I want Melinda to myself, but now there are also moments when I feel just as strongly about Jonathan.
"Sex-wise, it works perfectly. Melinda has a higher sex drive, so she satisfies that with Jonathan."
By the end of 2013, Melinda, Dani and Jonathan lived together and began making plans to start a family. Melinda says: "We shared a bed, so we just made sure we timed things correctly. I found out I was pregnant on 14 January and two weeks later we found out Dani was expecting too."
On 1 July 2014 the trio got "married" in a park near their home. While not legally binding, the family hope one day it will be. "Sandy gave us away and as Dani and I stood with our blossoming bellies, it was the perfect day, full of love and laughter," says Melinda.
Both Melinda and Dani had water births with Jonathan and Sandy present, and it was all captured on camera for their web series, Looks Like Love To Me.
Today, just weeks after bringing baby Ella Lynn home, they are reaping the benefits of being a polyamorous family. Dani, who is studying sign language, says: "This week I breastfed Oliver for the first time. It gave Melinda a break and time alone with Jonathan and gave me an invaluable chance to bond with Oliver, who I consider to be my son."
The happy family are not concerned about what anyone else thinks and would even consider taking in more lovers. "People sometimes ask us, 'Aren't you worried about the kids getting bullied?'" says Melinda. "But we've agreed that when Oliver and Ella Lynn are old enough we'll explain our situation to them and face together any hurdles they encounter.
"Thankfully we live in a community that's pretty liberal and over time we hope families like ours will not be in a minority. We think having two mums and one dad is the perfect way to raise a child, in a home full of love."
By Georgina Bisval
Reveal is now on Google Plus! Join us here for the latest pictures, fashion and celebrity news!