If you're scared of heights, you might want to look away now!
Because American acrobat and daredevil Nik Wallenda has been snapped walking across a 500ft tightrope - blindfolded!
And if that's not daring enough, he did the whole thing without a safety net or harness, managing to break two world records. What a brave man!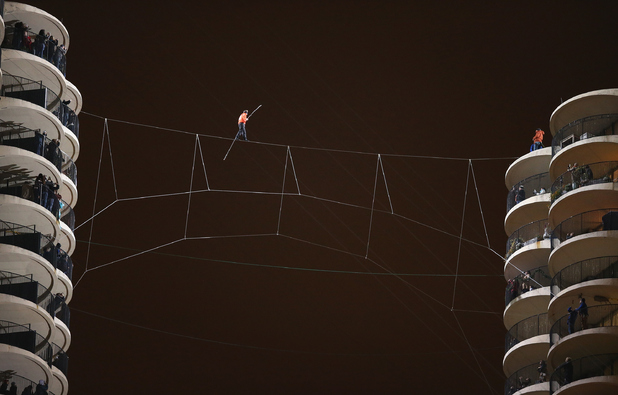 The 35-year-old made his way between two skyscrapers in Chicago on a windy night, while onlookers gazed on from below.
He first walked up a wire that was held at a super-steep 19-degree incline between the two Marina City towers. He was then blindfolded to make his way across the final piece of rope.
The scary scenes were shown on live TV but producers broadcast it with a 10-second delay in case he fell.
Luckily, he made it to the other side safe and well, meaning he'd completed the highest incline tightrope walk and the highest blindfolded tightrope walk.
Afterwards he simply said, "I feel incredible."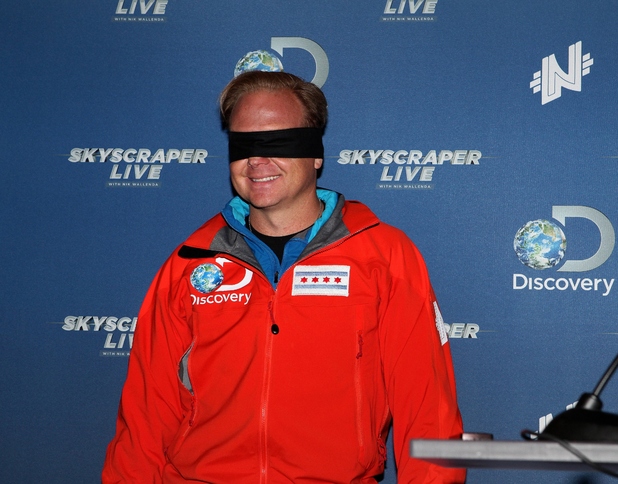 Nik is no stranger to dangerous challenges and is a member of the world-famous Flying Wallendas circus, who are renowned for their daredevil acts. He even wire-walked over Niagara Falls in 2012.
The courageous chap is already planning his next act – to recreate a 1,200ft walk over a gorge that was first made famous by his great-grandfather Karl Wallenda.
We can't decide if he's brave or silly but he's definitely impressive!
Reveal is now on Google Plus! Join us here for the latest pictures, fashion and celebrity news!