Rebekah Shelton tells us exclusively of her transition from Big Brother's Rodrigo Lopes to the woman she has fought so long to become...
When Rebekah Shelton posted her picture on Twitter earlier this month, it became headline news. The long blonde hair, black dress, smouldering eyes and kilowatt smile caused a few jaws to drop – because Rebekah was formerly Rodrigo Lopes, the Brazilian student who appeared in series 10 of Big Brother in 2009.
But behind her beaming smile lies the pain of becoming Rebekah, which the 29-year-old says she has only got through with messages of support from the UK.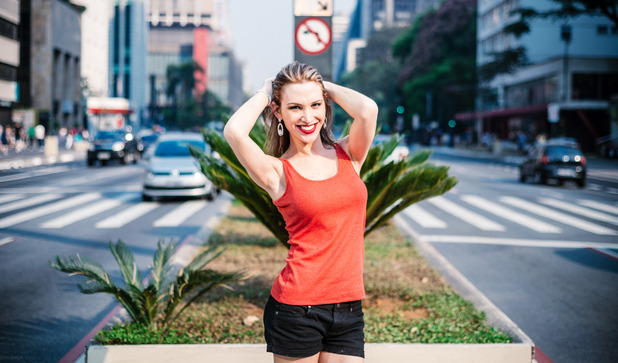 Rebekah, who is living with her parents in São Paulo, underwent full gender reassignment surgery in July, while continuing to battle against prejudice and her own doubts and insecurities.
"This has been a very lonely journey," says Rebekah. "Here in Brazil, people discriminate against transsexuals. My own family have struggled to accept my decisions. But to me, everyone is equal.
"When I receive messages of support, it keeps me going. Those messages are priceless to me, more valuable than any clothes or jewellery, so I can feel loved.
"I've spent all my life feeling different to others, feeling that my body was wrong. Now I am finally a woman but a sex change doesn't make you happy overnight. It has been hard to say goodbye to Rodrigo."
When Rebekah first came to the UK on a six-month study programme as 17-year-old Rodrigo in 2003, she lived with Jen and Peter Shelton – who inspired her new surname – in Huddersfield. "Back then, I liked guys but I knew I wasn't gay. I'd ask myself: 'What am I?'
"When I had to return to Brazil I was deeply unhappy and had a problem with drugs for six months.
"My parents got me into rehab and then I moved back to the UK. Jen and Peter became my second family."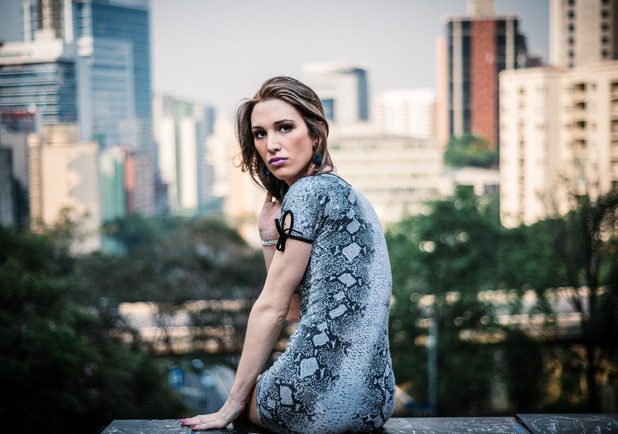 It was while studying for a degree in TV production that Rodrigo auditioned for Big Brother and entered the house in June 2009. "When I walked through the crowd, people were smiling at me, they knew my name. I still remember that feeling now. My whole life I had to fight to be accepted but through Big Brother, people liked me for who I was.
"After the show, people recognised me in the street and everyone wanted to be my friend. I used to be so shy but now I had confidence. Gay clubs weren't for me, so I tried going to straight clubs and felt I was more similar to the girls.
"Gradually I started dressing more feminine, first jeans with heels, then mascara. I bought my first wig that December and started calling myself Rebekah. When I got attention from guys, it made me really happy. Though sometimes girls would run over, calling me Rodrigo and spoil my chances!"
In October 2012, unknown to anyone, Rebekah began taking hormones to start her transition. "I looked very strange – half boy, half girl. My hair was growing and I dressed in women's clothing. No one would give me a job and some people I thought were good friends turned their backs on me. From being on top after Big Brother, I realised I'd lost everything."
Depressed, she went back to Brazil in hope of help. Instead, she ended up homeless and hitting rock bottom, turning to prostitution for four months. "That is the worst shame I felt in my whole life. It was disgusting, degrading. I was badly beaten and felt like trash."
Finally, Rebekah was rescued by her family and she made the decision to have gender reassignment surgery. On the morning of 30 July this year, she took her last shower as a man before going under the knife. "If I close my eyes, I can still remember the feel of the water. It was a very emotional moment for me, saying goodbye to that body."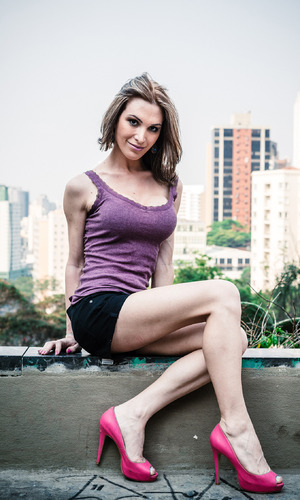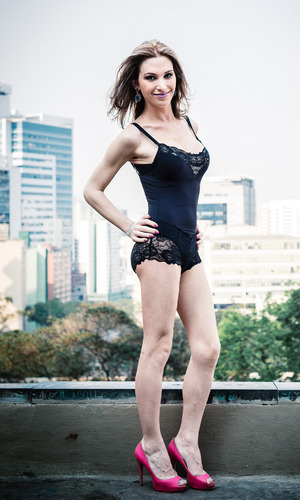 The 13-hour operation used part of her intestine to create a vagina using a new technique which makes it look natural, gives it more elasticity and is even self-lubricating. "I was in hospital for 20 days and couldn't eat or drink for the first five but it wasn't painful. I couldn't believe it.
"The surgeons saved the nerves to create a clitoris. Right now I'm a virgin and I won't give it up until I meet someone special. But I have given myself orgasms."
Rebekah will have to take hormones for the rest of her life and is also taking anti-depressants and having counselling. Now, falling in love, marriage and children – she would like to adopt – is the happy ending she dreams of.
"I don't know if I will find that person who can love and accept me. I'd like a British husband – I have Italian citizenship so can live anywhere in Europe, that's not what I'm after. But British people are more open-minded. I want someone who knows my past, who knows I'm a good person and what I've been through."
But ultimately, there are still demons to fight. Despite her model good looks, Rebekah – who has also had a breast augmentation – is considering facial surgery to feel more womanly and is still plagued by doubts.
"Choosing to transition isn't an easy path and anyone considering it needs to think carefully. It could destroy your life.
"I miss Rodrigo. It was hard last Friday getting the papers from the judge, showing my new name. I cried the whole day. I have this guilty feeling, that I've done all this to him. I feel he gave his life to me.
"Now I feel I should have loved Rodrigo more. I'll be honest, there are times when I think: 'Have I done the right thing?'"