Krystina Butel, 30, was inspired by a cartoon drawing to spend a fortune on a new look
Strolling along a promenade in sunny Ibiza, Krystina Butel made the decision to purchase a holiday memoir – a caricature picture of herself.
Little did she know this spur-of-the-moment buy would change her life, and result in her splashing out an eye-watering £134,000 to look just like the finished artwork.
Krystina's interest in her looks began at 14, when she left school early to become a hairdresser. "I got a job at a local salon and started experimenting with make-up," she explains. "But I'd never considered plastic surgery. I was still very young."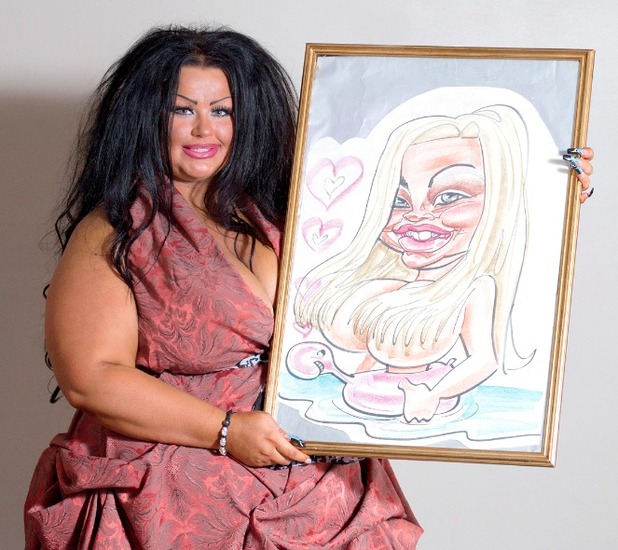 She was just 15 when she went to the Spanish island with Sue, an older friend from work, back in 1999. It was towards the end of their fortnight away that the pair decided to get a keepsake of their trip.
"We were walking down a busy street when this old man asked if we wanted him to draw us. Thinking it would be a giggle and a good holiday souvenir, we agreed."
After Sue had her portrait drawn, Krystina sat down. 'The artist was in front of me with his easel facing away so I couldn't see it. But as he started sketching, people stopped to look at the picture. Some chuckled, while others nodded approvingly.
"It was getting so much attention from passers-by, I was worried what the artist was up to," she adds.
And when he finally turned the easel round to show Krystina the finished work, she was gobsmacked. "He'd done quite an ordinary portrait of Sue but he'd really gone to town with mine," Krystina says. "I was wearing a dress but he'd drawn me topless!
"I was immediately jealous, she was so glamorous and curvy. I adored how over-the-top she looked, with massive boobs and eyelashes and a tiny waist. It was as if he was showing me what I could be if I pushed myself."
When Krystina returned to her hotel, she couldn't stop thinking about the cartoon. "From that moment, I knew I wanted to become the girl in the caricature. But I had no idea how to go about it. I was only 15 and didn't have the knowledge or funds to become her," she says.
"But something inside was urging me on. It was like I was jealous of her. When I got home, I started wearing more make-up and using sunbeds to achieve her tanned appearance. I also worked harder so I could earn enough money to afford a breast augmentation.
"Since then, I've done everything I can to make myself resemble her."
In 2001, aged 17, Krystina opened her own salon, which meant she had more money coming in. That same year, she had her first surgical procedure – a £3,600 boob enlargement to take her from an already ample 32DD to a 34FF.
"When I woke up in the hospital, I loved the way my breasts stuck up and out. By the time I was discharged, I was already planning my second boob job."
Just two years later, Krystina got a second £4,000 enhancement taking her to a 36GG. Since then, she's gone on to have another three operations costing over £16,000 to get her to her current 36K bra size.
But her boobs weren't the only things Krystina changed. In her early twenties, she began having lip injections and Botox every six months – spending £550 a time – to emulate her caricature's gigantic lips and taut face. She also has regular teeth-whitening treatments, semi-permanent make-up tattooed on, and eyelash and hair extensions.
In total, Krystina has splurged a staggering £133,900 to become the spitting image of her beloved caricature.
"Yes, it's a lot of money but it's been a gradual process, over 15 years. I also have my own house and car – I just don't go on expensive nights out or exotic holidays. I'm investing in something more than a hangover."
In May this year, Krystina even had heart-shaped nipples tattooed on. "You can't see her nipples in the picture, as her hair is covering them, but I imagine she has heart-shaped ones," she explains. "I went to almost every tattoo parlour in Yorkshire before I found a tattooist who agreed to do it."
Krystina claims that the picture – which hangs in her living room – inspires her to keep altering her body.
"It's good to look at it and reflect on what I need next. I don't think I'll ever stop having surgery. When I get older, I'll have to do more things to my face to keep it looking young."
But Krystina's more immediate alterations include a butt implant, a further breast augmentation and an eyebrow lift. "I get backache because my fake boobs are so big already but I really want them to look like beach balls strapped on to my chest like they do in the picture," she says.
"Some people make mean comments about my appearance but they go over my head. As long as my friends and family are happy for me, I don't care. I'm like the girl in the caricature – confident and happy. She certainly doesn't care what other people think."
By Pesala Bandara