Rejected by the Dragons' Den tycoons, businesswoman Tracey Cannon has hit the jackpot with her mini-me creations
Tracey Cannon's little girl was stunned when she saw her new doll. With long golden hair, fair skin and blue eyes, the new toy was a mini replica of eight-year-old Khyra, right down to the matching pink pyjamas they were both wearing.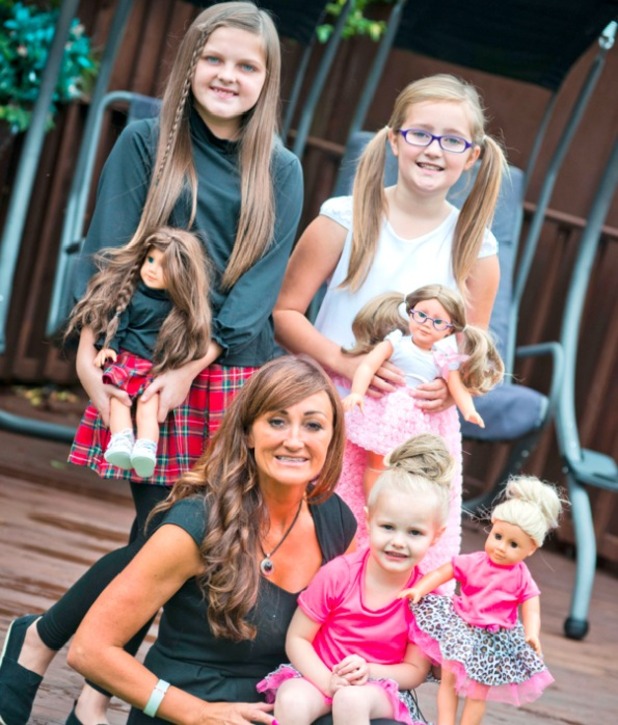 As Tracey had hoped, her daughter was thrilled. And the hairdresser mum-of-two was so certain she could make thousands of other girls just as happy, she staked her savings on a new business venture.
"I just knew there was a big gap in the market for dolls like these," says Tracey, 45, from Glasgow. "I bought one for Khyra when I went on a trip to Manhattan with some friends. But when I got back I realised the company didn't deliver to the UK so I couldn't buy any accessories for her. In the end I found someone here in Glasgow to make matching pyjamas and party dresses for my daughter and her doll."
Lookalike dolls are big business at the moment, with celebrities quick to get in on the trend. Little North West was lucky enough to be given rag dolls that are the spitting image of parents Kim and Kanye, while Rochelle Humes was seen clutching a mini-me version of husband Marvin, surely destined for daughter Alaia-Mai's toybox.
But when Tracey and her son Keiran, 23, appeared on Dragons' Den in February 2013 to ask for a £75,000 investment in My Lookalike Doll, all five business tycoons turned them down point blank. Designer Kelly Hoppen called it an "unviable business", while mobile phone boss Peter Jones warned them: "Do not spend another pound taking this forward."
Tracey says: "I knew I was taking a gamble but I took redundancy from my lecturing job, putting the £20,000 pay-off into the business. A further £40,000 came from remortgaging the house, £20,000 from a bank loan and the rest was savings. It amounted to over £120,000 which we used to order hundreds of dolls from a factory in China with different hair, skin and eye colours, plus matching clothes for the doll and children to wear themselves."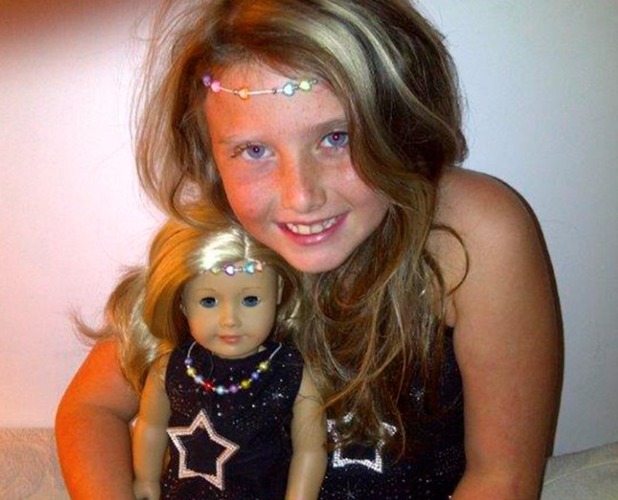 However, she knew their appearance on the show was doomed to failure as soon as they gave designer Kelly Hoppen one of their lookalike dolls: "I'd had it specially made with curly hair like Kelly's but she seemed terrified by it and hid the doll under her chair."
With so much riding on it, the Dragons' rejection was a cruel blow. "At that point we were selling about three a week but I knew it had potential.
"Going on Dragons' Den was absolutely devastating – one of the most humiliating experiences of my life. To stand there and be told by each investor the business was doomed to fail was a crushing blow. But afterwards it made me want to fight harder."
With the support of engineer husband Allan, 47, and son Kieran, Tracey had a meeting with toy store Hamleys who immediately placed an order.
Now, the store has made a big order for Christmas, worth a hefty £100,000. There are 133 types of doll in the range, costing £65 each, and a host of matching outfits and accessories. "We're so busy I'm at the warehouse 24/7 at the moment,' says Tracey. 'We're getting orders from around the world via our website and it's my dream to see these dolls in shops across the country. I'm just glad I had faith, even when the Dragons didn't."
For info on Tracey's dolls, visit
mylookalikedoll.com
By Alison Smith-Squire and Su Karney