Twins Owen and Lewis Harrison have taken being identical to the extreme
With their bulging biceps, washboard stomachs and being the mirror image of one another, Owen and Lewis Harrison are used to causing a stir wherever they go.
As the UK's only bodybuilding twin brothers, they go to extreme lengths to maintain the exact same buff physiques. The 24-year-old strapping siblings have perfectly matching diets and exercise regimes, knock back the same amount of booze on a night out and even have the same taste in women.
Lewis – who is the eldest by one minute – explains: "Any dumb-bell Owen does, I will do too. We're exactly the same."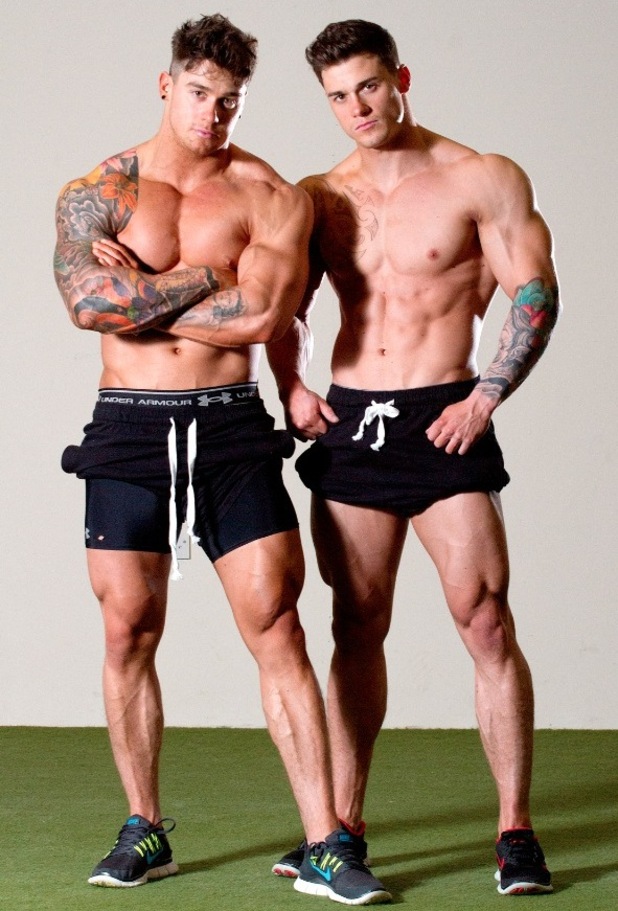 As a result, the 5ft 10in tall hunky pair from Cumbria boast a matching arm circumference of 18in, a strapping chest size of 44in and weigh in at bang on 13st.
From childhood, the brothers were inseparable. Owen says: "Lewis and I went to the same school, socialised with the same group of friends and until we were 16, we were both signed to play football with Bolton Wanderers."
Aged 20, the twins developed another joint hobby – reading fitness magazines.
"Lewis and I talked about how cool it would be to feature in one of those magazines so we started bodybuilding together," says Owen.
In December 2010, the twins started on an ambitious plan to get matching buff bodies.
"We lived together, trained together and ate the same things at the same time. It was full on. We even weighed out our individual meal portions carefully so neither of us had a gram more than the other," explains Lewis.
The duo worked out together seven times a week, shelling out £200 per month on protein supplements, gym memberships and spray tanning and cementing their new careers as personal trainers and fitness models.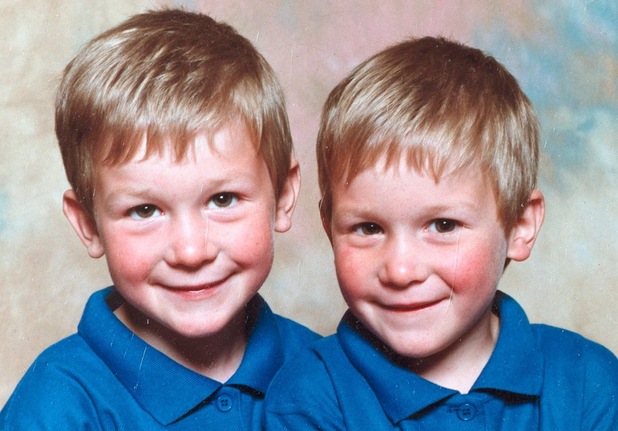 Now, diet and training regimes aren't the only things the Harrison twins share.
"You've got to live life so we have one cheat day per week – usually on a Sunday – when we scoff a whole Domino's pizza each followed by a load of chocolate," says Lewis.
Former Royal Marine Owen adds: 'It's the perfect hangover cure after a Saturday night out. If we're in a bar or a club we drink the exact same, pint for pint or shot for shot.'
And as you might have guessed, the bros have identical grooming regimes.
"We have weekly beauty sessions where we pluck our eyebrows, get spray tans and shave our beards. Then, we shave and moisturise our bodies to keep our skin looking good. For an average night out, it takes us about two hours to get ready," says Lewis.
The twins' distinctive look has gained them over 100,000 followers on social media. Unsurprisingly, they get a lot of female attention on a night out. Lewis says: "The two of us definitely turn heads – we've been known to cause whiplash! The normal reaction is: 'Wow, twins!'"
However in one respect the guys differ – Owen recently moved in with his girlfriend Catrin, 30, while Lewis is single. The brawny brothers insist they have never dated or fought over the same girl.
"We have an understanding," says Owen. "If Lewis has been there, I won't go near her. I think twins sharing the same girl would be odd. We lost our virginity at the same age but that was a weird coincidence!"
They do admit to having similar tastes though. Owen says: "We love the natural look and our perfect woman loves to work out too. To impress a girl, I'd take her down to Lake Windermere, watch the sun go down and have a few cocktails."
Lewis adds: "I agree – but to be honest I can also impress a girl by just taking my top off!"
by Pesala Bandara