Dana Teichner, 26, says her husband wears her out in bed – despite being 79!
There might be a staggering 53-year age gap between newlyweds Dana and George Teichner, but when it comes to the bedroom, it isn't 79-year-old George who runs out of steam between the sheets.
Despite what many people might assume, Dana, 26, says she is the one who struggles to keep up with her older man.
Three years ago, Dana was ready to give up on love after a spate of unfulfilled relationships, when George showed her what she was missing.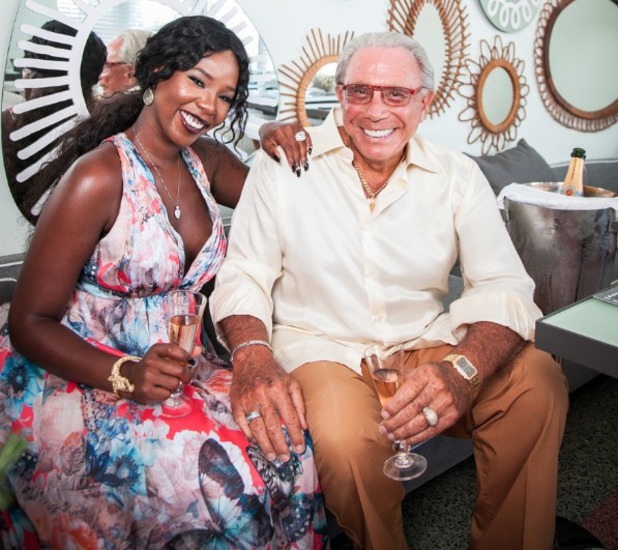 "Before George, I only ever dated men my age or younger and I'd never had an orgasm," says Dana, who is from Miami.
"I began to think sex was overrated. But then I met a man 53 years older than me and finally I see what all the fuss is about.
"My husband has the stamina of a 20-year-old. George thinks nothing of making love to me for at least five hours every night and he wears me out!"
Their unconventional romance began in March 2011, when George walked into the salon Dana owns for a pedicure.
Thanks to his healthy good looks, she assumed the retired celebrity accountant was around 60 at most.
When he asked for her email address, she thought it was just for business.
But two months later, he surprised her by asking her out on a date.
Dana says: "I won't lie, at first it never even crossed my mind to see George as anything other than a successful businessman who could help me grow my business. But I couldn't see the harm in saying yes."
The pair shared a romantic candlelit meal and Dana began to feel a mutual attraction: "The more time I spent with George, the more I began to fancy him.
"I loved how intelligent, successful and charismatic he was and suddenly the age difference didn't seem to matter so much."
About a month into their relationship the pair slept together for the first time, and any concerns Dana had disappeared.
Dana, who lost both of her parents when she was young, says: "Until I met George I had never ever experienced an orgasm.
"But the first time we slept together, all that changed. I was so nervous.
"I thought he might have a wrinkly body and need Viagra. But George's physique is unbelievable as he works out every day – and Viagra was the last thing he needed.
"He'd studied tantric sex in India and I lost count of the number of times we had sex, but we were still at it when the sun came up.
"He was so skilled, he blew my mind. I lost count of how many orgasms I had.
"My entire body was shaking for hours and I was in total shock."
Though she knew George was a widower with three daughters and two sons, all older than her, Dana didn't ask his real age until six months later: "By then I was so in love, I didn't care. But on his birthday, I said to him, 'Tell me the truth.'
"He took a big drink of wine and took my car keys from me in case I ran away. Then he said: 'I'm 77.' I was shocked.
"So many things ran through my mind, about the prospect of having children with someone so much older, or the possibility of him dying years before me.
"But I couldn't let age stand in the way of true happiness with my soul mate."
In August 2013, George proposed during a family dinner at his daughter's house and the happy couple tied the knot in a romantic ceremony on the beach in Malibu a year later.
Dana says: "George's kids gave us their full blessing. After losing their mum, they are glad to see him so happy again. It was so romantic and afterwards we flew to Hawaii on honeymoon."
But not everyone has been so thrilled for the couple.
Dana admits that some friends have accused her of acting like a "prostitute" in marrying George, who is reported to be worth about $50 million (over £30 million).
"To this day, people point and snigger if they see us holding hands or kissing. It did upset me, but I've grown a thicker skin and refuse to let some people's small mindedness ruin our happiness.
"George is not my sugar daddy. I am a successful woman in my own right. I didn't need looking after by a rich man before and I don't now either. I married him for love. Anyone who spends five minutes with us will know we're the real deal."
The pair are desperate to start a family and any fears about George dying before he gets to see their unborn child grow up are put to the back of Dana's mind.
"Of course I worry, but life is too short and for all I know, I could die before him.
"I think I am the luckiest woman in the world to have found George. In our eyes love is not a number."
By Georgina Bisval