Parents Steve and Gail Gardner were left fearing the worst when a mini tornado swept their three children up as they slept in a tent.
The couple watched helplessly as the twister lifted the eight-man tent a huge 10ft off the ground and 30ft across a field.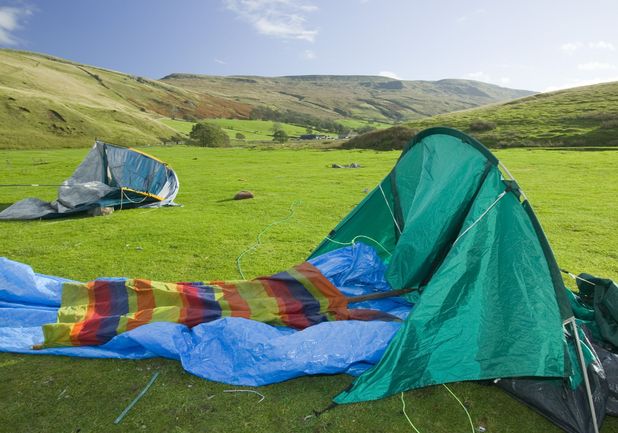 Holidaying at a campsite near Ambleside, Cumbira, the pair had spent all night trying to keep the tent tethered to the ground as heavy gales struck. Their three kids – Oliver, 10, Katie, eight, and Lily, two, had slept on, oblivious to the storm.
At 7am things had died down and the parents decided to go outside and make a cup of tea, which was when the twister appeared.
Steve, 42, was quoted in
The Sun
explaining: "I could see this big spiral on the grass."
Seconds later, the tent was lifted in to the air and spun across the field. Clothes and furniture flew out of the tent, before it crashed to the ground near a fence.
A shocked Steve and Gail frantically ran over to find their little ones covered in bruises and scratches.
Civil servant Steve from Whitley Bay, Tyneside said: "It was mayhem. I honestly thought the kids were dead."
He added: "Oliver was upside down, his face was white and he wasn't moving. I thought he was paralysed."
All three kids were rushed to Lancaster Hospital for medical care. Oliver got away with just bruising, while Katie was kept in for 24 hours with suspected concussion. Meanwhile Lily was treated for a bleed on her brain but was discharged from the hospital three days later.
Steve confirmed: "The kids are still alive and hopefully recovering fully. Oliver has written off camping again, but Katie's happy to go again, in good weather."
Reveal is now on Google Plus! Join us here for the latest pictures, fashion and celebrity news!