When we were children we all dreamed of being pirates and securing our very own gold bullion…well now you can! Get your spades, buckets and even metal detectors ready as a mass treasure hunt is underway on the beaches of Folkestone, Kent.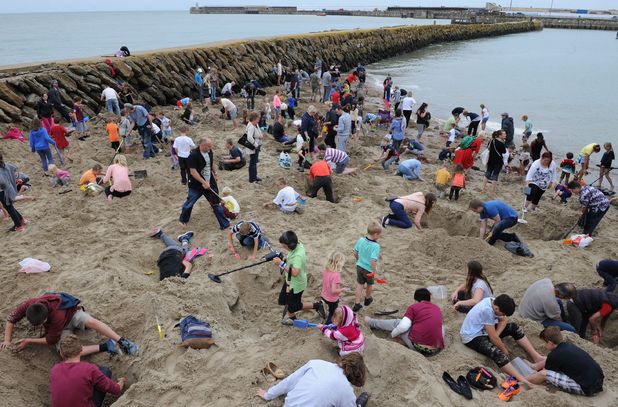 The gold rush ensued after a Berlin-based artist Michael Sailstorfer announced he had hidden £10,000 worth of gold beneath the sand for an art project called "Folkestone Digs". And up to 1000 'gold-diggers' from all walks of life have swarmed to the beach at the Outer Harbour at the hope of striking gold.
Curator Lewis Biggs told the
Daily Mail:
"There are people coming and going of all ages – families, dedicated people with metal detectors, people with lights on their heads all night. It's been fun down there."
Whilst most of the treasure hunters have only uncovered rusty nails, picnic utensils and lots of shells, there have been a handful of lucky seekers who have found one of the 30 34-carat hidden bars of gold – each worth £250 or £500.
Three friends in their twenties from Canterbury, Kevin Wood, Kirsty Henderson and her sister Megan, spotted one bar of gold after digging for an hour at low tide.
Kevin, now referred to as "Pirate Kev" according to his friends, described finding the treasure: "My legs went from under me and I started shaking…I put it quietly in my pocket. We left the beach and half way home, we pulled over for a drink."
by Lucy Jones
Reveal is now on Google Plus! Join us here for the latest pictures, fashion and celebrity news!