Life for Amy Dunne, 24, and boyfriend Joe Moyo, 27, will never be the same again after he was brutally stabbed at a party. But despite the odds, their love survived…
"Every time my fiancé Joe Moyo makes a cup of tea, brushes his teeth or walks towards me for a kiss, it feels like a little miracle. All these things we used to take for granted pose a massive challenge which Joe has spent hours practising.
Because, aged just 25, Joe suddenly lost both his legs and arms. Not in a car crash or mountaineering accident as you might expect, but in a stupid, pointless row over a mobile phone that led to him being stabbed several times.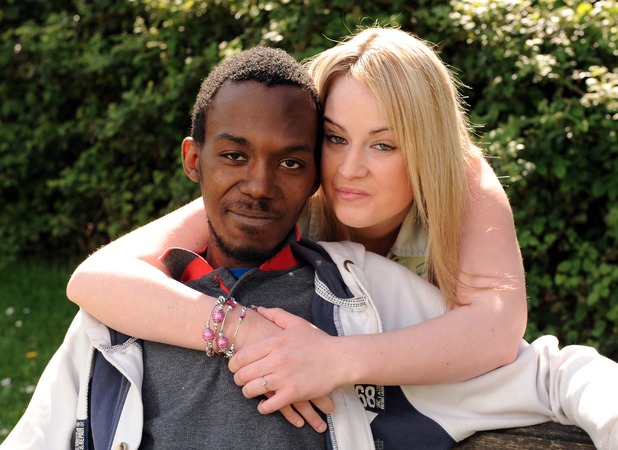 Nothing in our young lives – I was just 21 – could have prepared us for that. We'd met at a New Year's Eve party in 2005, when I was a 15-year-old schoolgirl and Joe, then 18, was studying music technology at college. A tall, pretty boy, I fell for his sexy smile. He stayed fit playing football and when we went clubbing, he was a great dancer. After four years, we got our first flat together in Worthing, West Sussex.
But our lives changed for ever on 11 August 2012 when Joe went to a house party. A call from Joe's dad at 4am set my heart pounding: 'Joe's in hospital. He's been stabbed,' he said, distraught.
Until I arrived at the Royal Sussex Hospital, I'd convinced myself it wasn't too serious. The doctors would stitch Joe up and he'd be fine. But when I walked into intensive care, there were wires everywhere. One of the stab wounds had burst Joe's bowel and surgeons had been forced to fit a colostomy bag. Now he was in a coma. The nurse said it was only the machines that were keeping him alive.
Still in shock, I heard what had happened. A girl at the house party had wrongly accused Joe's friend of stealing her mobile phone and an argument had broken out. Not wanting things to get out of control, Joe and his friends had left. But later, they received a call from another mate who persuaded them to return, promising everything was fine.
It was the worst mistake of Joe's life. Four blokes – some only kids – were furious that he'd come back. Punches were thrown and Joe was stabbed three times in the leg, stomach and abdomen.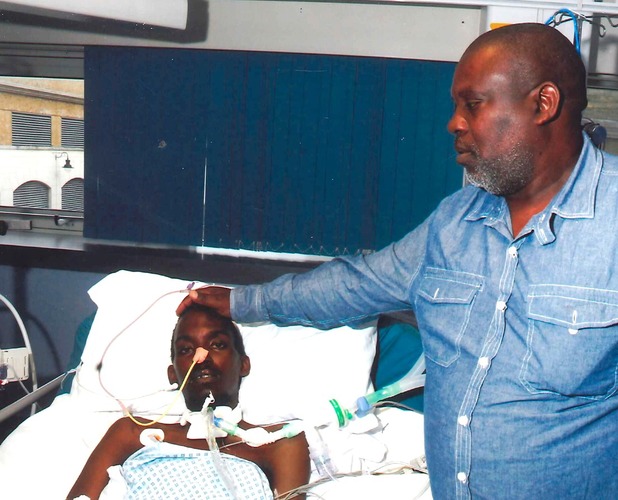 Day after day, I sat by Joe's side. I read him the football news and at times his legs twitched and his eyelids fluttered. After six weeks, he opened his eyes and gave me a big smile. I was so surprised, I started giggling. I'd never felt so happy.
But Joe wasn't out of danger. Septicaemia had set in from the bowel wound and had started to attack his vital organs. Three times surgeons operated to stem the infection, but failed. His hands and feet turned the colour of charcoal and felt like wood. One minute he was shivering, the next, burning with fever.
By November, the doctors had no choice. They amputated both Joe's legs beneath the knee to keep him alive. When he woke up, he cried for the first time. But not for long. "OK, let's move on from this," he said. "At least I'm still here."
A fortnight later, things got worse, when surgeons amputated both his arms below the elbow. Seeing him lying there, swathed in bandages, my heart broke. He was 25. What would his life be like now? The simple things he loved, like football, video games and dancing, were all gone.
I wondered how we'd cope, while Joe worried about being totally dependent on me. But there was no doubt in my mind. 'I'm not going anywhere,' I told him.
As always, Joe was positive. 'I'm going to learn to walk again,' he vowed.
In January 2013, Joe was transferred to a specialist rehabilitation unit 50 miles away, to be fitted with prosthetic limbs. It meant I could only visit him once a week but I stayed busy by going back to work.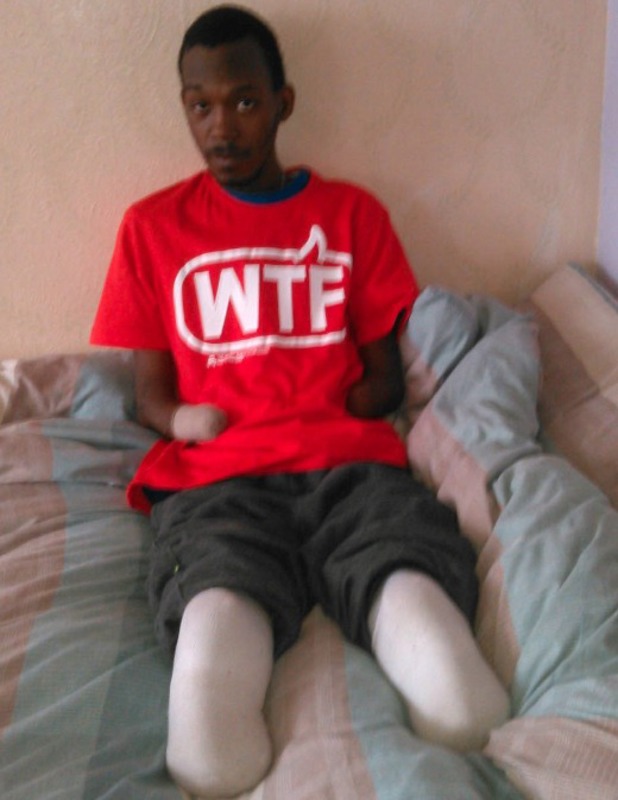 Two months later, I arrived at the unit with Joe's brother and as usual walked straight towards Joe's bed. "Where are you going?" asked his brother. And then I saw what he had seen – Joe was standing in the kitchen making a cup of coffee by himself. It was incredible.
A year after the attack, Joe was well enough to come home. I still have to prepare his meals, help him wash and empty his colostomy bag but he's becoming more independent every day. Last week he even made an omelette while I was at work.
In March, four men were convicted of committing GBH with intent. Patrick Brookes, 27, was sentenced to 16 years, while Jeremiah Reynolds, 26, Dominic Brookes, 19, and Trey Johnson, 18, each received 15 years. Typically, Joe doesn't feel anger towards his attackers – just pity. He says that while he's free to live his life to the full, theirs are over.
We've got a lot to look forward to. Joe proposed on Valentine's Day! 'You know I can't get down on one knee,' he joked. 'But I love you. Will you marry me?'
Of course I said yes. There's no other man I'd rather be with. But I couldn't believe he'd beaten me to it – I'd been planning to propose that night. I'd even bought him a ring and attached it to a necklace to wear round his neck, instead of on a finger.
We hope to get married next summer and Joe is excited that he'll be able to walk down the aisle with me after we've said our vows. One day we might even be lucky enough to start a family. But for now I'm just happy to have Joe."
By Nicola Fifield and Su Karney