Molly Watt, 19, from Berkshire is just like any other teenager. Except that she can't see or hear…
"People often think I'm joking when I tell them about my condition. Or they don't believe me. "But you look so normal," they'll say, confused. Of course I'm normal. But I'm also deaf-blind.
I attend college, go clubbing and have a boyfriend. I love travelling, films, music and Starbucks. However, I also have a guide dog and wear hearing aids.
I was born severely deaf but to be honest, that wasn't too big a deal. Yes, it was challenging but I knew no different. I grew up having speech therapy and audiology appointments and, after I was fitted with hearing aids, I learnt how to talk. My mates at primary school quickly learnt how to communicate with me, tapping me to get my attention and making sure we were close when they spoke.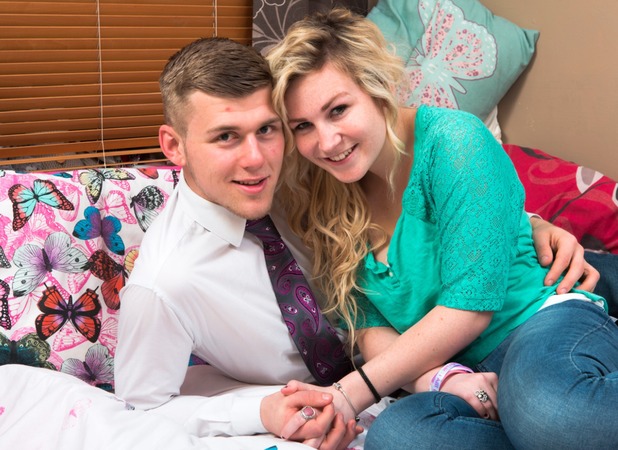 Aged 11, my eyesight began to deteriorate. At 12, I was struggling to see the board at school and suffering from migraines. An eye test confirmed I was suffering from retinitis pigmentosa (RP), a condition that causes night and glare blindness, and also tunnel vision. But it wasn't until I was 14 that my parents told me the true extent of my condition. I had Usher syndrome – a genetic condition that causes both hearing and sight loss.
It can but doesn't always mean total blindness. Some sufferers retain some central vision. I was unlucky. I would totally lose my sight. I didn't cry, didn't scream, didn't feel anything. The shock numbed me.
Mum was determined that I see as much of the world as possible while I could. We went to Florida, New York and Chicago so I could lap up as many memories as possible.
On one of our trips, a toddler was acting up in the airport. I tried to follow him as he ran away from his parents but my eyes couldn't keep up. 'Mum, if I have children, do you think I'll get to see them?' I asked. But she couldn't answer.
RP – the visual side of Usher syndrome – is a progressive condition and my eyesight deteriorated with frightening speed. Life changed completely – I started falling over things, walking into people. As the outside world grew darker, so did my inner one.
My school, which had always been very accommodating, could no longer support me so I moved to a deaf school. But being deaf and deaf-blind are completely different and I felt lonelier than ever.
I became angry and one morning, my fury erupted like a physical storm. I threw DVDs and bedclothes across my room, howling at the injustice. Even when my younger sister, Lily, now 14, tiptoed in to see if I was OK I told her to go away. She could walk to school, go out with friends and play sport. I was imprisoned within my own failing senses.
As friends moaned on Facebook about boys and parents, I felt like screaming that they didn't know how lucky they were. I deleted people from my life – virtual and real.
In my darkest moments, I wondered if it would be better if I wasn't alive at all. Only the love and support of my family kept such thoughts at bay.
I was registered blind at 14 and, at 16, I was given a guide dog, Unis, who I loved instantly. But I couldn't bring myself to use her properly, as that would mean admitting I was blind. My condition seemed to dominate my life, stopping me achieving things I'd always thought I'd do.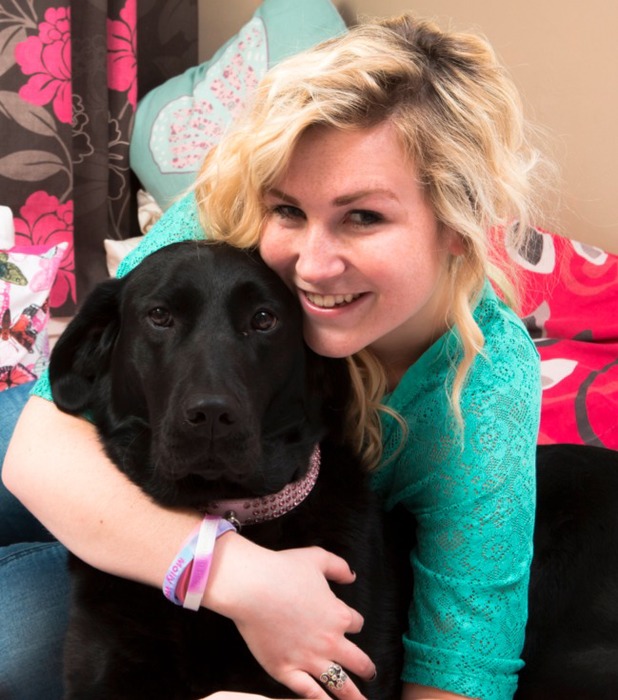 I'd never be able to drive and getting a part-time job seemed impossible, as various companies told me they weren't hiring in the same week they took on my friends.
Yet it was exactly these knocks that made me more determined. I had two choices – give up or seize life. I chose the latter.
Enrolling at Strode's College in Surrey turned my life around. Although it was a mainstream school, it made small changes to help me. The classroom blinds were drawn on a bright day to stop me getting crippling migraines and I had handouts in large print to prevent eye strain.
I made great friends and, three years on, I love going out. Being deaf-blind doesn't stop me from looking good. I do my make-up one eye at a time, then zoom in with my phone to make sure it's OK.
But that doesn't stop the occasional mishap, like the time I wore a new top with the sticker still attached. "You don't need to brag you're a size small," a friend joked.
I used to worry my condition would deter potential boyfriends. But last summer, I met Dan, 21, in a club. We've been inseparable since and my confidence has soared. He's so supportive and proud of who I am. He even convinced me to start using Unis properly. Now I'll hold her harness in one hand and Dan's in the other.
I'm passionate about raising awareness of Usher syndrome. I've spoken in front of politicians and experts and in 2010, I was voted Young Deaf-blind Person of the Year for the charity, Sense. Since January I've been an ambassador for Sense due to my work. I was even a guest speaker at Harvard Medical School in Boston, USA, last month.
I've been offered a place on a teaching degree and although I'll face more obstacles than most, I'm determined to succeed. I'm just a normal girl who is also deaf-blind. And that's not enough to stop me."
By Becky Dickinson & Sarah Whiteley
For more about Molly and Usher syndrome, go to
mollywatt.com
or
www.sense.org.uk/content/molly-watt