Animal lover Stephanie Mariam, 20, from Bournemouth, is making sure it really is a dog's life for her new pet pooch...
Everyone knows a dog is a man's – and woman's – best friend. But even the most canine-crazy of us would think twice before splashing out £10,000 on a party for our four-legged friends.
Yet this is exactly what Stephanie Mariam did when she bought her new pooch, Connie – and she doesn't regret spending a single penny.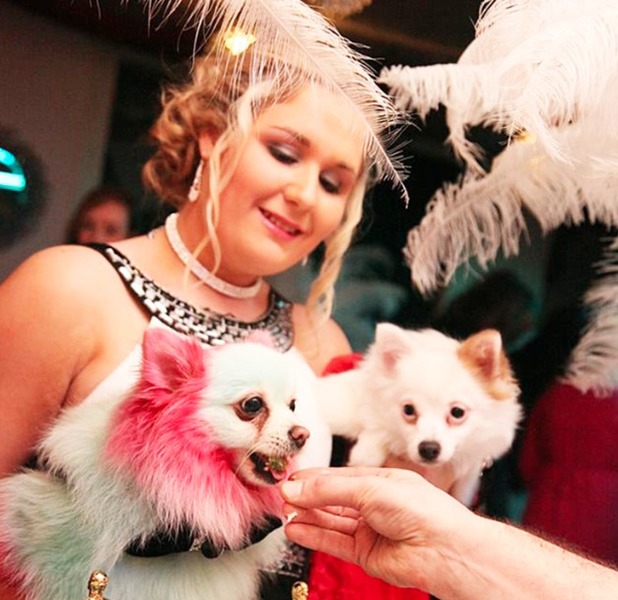 "Some people might think it's excessive to spend that on a pet but it was the perfect way to introduce her to our family and our other dog, Harvey Moon," says Stephanie, 20, from Bournemouth, Dorset.
Stephanie admits she's a dog fanatic and, growing up, she was always surrounded by pooches. So when Busta, her 12-year-old Norwegian elkhound, had to be put to sleep in October 2013, the whole family was crushed.
"It was devastating, but our two-year-old Pomeranian Harvey was especially heartbroken," says Stephanie, who lives with her parents. "He'd pace miserably down the hall and refused to look at my mum, who had taken Busta to the vet. It was awful."
So a month later, when Stephanie heard of some Pomeranians that had been rescued and needed adopting, she decided a new furry friend would be the perfect way to cheer Harvey up.
But by the time Stephanie had the chance to go and see the litter, there was only one left – Connie.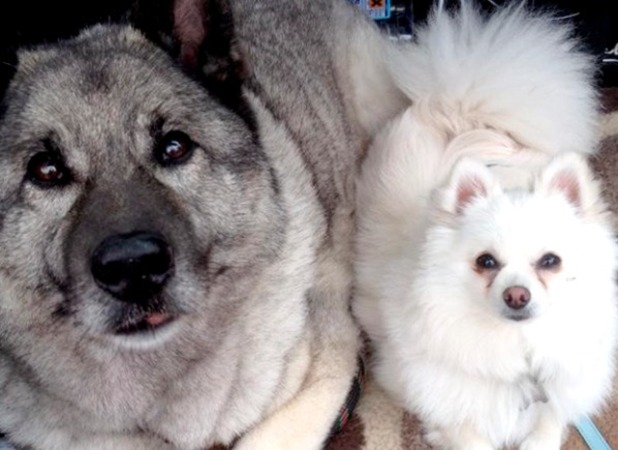 "She'd been through so much already," Stephanie says. "Most of her siblings had died from an infection called parvo virus, which is extremely contagious. She was lucky to be alive. So despite her bedraggled appearance, we instantly fell in love.
"And Harvey was besotted too. The minute he saw her, he did a double take, then bounded straight over to her. They haven't stopped playing since."
It was seeing her pups happy that made Stephanie want to celebrate.
"They'd both been through a tough time, so I wanted to do something special for them. Between working in a psychiatric hospital as a nursing assistant during the day and as a dance teacher in the evening, I'm too busy to spend any of my money and have saved a lot. This seemed like the perfect chance to celebrate in doggy style."
So Stephanie asked dog party planner Louise Harris for a 'Hollywoof' bash.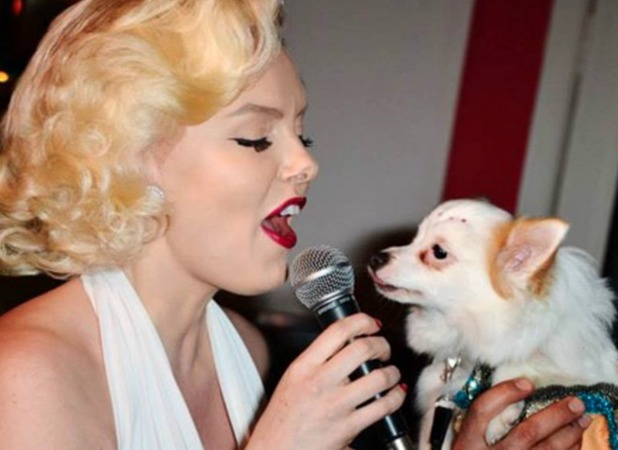 With dog chefs flown in to provide canine-friendly canapés and Harvey and Connie's custom-made costumes costing an eye-watering £2,000 each, there was absolutely no chance of this party being a
dog's dinner.
The pampered pooches and 50 pals were served dogmapolitan and muttini cocktails made of beef and chicken stock, as well as canapés of roasted duck and cranberry, smoked salmon and cream cheese and chicken liver sweet potato crisps.
A Marilyn Monroe lookalike even serenaded the star of the show, Connie, by singing
Doggies Are A Girl's Best Friend
.
The dogs were also treated to pampering sessions where they had pawdicures, furjazzles and feather hair extensions. To top it off, a magician performed for their entertainment and over 10 dog poo attendants were also hired to stop the dancefloor getting too messy.
"It was the best afternoon ever," Stephanie says. "Connie and Harvey loved being fussed over and having all their friends around them.
"I know people will think it's silly, but these dogs mean the world to me. I'd do anything – pay any amount – to make sure they have the best time ever."
By Emily Cope and Sarah Whiteley
For more information go at
facebook.com/harveymoon100