TOWIE's Danielle Armstrong has drawn up a 'code of conduct' for boyfriend James Lock. But what would you ask your other half to start, stop, learn or ban?
Let's face it, contracts are not sexy. They make you think of work, or that store card you 'only took out to get the 10 per cent discount'.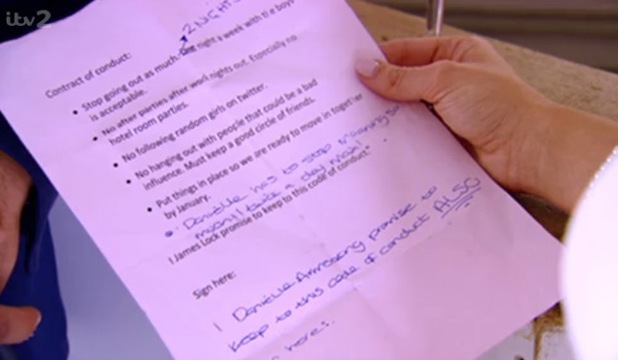 But in recent years, contracts between couples have become more common. First there was the prenup, then the sex agreements – where busy couples set out guidelines for when to squeeze in coitus.
And now, we have the 'love contract'. TOWIE's Danielle Armstrong told us she drew up the 'code of conduct' after James Lock allegedly cheated.
Her rules for James include no following random women on Twitter. She told us: 'Contracts are the way forward. I think every woman should have one.'
But what would you put in yours? Two of our team reveal their very own relationship rules…
Reveal's Features Editor Su Karney and Kevin Lake, a company director, have been together for six years. The pair from Bedfordshire got married in October 2011.
Su, 33, says: "Kev is pretty easy to live with so I found it tricky to think up rules. It was a little disconcerting that he came up with his list (and more) so much quicker than I did!
However, shopping is a big bugbear. Kev would happily never set foot in a shop (that doesn't sell food). On the rare occasion we venture into Topshop together, he gets all huffy and hovers near the door in a most irritating manner.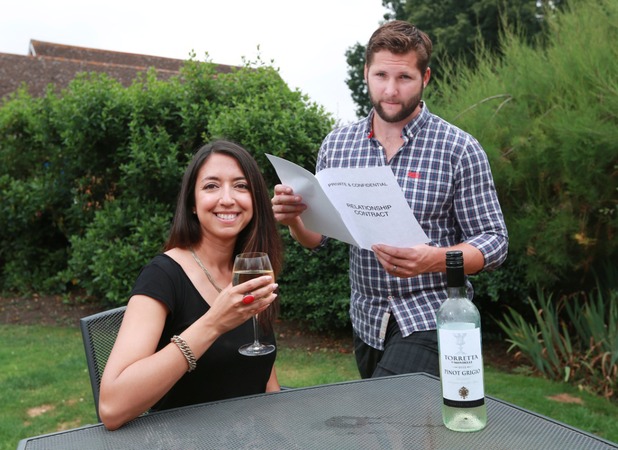 I know I may be a bit particular but I don't think it's acceptable for a grown man to use the back of his hand as a napkin. And if you can get the loo roll to the loo – put it on the holder.
As for my storytelling skills, Kev may not be the first person to have commented on how lengthy they can be. But I am a journalist – a story is nothing without all that gripping detail!"
Kevin, 34, says: "It didn't take long for me to realise that Su likes a glass of white wine or two. But too much and the crazy eyes come out followed by the kind of drama I can live without.
And then there's the spiders. I can see her scanning rooms for them when she walks in. I think she needs help.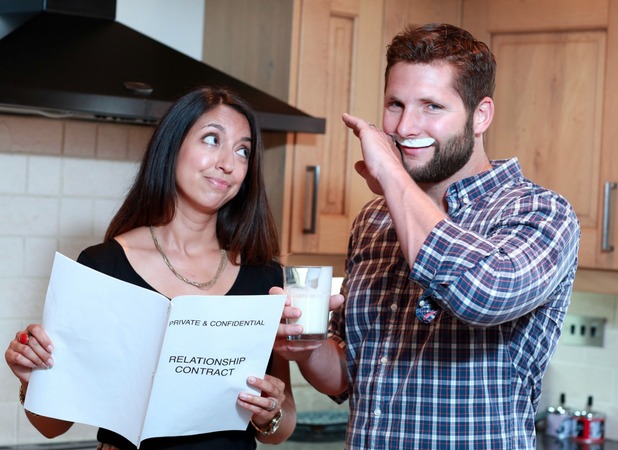 I do rely on Su to make plans for us. But she gets out of control. I once asked her when we could see a friend and she gave me a date three months away. We had to have a chat about her signing me up to everything – though it didn't work!
I'm not surprised by her rules – we've had many a row out shopping and she's obsessed with things being 'dirty' – always banging on about washing or cleaning! And I'm not sure anyone should love Bon Jovi as much as she does, it's not healthy."
Rules for Su
1.
Stop screaming like you're being attacked every time you see a spider.
2.
Learn how to tell a story in three sentences.
3.
No more than two glasses of white wine at a time. No crazy eyes allowed.
4.
Stop signing me up for everything – including this feature!
Rules for Kevin
1.
Stop wiping your mouth on the back of your hand. You're not four, you're 34.
2.
Learn to share my enthusiasm for Bon Jovi and come to a gig.
3.
Don't get emotional when I make you go shopping. Standing by the exit will not make me any quicker.
4.
Change the loo roll once in a while. The pixies don't do it.
Reveal's Sub Editor Kayleigh Hooton met security officer Jon Dykes in June 2012 and the couple have lived together for the past year in Bromley, Kent.
Kayleigh, 24, says: "Jon's always had 'designer stubble' but since we moved in I've realised what that means – gross hairs around the sink – so I'll know he's had a shave long before I've seen him.
I'm forever finding dirty socks (and worse!) around our house, down the sofa etc. They just land wherever he gets undressed.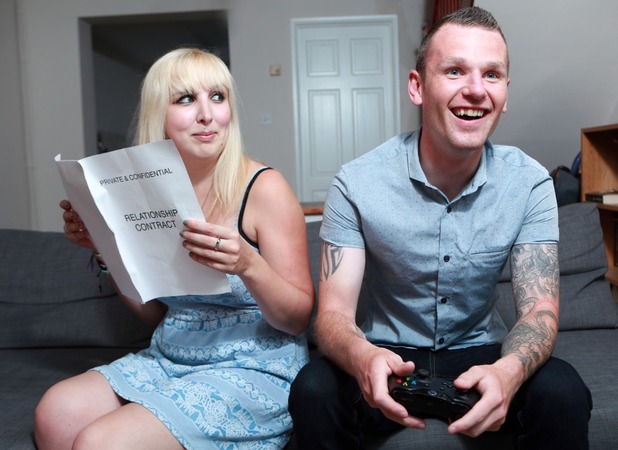 Jon loves Xbox and I really enjoy it. But sometimes he gets into the zone, playing online, and I'll walk into the living room to hear a stranger's voice coming out of our television. It's weird.
I admit I have a lot of clothes but we have equal amounts of wardrobe space. And he has way more shoes than I do!
I'm not sure I can promise to stop correcting his spelling and grammar – it's ingrained in me."
Jon, 25, says: "Reality TV is banned when I'm at home. It's drivel. Kayleigh is forever telling me she has to watch One Born Every Minute and TOWIE for work but I know it's because she loves it.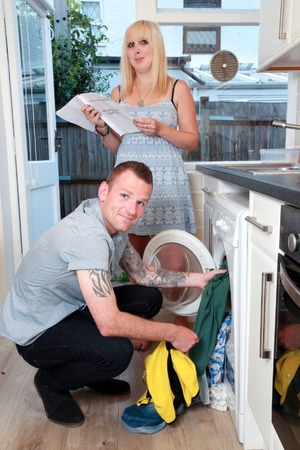 However, when it comes to Formula One, all eyes should be on the TV. We're both fans but Kayleigh has a habit of reading, playing on her phone or trying to talk about Kim Kardashian.
We do fight over grammar. I can't spell so she'll even correct me over texts. That's why I always ask her to fill out forms for me!
When we moved in Kayleigh had bags of clothes I've never seen her wear – at least I wear all my shoes. And as for my beard hairs, her hair in the bath plughole is just as gross!"
Rules for Kayleigh
1.
Reality TV is banned when I'm home. 'It's for work' is not an excuse.
2.
You must not correct my spelling or grammar – save it for work!
3.
You commit to us watching every Formula One race together. Only beer breaks allowed.
4.
If I need a form filled out or any admin task, you must do so without moaning.
Rules for Jon
1.
You must wash the sink out when you shave to get rid of your gross hairs.
2.
The washing machine is the place for dirty clothes – the floor and bed are not!
3.
Xbox and computer games are limited to one hour per day, unless we're playing together.
4.
No moaning about how many clothes I have. Just because I haven't worn something in a while doesn't mean I never will…