Forget squats and lunges – young British women like Jade Meade are increasingly going to extreme lengths to get the "perfect" derriere. But just what does having a Brazilian butt lift involve?
All eyes have been on Brazil for the World Cup, but the country is also responsible for the latest plastic surgery trend – the Brazilian butt lift.
Inspired by the gravity-defying posteriors of celebs like Nicki Minaj and Kim Kardashian West, more of us than ever are desperate for a bigger booty.
Research from whatclinic.com, a private healthcare search engine, shows enquiries for buttock augmentation surgery have doubled in a year. In fact, after photographs of Kim K posing in a tiny gold bikini in Thailand emerged in April, enquiries shot up by 136 per cent.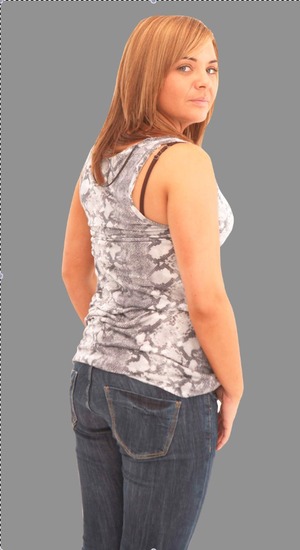 According to BAAPS (British Association of Aesthetic Plastic Surgeons) fat transfer operations – where fat is taken from the stomach and thigh area and reinserted in the buttocks – are up 13 per cent, despite the surgery carrying a hefty average price tag of £4,000.
Sporting an artificially enhanced rear, Jade Meade, 26, from London, admits she spent years loathing her once flat bum.
"I love the pronounced 'shelf' of J.Lo's and Nicki Minaj's bums but mine was completely flat, with no definition. I looked totally shapeless in trousers and skirts," says the beauty therapist.
"When a colleague told me about butt lift surgery, I was desperate to have it. I know it's extreme but I just so wanted it to be peachier and more noticeable."
So in June 2011 Jade underwent Brazilian butt lift surgery.
"Jade was injected with a local anaesthetic and 200ml of fat was removed from her thighs and stomach using a suction technique," says Dr Aamer Khan, her surgeon at the Harley Street Skin Clinic, which gets 50 butt lift enquiries a week.
"I then made a tiny needle incision in each buttock and injected the fat. The incisions were stitched to ensure minimum scarring. The whole procedure took about two hours."
Dr Khan says it takes six to 10 weeks for the fat to graft into position – but like any procedure, there are some risks.
"You can expect some discomfort – bleeding, bruising, swelling and peripheral nerve damage. But all of this should recover providing you are using an experienced surgeon," he says.
But what was going under the needle actually like? "Beforehand I was a bundle of nerves – excited, but scared too. I had no idea what it would feel like and how much it would hurt," says Jade. "But, after the injection for the local anaesthetic, I didn't feel a thing. Though the procedure doesn't actually take that long, it felt like I was lying down there forever!
"Afterwards, my thighs and stomach were black and blue and felt sore. But a couple of paracetamol got me through the pain. I was told: no sleeping on my back, running or jumping for eight weeks to make sure it worked properly.
"I had to be really careful when sitting down as I didn't want my stitches to burst. Luckily in my job I stand a lot so I was back at work two days later."
While the operation is clearly not for the faint-hearted, Jade insists it was worth it. "My boyfriend, Ross, is a personal trainer and he wasn't impressed," she says. "He thinks I could have achieved the same results with squats and hard work in the gym. I don't think any amount of working out would make it as rounded as this though."
While Jade felt comfortable using her own fat to pump up her behind, she says she draws the line at the more extreme option – inserting silicon implants into each buttock.
Dr Khan acknowledges this is a very serious operation that only a small number of surgeons in the UK perform.
"While silicon works in the breasts, you are sitting on it all day when it is in the buttock. This means, unless it is very skilfully inserted, it may break or leak. The operation is also performed under general anaesthetic which brings its own risks. Cosmetic surgery should not be trivialised," he warns.
"The most dangerous thing is to inject liquid silicon directly into the body. In some horror stories women have travelled abroad for cut-price surgery and have been injected with industrial silicon instead of medical silicon, which can kill.
"Do your research carefully first and remember if the price is cheap, the surgery may well be too."
As for bootylicious Jade, she may go bigger! "The bonus was I actually dropped a dress size from 10 to 8 after the procedure removed fat from my tummy and thighs.
"Since having my son Tate last year, I've lost more weight so my bum doesn't feel quite as pronounced as it was. If money was no object, I'd like to make it even bigger and more of a 'shelf'. I can't ever see Ross approving though!"
By Rachel Mostyn
BUT, WHEN IT ALL GOES WRONG...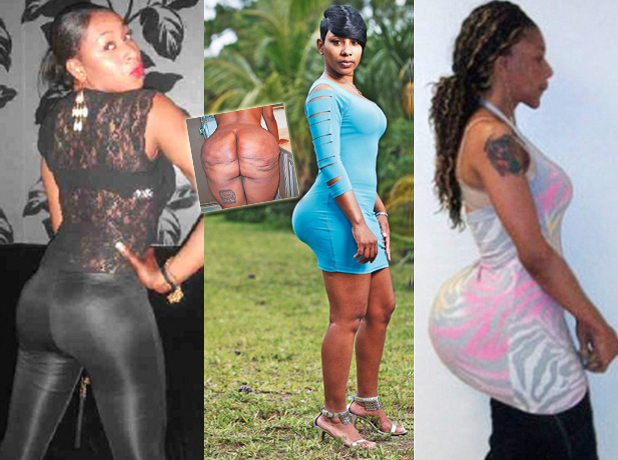 British dancer Claudia Aderotimi was only 20 when she died after having backroom silicon injections in the US in 2011. She got a clot after silicon leaked into her bloodstream.
Natalie Johnson, 34, was left disfigured after bum-enhancing injections performed by 'toxic tush doctor' Oneal Ron Morris.
Morris, who is transgender, enhanced her own rear too and was jailed last year for injecting a woman's bum with cement, tyre sealant and glue.
What you need to know…
No cosmetic surgery is risk-free. If you decide to go ahead, follow this advice from whatclinic.com…
1. A butt lift is not an essential procedure – think very carefully before you go ahead.
2. If you do go ahead, find a surgeon who does the procedure regularly as they will be more experienced. Talk to them at length.
3. Ask about possible risks. A good surgeon won't mind talking about possible complications or a negative outcome.
4. Look for independent reviews. Most clinics will carefully select before and after photos for you to see, so don't base your decision on these. Look for reviews on sites like whatclinic.com and other forums.
5. Never make a decision based on price alone. Quality and qualifications are far more important.
Got an iPad or iPhone? Reveal Mag is specially designed to fit!