One woman has made an incredible profit after selling two pieces of Banksy artwork - for 1,650 times what she paid for them!
The unnamed woman came across the work in New York's Central Park, where the street artist had set up an anonymous art stall to sell his work at discount prices.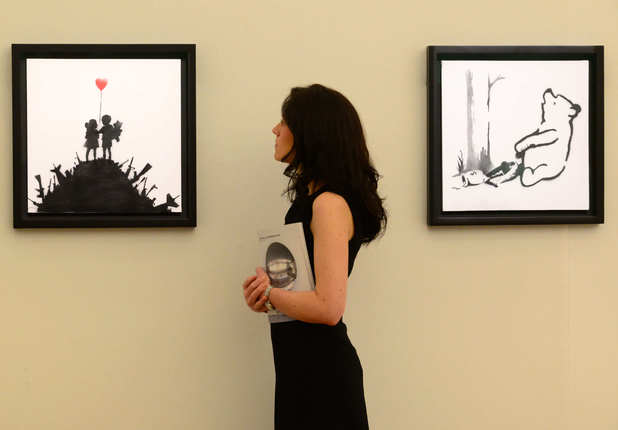 She knew she'd got a bargain when she handed over £70, but we're sure even she was surprised when they went for a six figure sum at an auction in London!
His version of 'Winnie The Pooh' sold for £56,250 , while his 'Kids On Guns' went for a staggering £68,500 at Bonhams' Contemporary Art Sale.
We're more than a little envious of her combined total of £124,750 - perhaps we should hang around parks in the hopes of another Banksy sale?!
Gareth Williams, an art expert from Bonhams, said: "The cost £70 for the pair so the reader has got an incredible deal. She is delighted – it really is tremendous."
But Banksy did far less impressively on that day in the park - his total was a modest £263 and surprisingly only eight pieces were sold.
By Rosie Quigley