For Natasha Goldsworth the Japanese cartoon cat is much more than a cute kitty – she's a symbol of hope.
While most girls are saying goodbye to their Hello Kitty dolls by the time they leave primary school, Natasha Goldsworth's feline fascination didn't even start until after her 15th birthday.
Since then, she has amassed an enormous cat collection of over 10,000 toys worth an eye-watering £50,000.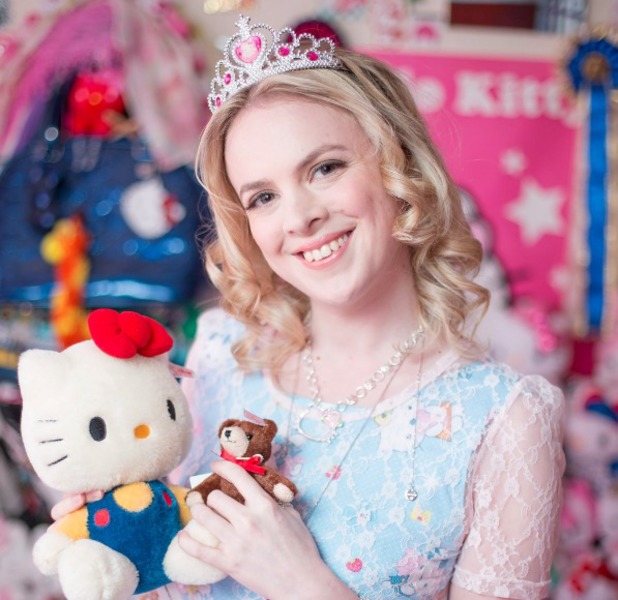 The 29-year-old's one-bedroom Devon flat is fit to burst with pink and white collectables, every inch of space occupied by her 4,000 Hello Kitty dolls and every other kind of paraphernalia imaginable.
And while she is rapidly outgrowing her home, the cartoon cats can leave little space in her life for relationships too, as Natasha admits some men are scared off by her precious pussycats.
"I live in my little pink lagoon with all my kitties," says Natasha. "They cheer me up and I like having them around me. Before people come over I do have to warn them about my kitty kingdom because some people just can't handle it."
Natasha's costly collection includes every item you could think of, from saucepans, tiaras and dolls' houses to a Christmas tree and even a gumball machine. Guarding the entire hoard is a polka-dot clad, 3ft tall Hello Kitty who she calls "The Boss".
However, there is a much more serious side behind her seemingly frivolous addiction. Four years ago, at just 25, Natasha was struck down with chronic pancreatitis, a condition where the pancreas becomes permanently damaged due to inflammation.
In severe pain, she was forced to quit her beloved job as a horse trainer. Feeling low, she turned to her two other passions in life for comfort – music and Hello Kitty.
Natasha says: "I nearly lost my life when I got pancreatitis – doctors said there was a 70 per cent chance I wouldn't make it. But when I wore my Hello Kitty dressing gown in hospital, she gave me hope. Then, when I had to undergo surgery, my Rose Bloom Kitty even came into the operating theatre with me. She gave me strength.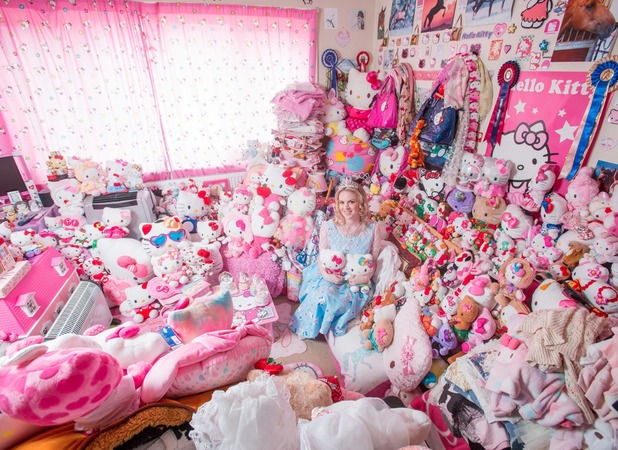 "Now, I'm in agony, especially when I eat. It's so bad, at one point my weight dropped to just 5st 7lb and I have to take morphine for the pain.
"There are many people suffering this awful condition. I would really love to work with the Hello Kitty makers, Japanese company Sanrio, to raise money for chronic pancreatitis sufferers."
Of her vast collection, there's one cat that's Natasha's favourite – a rare Hany Ito kitty worth a hefty £600. Decked out in a designer wedding gown, Natasha has decided she wants to wear a replica of the dress if she ever walks down the aisle.
"When I get married I want to wear the Hany Ito dress. My dad's already agreed to wear a pink tie and I want to have Hello Kitty on top of the wedding cake," she says.
"Anyone I end up with will have to accept me – cats and all! Past boyfriends have tried to make me give her up. One told me not to wear Hello Kitty clothes and said I should grow up. Others have asked me to sell my collection. But she's a part of who I am and I'm not changing for anyone."
Since falling ill in 2011 left her unable to work, Natasha has been unable to buy any more Hello Kitty memorabilia but with the help of kind family and friends, her collection has continued to grow.
"With the 40th anniversary of Hello Kitty falling this year, I'm hoping to get some really special items," she says. "Hello Kitty may just be a toy to some people but to me she'll always be a symbol of hope."
By Paisley Gilmour & Su Karney