It would seem some holiday-goers aren't so easy to please.
A new survey has revealed that when we Brits go on holiday to escape the rain at home, we expect nothing less than 100 per cent paradise.
Whilst every one of us has experienced a few holiday hiccups, holiday company
Opodo.co.uk
has revealed some of the more bizarre complaints they've received out of the 500 calls they get each day.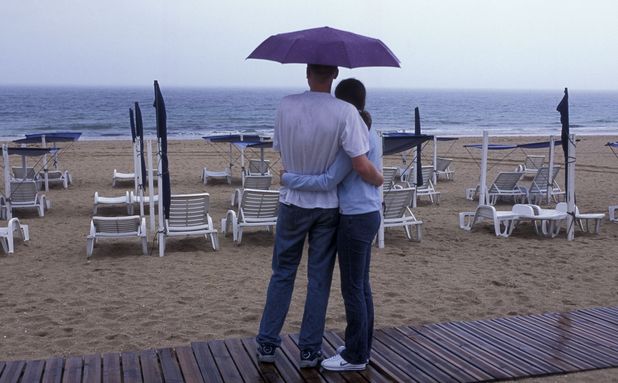 Unsatisfied customers have demanded their money back for some crazy claims when abroad, including the weather being too hot, there being too many foreign people and even having too many pebbles on the beach!
One daft unhappy sunbather even moaned that the tide came up too high on the beach, and another wanted a refund for their trip to the Universal Studios in Florida because a rollercoaster was too scary.
It appears Opodo are even expected to play weather-gods, as one couple honeymooning in the Maldives for two weeks demanded their money back for a single rainy afternoon.
Not only that, but they have to get involved in the romantic lives of their customers too, as after mistakenly booking a romantic trip to Rome, Georgia, instead of Rome, Italy, a heartbroken man demanded that the Opodo help him win back his unimpressed girlfriend who dumped him because of the mix-up.
Other crazy requests include upgrading beloved pets to first-class, and one nervous flyer to Bucharest rang up for advice to find out which one out of garlic, holy water or crosses was the best defence against vampires.
As the forecast promises thunderstorms over the coming weeks, we can only imagine what outrageous and hilarious complaints are in store for those at Opodo's call centre.
But don't worry if you're not going away yourself, as you can get your own fix of holiday drama and disaster from the TOWIM team. We wonder what they would complain about, maybe the ocean making their fake tan run?
by Ella Goel
What's your biggest holiday horror story? Would it top Opodo's list of outrageous complaints? Post your comments below as the best one from across the website each week wins £50!
Got an iPad or iPhone? Reveal Mag is specially designed to fit!