Kirsty Robertston, 24, is putting on weight all because her boyfriend Kasper Lewis adores the larger lady...
When 24-year-old sales assistant Kirsty Robertston receives a present from boyfriend Kasper Lewis, she knows it won't be jewellery or perfume. Instead, it will probably be a dozen Krispy Kreme doughnuts, or maybe a KFC bucket of fried chicken.
And that isn't just a one-off treat. Kasper is desperate for his girlfriend to put on weight – and is determined to keep feeding her until she's fat.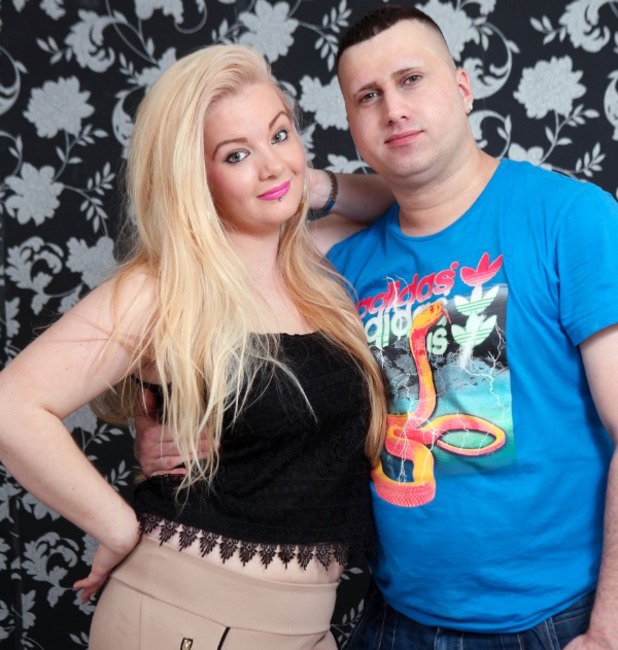 Kasper, a 33-year-old screenwriter, and Kirsty have been together for a year and a half. In that time, she's already swelled from a size 8 to 14, all in the name of love.
"Kasper won't be truly happy until I'm at least a size 18," reveals Kirsty. "He didn't admit it to begin with but after about six months, I started to realise he has a fetish for bigger women. He fancies the pants off Adele."
When the couple got together in October 2012 after meeting down the pub, Kirsty fell into the usual trap of putting on a few pounds as they indulged in takeaways and romantic dinners at their local Italian restaurant in Sutton, London.
"After a year together, I realised I'd gone from nine to 11 stone," says Kirsty. "When I discussed this with Kasper, he admitted he preferred women with more meat on their bones. He said he thought I was lovely, but too skinny for his taste. Then he asked me if I would consider getting really big and curvy for him."
Kirsty was rather taken aback by her boyfriend's unusual request but, not wanting to lose him, she agreed. Kasper's ex had previously accused him of fattening her up, then dumping her when she couldn't get beyond a size 14. Despite this, Kirsty was unfazed by her man's fetish.
"To be honest, it was a bit of a relief," she confesses. "I'd spent most of my teens trying to lose weight and keep up a toned physique. Quite frankly, it was exhausting. Before I met Kasper, I'd go on girls' holidays to Ibiza where I felt I had to be skinny, but it wasn't natural for me. It took a lot of effort."
From that moment, Kirsty – encouraged by Kasper – ditched her gym membership and started to gorge herself: "Whenever we went to the cinema, he'd buy me tons of sweets. If we were out for dinner, he'd order me puddings drowning in cream.
"Even at home, he encouraged me to have seconds. He'd bring me a dozen Krispy Kremes or a Nando's. He doesn't force me to eat it, but I don't like to let him down so I always polish it off."
Predictably, Kirsty's weight soared after they moved in together last October, and her boobs have shot from a C to an E cup. She says: "I used to wear bodycon dresses but pretty soon I couldn't fit into any of my old wardrobe. I had to buy comfortable elasticated leggings and high-waisted trousers to cover my tummy."
But doesn't Kirsty worry that she's putting her health at risk in order to satisfy her boyfriend's demands? Kasper himself weighs 13st, which is within the healthy range for his 6ft frame. "I'll keep an eye on the situation and if my health starts to suffer, I'll think again," says Kirsty. "I'm 5ft 7in, so I don't want to go above a size 18."
While Kirsty's mum thinks her daughter's curvier figure is great, some of her friends aren't so sure. "There were some mates who couldn't get their head around it," she says. "But it's no one else's business. I do get defensive about it, especially when people insinuate that Kasper is manipulating me. He's not forcing me into it. It's my decision.
"I'm not ashamed of my curves. I love them. The bigger I get, the better our sex life gets. We're at it like rabbits now that I'm fatter. When Kasper sees me naked, his eyes are on stalks.
"He can't stop telling me how gorgeous I am. He adores my stomach and voluptuous breasts. It leaves me feeling like a sex goddess, so how can that be a bad thing?"
Kirsty believes there are other advantages to being big in a relationship, too: "Aside from the obvious benefits, like not having to drag myself down the gym every day, our relationship is more honest now. Most women worry about getting dumped for being too fat. Not me.
"I know that when I'm older and get a middle-age spread, Kasper will still love me for me. How many other women can say that? In fact, I reckon a lot of girls reading this will secretly envy my relationship. I'm not having to compromise, and in many ways I hold all the cards, because I can always lose the weight again if I want."
Ultimately, the couple insist Kirsty's weight gain has strengthened their relationship. "I'm happy, he's happy, we're not hurting anyone, so deal with it," laughs Kirsty. "Fat girls are sexy. Fact!"
And Kasper agrees: "Bones are for dogs, meat is for men. Who wants some scraggy slim woman when you can have a woman who's stacked with curves? I'd like Kirsty to get much bigger and I'm happy to help her get her that way."
Marisa Peer, an author, psychologist and celebrity therapist, says: "I see warning signs in this relationship. The point of love is accepting someone as they are. Kasper met Kirsty when she was slim but he is trying to mould her into what he wants. Eating several doughnuts at a time and fast food is extremely unhealthy, and will strain her joints and organs while making her more liable to diabetes and a fatty liver. He doesn't appear to care about her long-term health prospects or her happiness, only his own."
By Kate Thompson