Laura Whitfield's son is the only baby born in the UK with two types of dwarfism
When Laura Whitfield woke up after having a Caesarean section, she had been warned to expect the worst. She may not see her newborn for days if medics had to battle to save his life – and he might not even survive the birth.
So when Laura, 24, opened her eyes to find her fiancé Nathan and their tiny son at her bedside, she shed tears of pure joy. Her little boy was showing the world just how strong he is – despite being the only baby in the UK born with double dwarfism.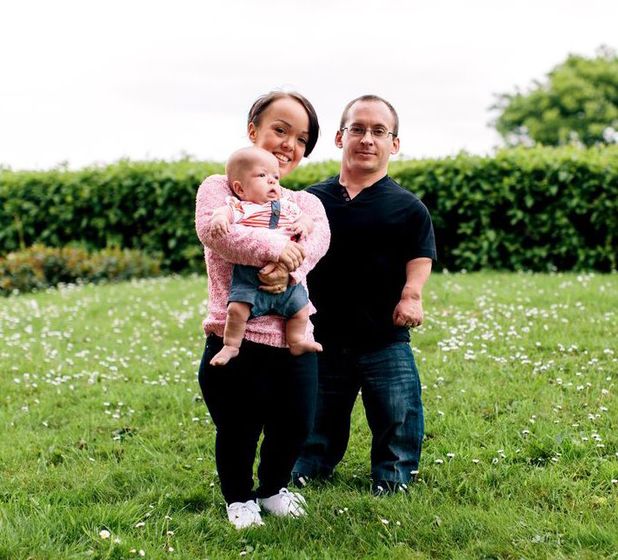 Now seven months old, baby Nathan – named after his father – is stunning doctors with his progress.
"Nathan is my little miracle," says Laura, from Sunderland. "Doctors told us to abort the pregnancy, that he was unlikely to survive, but from the moment he was born, he's been a happy and healthy baby."
In the first case of its kind in the country, Nathan has inherited two types of dwarfism from his parents. His mum suffers from achondroplasia – meaning she has shortened limbs as well as a curvature of the spine – while dad Nathan, 34, has a different form of dwarfism called pseudoachondroplasia – which means his bone growth is stunted, causing weak hips.
The pair met in November 2012 while performing in a pantomime production of Snow White And The Seven Dwarves. Laura had been cast as Dopey, while Nathan was doing a turn as Grumpy. But backstage love quickly blossomed and just four months later, after a whirlwind romance, Laura took the plunge and proposed to Nathan during a family dinner.
"I knew from the moment I met Nathan that we were meant to be,' says Laura. 'We didn't plan to get pregnant so quickly, but when we found out the news in April last year we were thrilled.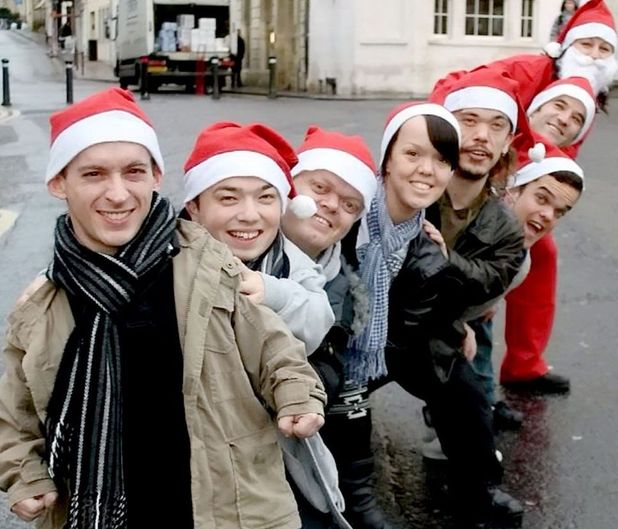 "Despite both Nathan and I having dwarfism, I never thought there would be a risk to our baby. We know other dwarf couples who have had children together. It wasn't until the 24-week scan that I knew there could be a potential problem."
At that point, Laura discovered her baby wasn't growing properly. Doctors believed he may have inherited a deadly combination of genes and warned he might only live for half an hour. And that was only if he was born alive.
Laura says: "They'd never come across this before, so they didn't know what that meant his chances of survival were. When they suggested an abortion I felt physically sick. We already knew we were having a boy, I'd felt him wriggle inside me and we'd bought little blue shoes and onesies. How could I give up on him?"
Instead, the worried mum had weekly scans to monitor her baby's progress to make sure everything was OK and doctors planned in advance that Laura would undergo a Caesarean section because her small hips meant that giving birth naturally could prove fatal.
But on 20 November 2013, at eight months gone, doctors discovered the pregnancy was putting pressure on Laura's heart and they decided it was essential to bring the delivery forward.
Laura says: "When I got settled in the hospital the nurses said that, after giving birth, I wouldn't see my baby for a few days because both of us would need special care. I was so worried.
I kept forcing myself to remember that he was a fighter. After all, he had made it this far when doctors said I should have an abortion.
"I kissed Nathan goodbye and told him to give our little boy lots of kisses from me and tell him that I love him. Then I was put to sleep for the C-section."
Almost an hour later, when Laura woke up, she was amazed to see her fiancé with their newborn in his arms: 'As soon as I saw him I cried – our son was perfect. He was breathing on his own and didn't need any help.
"Everyone was surprised at how well we were both doing. After all we'd faced, it was an amazing moment when my little boy looked up at me."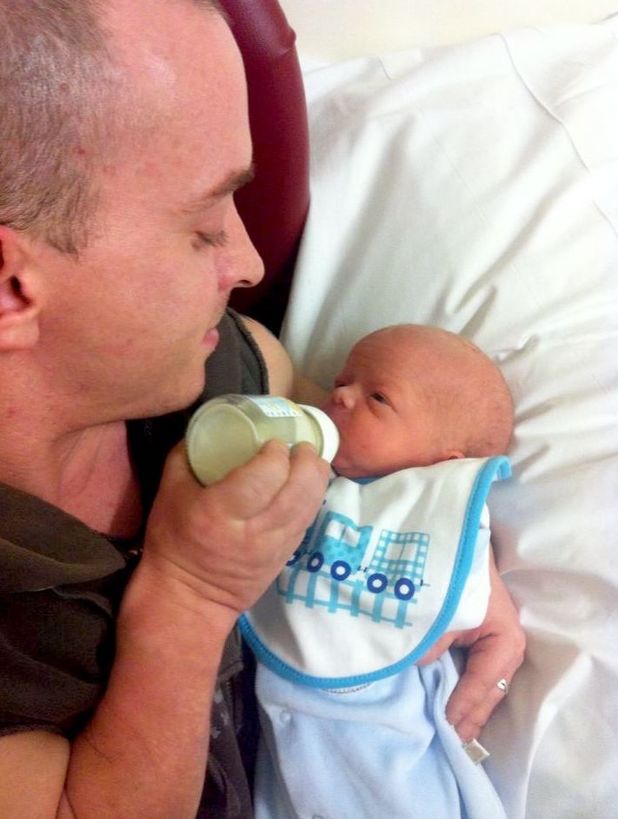 Tests later confirmed that baby Nathan does have double dwarfism but no one knows how this will affect him in later life. Doctors believe it may lead to slightly delayed milestones, such as learning to walk later than other children his age.
As for Laura and Nathan, they have been getting to grips with life as new parents. "With us all being so small, we've had to adapt. We've had the floors in our house raised so that we can reach the kitchen counters, and Nathan has pedal extensions in the car for driving.
"We had to buy a special cot that I can get the baby in and out of safely, as well as a pram with a handle that can be pushed all the way in for me and Nathan, but
also extends so that his grandparents, who don't have dwarfism, can take him for a walk."
Now, genetics doctors are pleased with the little boy's progress.
"I've never worried about Nathan's quality of life," says Laura. "Even the doctors say there's no reason he won't lead a relatively normal life. He's already rolling over and he's very mobile.
"I'm really happy living with dwarfism and so is my partner. Despite our height, we live our lives just like anyone else.
"We are loving parents and Nathan is a happy little boy. What more does he need?"
by Emily Cope and Su Karney