Three mature escorts reveal all about sleeping with men as young as 20 for cash...
For three British grandmothers, having a good time means a lot more than a trip to the garden centre with a free bus pass. What these ladies are interested in is sex.
Sheila, Beverley and Sophie are all mature escorts – older women who have sex with men for cash. They tell all about their passionate profession in a Channel 4 documentary,
My Granny The Escort.
At 85, Sheila is undoubtedly the oldest 'working girl' in the country. A great-grandmother living in sheltered accommodation in London, she isn't your typical seductress. Clad in a velour tracksuit with matching slippers, her home is a clear indicator of her advancing years – there are safety rails around the bathroom, pills in the bedside cabinet, knicknacks on every surface.
Yet this octogenarian has sex with up to 10 clients a week in hotel rooms, meeting the needs of men as young as 20. And her services aren't cheap at £250 an hour. 'Men, especially young men, see something about me,' says Sheila. 'I know I'm very sexy.'
She began escorting after the death of her second husband in 2004. Lonely and missing sex, she signed up to an online agency under the name Grand Dame Cecilia Bird and has never looked back.
"I have no inhibitions," she says, proudly showing off a sex tape she made with a client.
Meanwhile, in her quiet suburban home, 64-year-old Beverley tells how she came to the business 25 years ago. "My ex-husband was a gambler and left me penniless. We had nothing but bread and jam," she says.
With children relying on her, she answered an advert for escorts and saw eight clients on her first day. Now, she works for herself and charges £50 for 30 minutes and £90 for an hour.
Clients can expect a homely touch. Beverley introduces them to her bedroom with its seductive lighting and teasing feather boas, but before getting down to business, she says: "I go downstairs and get them a cup of a tea. And maybe a Jaffa cake. It helps to relax them."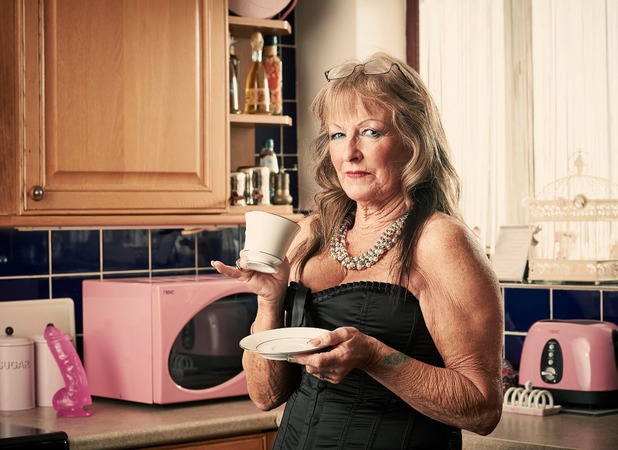 After a short-lived marriage, Sophie, 57, has moved to a secluded spot in the countryside to pursue her career in privacy. Hidden behind a mask for the C4 documentary, she explains why she became a mature escort: "For my 50th birthday, I flew a jet… I took up abseiling and sword-fighting. But the one box I really like to tick is the sex one."
Now 100 men, from truck drivers to international businessmen, pass through her door each month. 'A lot of younger guys have had a mature lady fetish since they were little boys,' she says. "When you're 50 you think you're on the scrap heap. What an accolade it is, having all these guys knocking on your door saying, 'Can I have sex with you?' I can't think of anything I'd rather do."
But this controversial career choice comes at a price. Sophie has very little contact with her family and wishes she could see her two grandchildren. Beverley hasn't had a single boyfriend during her 25 years as an escort and is turning to online dating in the quest for "someone to cuddle".
Sheila's flat is full of family photos of her three grandchildren (one of whom is 2010 X Factor contestant Katie Waissel) and two great-grandkids, but she is in touch with only one of her three daughters, since they discovered she was selling her body. "You'd think I had committed a murder," she says.
But despite cutting a lonely figure singing "Happy Birthday" to herself on her 85th birthday, she doesn't plan to hang up her stockings and suspenders just yet.
Got an iPad or iPhone? Reveal Mag is specially designed to fit!