Meet Anna and Lucy DeCinque, the spookily identical twins who lead identical lives...
Every morning when Anna DeCinque wakes up, she rolls out of the same bed as her identical twin sister, Lucy.
While most siblings would cringe at the idea, for the 28-year-old twins it would be strange if they woke up anywhere other than next to one another.
The sisters share a unique bond as well as a bed and are constantly in each other's company. From their matching cosmetic treatment to their identical diet and exercise routines, the sisters, from Perth, Australia, are devoted to being duplicates.
Dressed in matching figure-hugging size 8 dresses, and with their immaculate make-up applied in unison each morning in the same bathroom mirror, Anna and Lucy would be offended if they failed to turn heads.
But for the past 12 months, the twins have provided their neighbours with another reason to do a double-take. They have both been dating the same man.
"It's really not weird to us," says Lucy. "We have the same taste in everything, so, obviously, we're going to like the same boy. And since he likes both of us too, then there's no problem."
The trio found each other on Facebook after Ben, 30, sent Anna and Lucy a message on their shared account page.
They arranged to meet him, and now a table for three has become a regular fixture at Anna and Lucy's favourite restaurants.
Ben is reluctant to revel in the attention lavished on the twins, and he is often approached by other men.
"Blokes will come up to him when we're out, give him a nudge and ask if he's really dating twins," says Lucy. "Because most guys, either in their hearts or their dreams, really want two girlfriends."
Anna adds: "Our love life is just like anyone else's, though. We take long romantic walks together, go out for meals and do all the other normal stuff that any couple would do, but as a threesome.
"And being twins can work to our advantage, especially when we're deciding on where to go to eat out. We have the exact same taste in food, so that means we have a two-to-one voting advantage!"
Before Ben, the sisters had separate boyfriends, but they always chose best friends or brothers.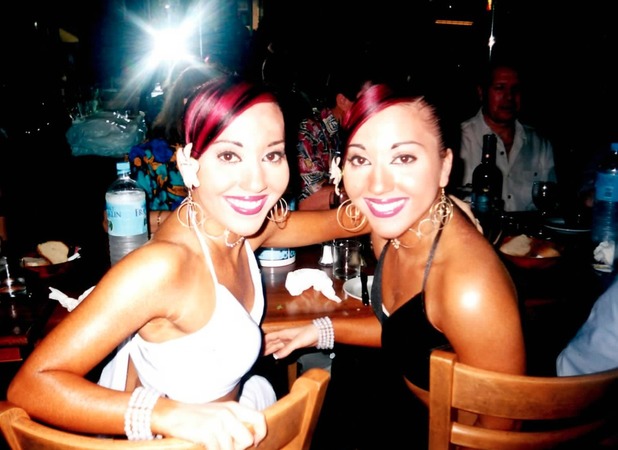 "Every date had to be a double date,' explains Lucy. 'With us, it's either both or none. We could never bear to be apart, so we needed to find boyfriends who enjoyed each other's company too."
Anna readily agrees: "We've had fun dating, especially when we were younger. If we were bored, we could just swap boyfriends. Even on the telephone, if I didn't want to talk, Lucy would take the phone and pretend to be me. But we've settled down a bit now."
From an early age, Anna and Lucy were identical and inseparable. Their mum Jeanna, now 71, could tell them apart, but their dad, Luigi, always had difficulties.
Born one minute apart, they attended the same nursery, primary and secondary school before enrolling on the same beauty course at college.
"If we weren't in the same class at school, we'd complain," Anna says. "We wanted to be together so much and we always got our way."
A mole on Lucy's cheek and a scar on Anna's forehead, caused by a fall in the bathroom when she was younger, mean the twins can be identified by the eagle-eyed.
The childhood accident that caused Anna's scar is one of the few things the sisters didn't do together. Since then, everything they have done has been synchronised – even their cosmetic surgery.
When the girls turned 24, they both decided to have breast enlargements, inspired by Kim Kardashian's curves.
"We weren't happy with our natural size," says Anna. "We're both girls who like big boobs and ours weren't ample enough."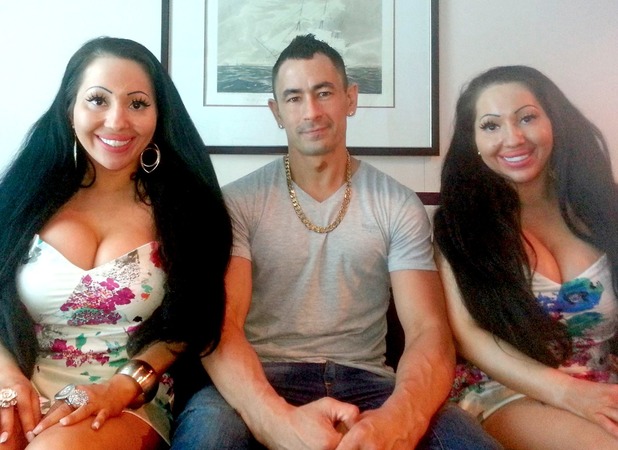 So Anna and Lucy went from a 32B to a 34DD – but a bigger bust was only the start of their cosmetic enhancements.
From lip fillers to false eyelashes and tattooed eyebrows, the twins have spent an incredible £134,000 (AUS$240,800) on their appearances over the last eight years.
"Having our eyebrows tattooed and our lips filled were the most painful procedures, but beauty is pain," says Anna.
"If you're not happy with yourself, we'd say go ahead," says Lucy. "Because life is too short not to like how you look."
Every week, Anna and Lucy indulge in infrared saunas, microdermabrasion and skin peels to maintain their mirror image.
"We like looking after ourselves," says Anna. "But what girl doesn't?"
Sadly, the twins' father became ill when they were in college and they dropped out to look after him until he died aged 58 in 2010 after a battle with cancer.
Afterwards, the pair decided to get a job serving meals to the elderly at a nearby nursing home.
They job-share the position and take home one salary. The money, which ends up in their joint handbag which is carried by Lucy, goes towards the twins' extensive beauty treatments.
From living together to the job they share – and their boyfriend – the 4ft 10in twins are never more than a few metres away from each other at all times.
While the girls have been warned that their extreme closeness could lead to serious problems in their future, especially if one of them decides to get married and move away, they remain unfazed.
"We can't imagine a day when we're not in each other's company," says Lucy. "To be honest, we don't think it will ever happen."
By Mark MackayGot an iPad or iPhone? Reveal Mag is specially designed to fit!