An addiction to cosmetic surgery has cost Rodrigo Alves a fortune and almost his life.
Over the last decade, Rodrigo Alves has been on a quest for the perfect body.
The 30-year-old, born in Brazil, has had more than 20 cosmetic procedures and spent more than £100,000, the results of which have transformed him into the spitting image of a Ken doll.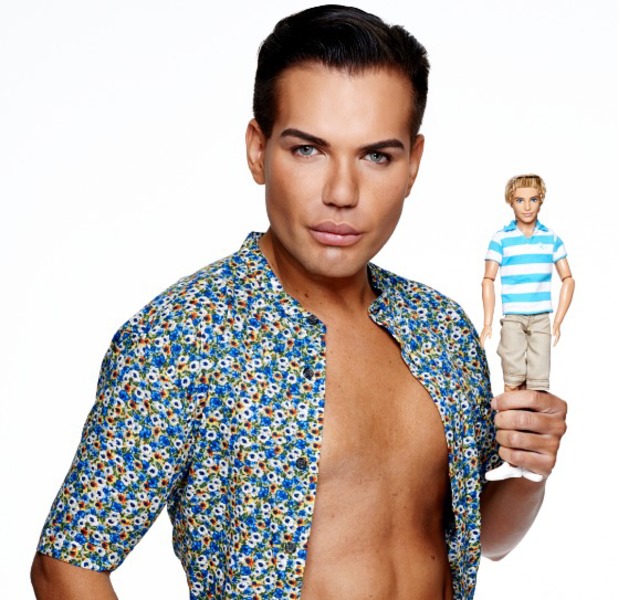 Not only has this feat cost him a small fortune, it almost claimed his life.
But today, Rodrigo is happy with the way he looks and when strangers compare him to Barbie's boyfriend he considers it a compliment.
"It's no wonder I admire Ken – he's manufactured to look like the ideal man," says Rodrigo. "Everything is perfectly in place – he has a symmetrical nose, a perfectly honed body, a strong jawline. Even his back and biceps are impeccably defined."
Since childhood, Rodrigo had struggled with the way he looked. "I've never felt comfortable in my own skin," he remembers. "My nose was too big and my lips too small. My classmates teased me constantly and even my family made jokes, saying none of our relatives had a nose as big as me."
But as he grew older, Rodrigo realised he didn't have to put up with his looks. So, when he moved to London as a student in 2004, he had his first operation.
"It was a nose job as it was the feature I hated the most," says Rodrigo. "I booked the operation in Brazil so I could be near family afterwards and as soon as the swelling went down, I was delighted with the results."
This was just the start of Rodrigo's addiction. Since then, he has had a further 20 cosmetic procedures, including two more nose jobs, chin and calf reshaping, liposuction, tricep fillers, implants in his pecs and surgery to "create" a six-pack.
And it's not just this extensive list of surgery that has turned him into the walking double of a Ken doll. He also indulges in twice-yearly Botox and filler top-ups and takes a cocktail of daily pills consisting of collagen tablets, anti-water retention and hair growth tablets.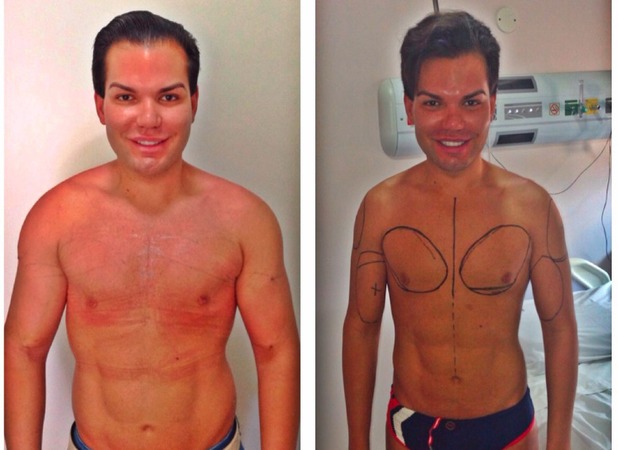 "People's reactions are mixed when they see me. If I'm on a night out, I get lots of compliments, people telling me I look like Ken. Sometimes people tend to point and stare, but generally comments are positive – I think I've achieved my dream look."
Yet Rodrigo, who's been diagnosed with body dysmorphia, admits he may have taken his surgery – which has cost a whopping £106,000 – too far, after he contracted a potentially fatal infection after his last operation in January.
"I was visiting a friend in São Paulo, where I heard about a new gel filler. So, on a whim, I decided to get it implanted in my shoulders, biceps and triceps.
"Two days later my body swelled and I couldn't even lift a fork to eat my dinner. Tests revealed I'd developed a bacterial infection during the operation and I spent three and a half weeks in hospital while medics drained the gel from my arms.
"If the bacteria had reached my heart, it could have killed me. I've always known that medical procedures carry a risk but this has really made me realise how much I've risked to get the body of my dreams. Even my family – who have been very supportive – want me to stop now."
But despite this, Rodrigo hasn't ruled out the possibility of more surgery.
"I've been put off for the moment but I'd never say never. There's more to me than looks, but they're a good place to start."
By Joe Mellor and Sarah Whiteley
Got an iPad or iPhone? Reveal Mag is specially designed to fit!