Alison Abruneiras turned her addiction to the auction website into a real money-spinner.
Thousands of cash-strapped Brits have turned to eBay to save a few pounds – but what if it could make you a fortune?
Mum-of-three Alison Abruneiras became the managing director of a successful business grossing more than £1 million a year after becoming addicted to the auction website.
Incredibly, the 46-year-old left school with no qualifications and has no prior business experience.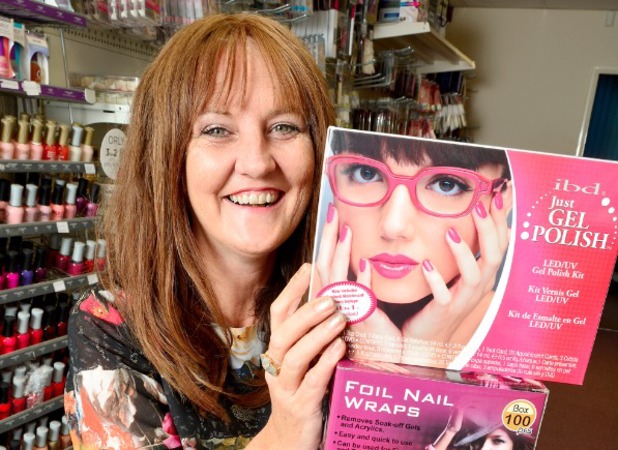 Seven years ago, Alison was making just £70 a week as a nail technician until breast cancer forced her to stop working altogether. But after logging onto eBay in her bedroom as a way to take her mind off her treatment, she's become a hugely successful entrepreneur.
In six years, her cosmetic retail business, the Nail and Beauty Emporium, has become a huge hit on eBay. It trades worldwide and Alison has had to expand the enterprise from a tiny box room in her house to a warehouse and take on four staff – including her 23-year-old daughter, Coralia, who is set to take over the business.
Alison, from Lincoln, says: 'It's incredible to think that this started on a computer in my bedroom.
"It has been really hard work, but I'd like to show other people that it can be done. If I can do it, anyone can. You don't have to have an education – I don't have a GCSE to my name."
Alison has no formal training to speak of, save for a little market stall she was given by her shopkeeper dad, aged 11, to sell washing-up liquid and other household items.
But life took Alison in a very different direction. Aged 21, after falling in love with her husband Amador, now 47, she moved to Lanzarote where she worked as a holiday rep and nail technician.
The couple had two more children after Coralia – Amador, 22, and Luis, 15 – before moving back to the UK in 2005 where Alison continued working as a nail technician.
But in February 2007, she was forced to give it up after being diagnosed with breast cancer. For the next two years she underwent agonising treatment, including a lumpectomy and mastectomy. Her ovaries and lymph nodes were removed before she began chemotherapy.
"It was a huge shock," says Alison. "My confidence plummeted and I became incredibly depressed."
With a lot of time on her hands, Alison turned her attention to eBay. She says: "I couldn't bear my whole world to be about cancer and chemo. I wanted a hobby to focus on."
Alison's first port of call was an end-of-line sale where she bought a foot spa for £10: 'I wanted to see if I could sell it for more. And I did. Within a week, it went for £30 – a 200 per cent profit.
"Making that first sale gave me a buzz. And for the first time in ages, I wasn't thinking about whether I was going to survive or whether the treatment was working."
Alison moved on to other beauty products and enjoyed similar success, which prompted her to take a bigger chance: 'I bought £3,000 worth of products from a wholesaler and stored them in my bedroom – which had become my office.
"Within two weeks I'd sold nearly all of that too and more than doubled my money.
"From then, it became an addiction. I'd be on the computer first thing in the morning and up until midnight."
As Alison's treatment finally ended, the business continued to expand. When there was no room left in the family home, they bought a bigger house, before eventually moving the whole operation to a warehouse.
The business proved a real lifeline to Amador too, when he lost his job as a restaurant manager in 2010. Alison says: 'My business suddenly became our only source of income. We had to make it a success to survive.
"Amador came to work with me. With his business knowledge he helped sort out structure and staffing."
Three years ago Alison went from sole trader to a limited company and, today, business continues to boom, expanding to Amazon and Play.
While Coralia now manages the day-to-day running of it, Alison and Amador have opened their own tapas restaurant in Lincoln. Since August, they have won rave reviews and they plan to open another branch soon.
Alison says: "Setting up your own business is incredibly rewarding. But it isn't easy – we worked like crazy to get where we are today. Seven years ago,
I thought my life might be over. I could never have imagined it would change so much for the better."
By Hannah Mouland
ALISON'S TOP FIVE TIPS FOR SUCCESS
1 Do your research. Have a look around eBay, find out which products are selling well and which aren't. Also, read all of eBay's advice on how to be a successful seller – there are plenty of tips on the website.
2 Be organised. Make sure you keep on top of everything – from responding to messages from potential buyers to packaging and sending out your products. Good customer service means a high rating on eBay and this will bring in more customers.
3 Be competitive. Have a look at how the competition has priced their products and see if you can offer a better price – the customers will come flooding to you.
4 Know your products. You'll get a lot of queries from customers asking all sorts of questions – be prepared. The customer won't have much confidence if you don't know anything about what you're selling.
5 Be 100 per cent committed like you would in any other job. People used to laugh when I said I was an eBay seller because they didn't believe you could do that as a real job. They're not laughing now.
Got an iPad or iPhone? Reveal Mag is specially designed to fit!