Ajifa Khatun is a teenager, but she stopped growing when she was just two years old.
Standing just 2ft tall and weighing 1½st, Ajifa Khatun needs to be fed and clothed by her mother and is only able to stumble her way through a few baby steps. However, despite her appearance, this tiny Indian girl is not a toddler. Instead, she is fast approaching her 20th birthday.
Ajifa stopped growing just before her second birthday and, despite her parents' desperate two-decade search for a diagnosis, doctors remain baffled as to why the teen remains stuck in an infant's body.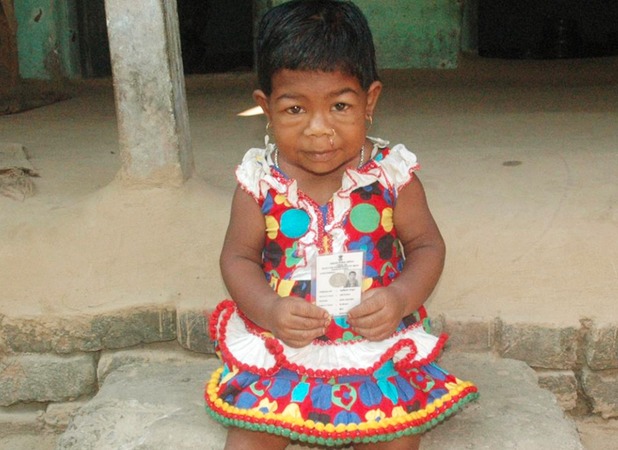 Born healthy in a remote village outside Kolkata, in West Bengal, eastern India, Ajifa continued to develop along with other babies her age until, for no reason that doctors can fathom, her physical and mental growth slowed to a stop.
Her situation became more pronounced when her sister Rini was born two years later and quickly caught up with, then overtook, her older sibling's development. It was then her parents decided to seek a doctor's help.
"We had to take a bus to the nearest town with a hospital," says her father, Sekh, 52, who earns less than £2 a day as a plumber. "But doctors didn't say much. Doctors in government-run hospitals don't pay much attention to poor patients. They said she would grow in time so we were forced to wait and see what happened."
But as the years passed, it became clear that Ajifa wasn't getting any bigger as Rini, now 17, younger sister, Rabiya, 14, and little brother, Danish, eight, all flourished well beyond her tiny frame, leaving Sekh and his wife Apila, 42, with no choice but to turn back to the doctors.
"She couldn't speak or walk properly and I still had to spoon-feed her," says Apila. "We were desperate for answers. We returned to the doctor when she was four and they spotted an abscess on her back. We explained she'd had an accident and her cousins had dropped her and maybe that was connected. But they diagnosed her with cancer."
Neither Apila nor Sekh believed this diagnosis but doctor blamed the abscess for her growth problems and eventually decided to give her a course of treatment.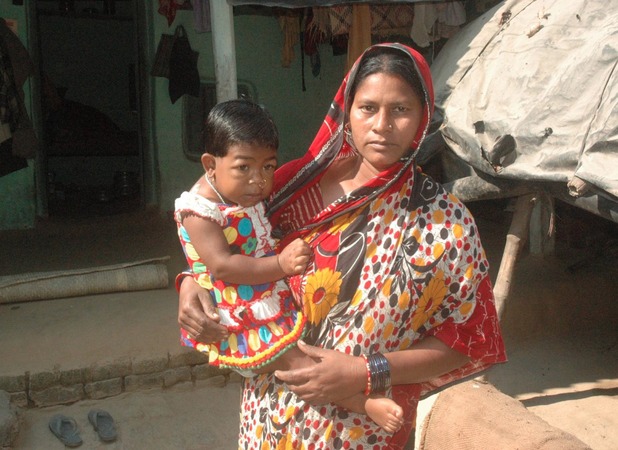 "We weren't convinced but doctors told us that there was nothing they could do and she had months to live," Sekh says. "They even gave her chemotherapy but nothing changed. We tried other doctors for answers but no one could help."
Apila adds: "We're poor. We don't have the money to take our daughter to a specialist doctor in a private hospital. But 15 years have passed and she's still here so I doubt very much that she had cancer.
"Ajifa is 19 now but doesn't look anything like other girls her age. She's a delight and always has a smile on her face but it's heartbreaking to watch her trapped in this life. As a mother, I am devastated.
"But what else can I do? It doesn't help anyone to worry, so now we have tried to accept our daughter the way she is and enjoy life as much as we can."
Doctors have told the family recently that Ajifa's condition could be due to a hormone disorder. Her symptoms bear an uncanny resemblance to American teen Brooke Greenberg, who died in October last year, when doctors were still baffled by the cause of her problems. Brooke also looked and acted like a toddler and doctors eventually called her extremely rare condition Syndrome X.
Though she relies on her mum to carry her everywhere, since Ajifa turned 18, she is legally allowed to cast her first vote – but she is far from being able to take part in any elections.
"Although Ajifa understands everything that is going on around her, sometimes we fail to understand her when she tries to communicate," Apila explains. "We usually rely upon sign and body language to work out what she wants."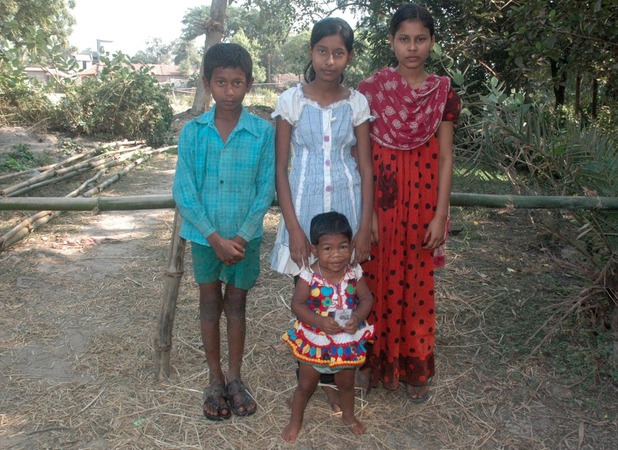 The only words Ajifa speaks are her local words for mother, father and sister and she spends most of her time playing with the children in her community who are a third of her age.
But, despite her small stature, Ajifa is adored by everyone who meets her. Apila says: "She is our darling and brings us so much happiness. She has such an infectious smile and the only thing that upsets her is when she hears people talking about her condition.
"All our neighbours love her, as do all of the teachers at the nearby school – they even take her in and give her lunch with the pupils. She's become an honorary student there. No one is nasty to her."
The family still live in hope that a cure can be found one day.
"We have no idea what the future holds," says Apila. "I will be her carer for as long as my heart beats but after that I can only pray. We're desperate for expert doctors to give us some answers.
"Ajifa's condition could rekindle hope among the US scientists who were studying Brooke's DNA to learn more about human ageing. We would love someone to help our beautiful daughter."
By Wahid Bukhari and Sanjay Pandey
Got an iPad or iPhone? Reveal Mag is specially designed to fit!