Who says manly fellas can't get in touch with their more feminine sides? These three men are challenging the usual stereotypes and their ladies aren't complaining...
The brickie turned jewellery maker
Jodie Richardson's hubby Tom swapped building sites for delicate necklaces and bespoke rings
Paddling out to meet a wave, Tom Richardson jumps to his feet and surfs towards the shore.
"Nothing beats the feeling," Tom says. "The adrenaline rush, the salty sea air, your heart thumping – I love it."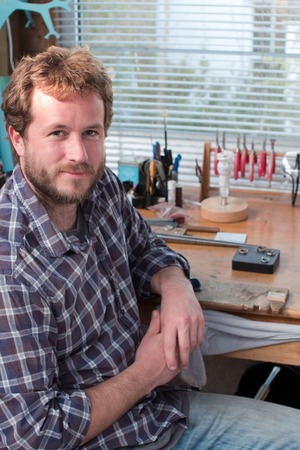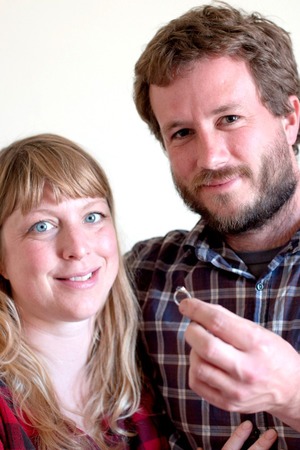 Sporty Tom has been a keen surfer since he met wife Jodie, 34, nine years ago: "I used to play basketball until an ankle injury stopped me. Then Jodie taught me to surf."
The couple from Cornwall used to surf several times a week before the arrival of sons Noah, two, and newborn Torren. Combined with busy careers as academics, it was a wonder Tom, 35, had time for anything else.
But another hobby was taking shape: 'When I was at university studying biosciences, I worked as a builder in the holidays. I liked construction, but the skills I learned soon developed into a fascination with making jewellery.
"Strangely, they are pretty similar – both need patience, dexterity and precision. But making jewellery required a lot less space."
At first, Tom just worked on necklace and bracelet designs on weekends and evenings. But in the last two years, business has been booming: "Thanks to my Etsy site, Natural Jewellery, I've been taking commissions from around the world.'
Tom made the biggest impression on his wife, who he proposed to with a specially-designed ring. "It's beautiful," says Jodie. "It has a sapphire stone with intricate gold leaves either side. Naturally, I said yes!"
Tom is used to the raised eyebrows when people hear of his skill. "I have a PhD in politics – people are always surprised to hear I also make wedding rings. But I think the definition of manliness is changing. A clever man these days knows how to put up shelves and make his wife a beautiful piece of jewellery."
For more info, visit
etsy.com/shop/naturaljewellery
The biker who crochets
Theresa Moger finds husband Dave's needlework a definite point of attraction
Revving the engine on his Yamaha Fazer, Dave Moger rocks up at the rally, in full leathers, ready to show off his coveted motorbike.
"I'm an avid motorcyclist. I wanted to ride motorbikes ever since I was a child, but it was only last year that I bought my first bike," says 31-year-old Dave.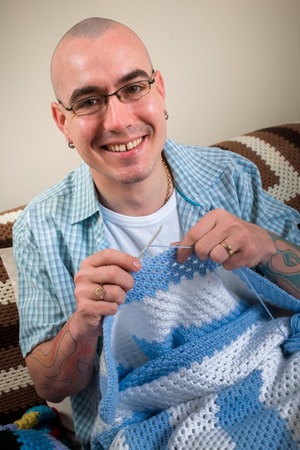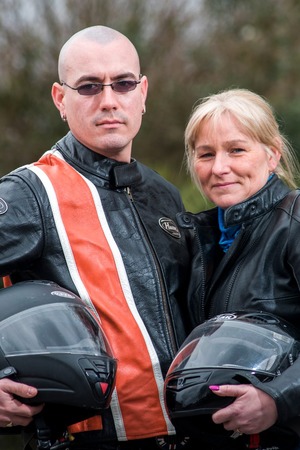 "I just love the freedom of riding. After a 12-hour shift driving a bus, nothing beats zipping through traffic on my bike."
By day, tattooed Dave drives a 40ft long, eight-ton bus round Southampton city centre: "I've been doing it for 10 years now and it's how I met my wife Theresa."
But between shifts, his colleagues can find him doing something rather unusual in the staff canteen – crocheting a blanket.
"Theresa knew about my love of crochet before we fell in love," laughs Dave. "It was public knowledge at work."
So what did Theresa, 45, make of the man who pulled out his needles and wool every lunchtime? "I admired the fact Dave was never ashamed of his pastime," says Theresa, who is also a bus driver. "I found it really attractive."
Dave learned to crochet when he was 10: "My nan Silvia taught me so I made my first blanket for her. Now I'm trying to master making a cardigan."
Though the biker is used to being mocked by his mates, he's never been worried about anyone else's opinion: "One minute they're laughing, the next they're putting in an order for a blanket for their new babies!"
And Theresa believes Dave's needlework makes him all the more manly. "I love that he can do something I can't," she says. "And the fact he doesn't care what people think makes him all the more confident – and that's always attractive."
The go-karting "seamstress"
Kelly Fisher's found many perks to dating a man who knows how to sew
While most couples enjoy a lie-in on a Saturday morning, Kelly Fisher and boyfriend Ad Smith are up at the crack of dawn so he can compete in go-karting championships.
Though it's nerve-racking after Ad crashed last summer, Kelly's his biggest fan, standing track-side all summer. But that's nothing compared to how seriously he takes his job. The manly 32-year-old makes his living as a seamstress, embroidering T-shirts for anyone from girls on a hen do to a corporation uniform.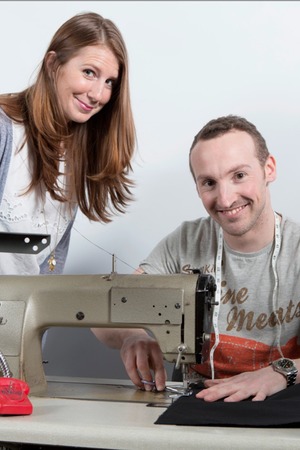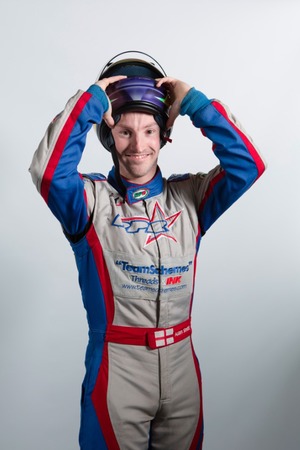 "I even made the go-kart team uniforms," says Ad, from Bath. "But I'm most proud of a bespoke table cloth I made for a friend. I've never had training, so intricate things make me realise how far I've come."
Ad taught himself to use a sewing machine when he was 16. Now he runs an embroidery service, Team Schemes, with his mother.
"Mum's in charge of admin, I design, sew and embroider. It's a role reversal," he says. "My mates are electricians and builders so they find my job hilarious."
Kelly and Ad met five years ago online. "I remember writing my profile: Funny, well-dressed seamstress," says Ad. "I was wary of women asking me to fix clothes. But at least Kelly left it a few dates before she asked me to patch up her jeans!"
Kelly loves having a boyfriend who can take care of fashion issues.
"Ad fixes my bags and clothes," she says. "When we go shopping, he inspects the seams for loose stitches – he knows it'll be him sewing up holes a week later."
Ad says: "Men and women are all capable of doing anything now. Men can be nannies, women can be firefighters. As a man who can embroider, I can testify it's a changing world."
For more information, visit
teamschemes.com
Got an iPad or iPhone? Reveal Mag is specially designed to fit!