Sarah Massey has a backside so large she once broke a toilet – but she's found fans who adore her bootylicious figure.
Sarah Massey brings a whole new meaning to having some 'junk in your trunk'. The US mother-of-two boasts a derriére that measures a jaw-dropping 7ft in diameter, meaning she has to walk through doors sideways and once broke a toilet just by sitting on it.
But the 33-year-old from Chicago has learnt to love her generous booty and now takes part in sexy photoshoots to please her army of fans.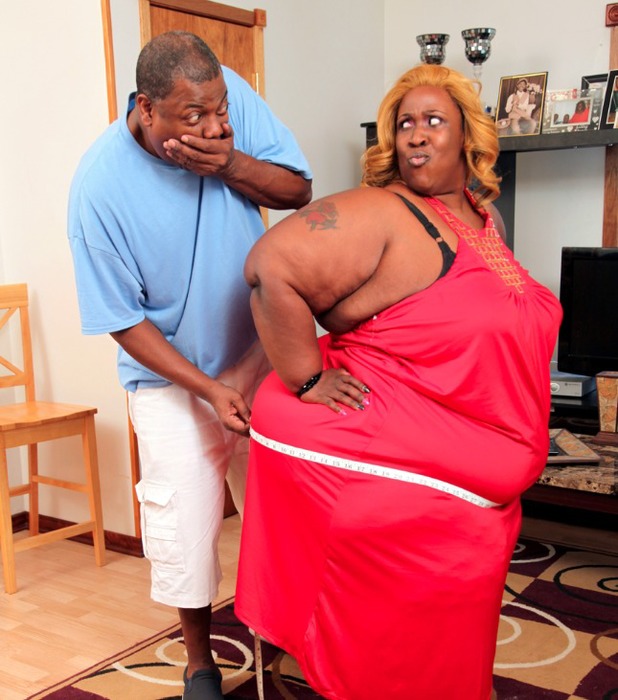 Sarah first discovered an online community of men who appreciate women of her size when Facebook pictures of her went viral in early 2012.
"Some people can't believe one person can have this much butt. Because I've got a relatively small frame on top they say, 'That can't be real'. I carry this weight with me all the time, everywhere. It's definitely not fake," Sarah tells us.
"Big booties are in my blood. Apart from my younger sister, women in my family all have large behinds. I went through a stage of worrying what people think, but I want to show the world I'm proud to be me."
Sarah, who weighs 32st, wasn't always so confident about her body shape.
"I was teased a lot at school, which made me very self-conscious. I got called lots of names – Dump Truck Butt, Wide Load, Bazooka Butt, things like that. Kids can be so mean," remembers Sarah.
As she grew up, she noticed that, while boys her own age preferred her 'skinnier friends', older men were taking notice of her curves. "Old guys would hit on me because they appreciated my body and weren't put off by my size," she says.
"Because of that I always ended up in relationships with guys 10, sometimes 20, years older."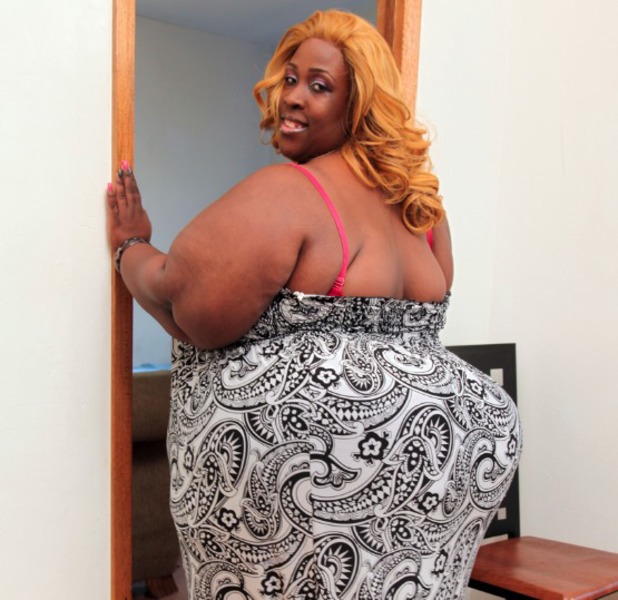 One of these relationships was with Albert Little, 54, who became the father of her two sons, Christian, 14, and Aaron, seven. Although the pair are no longer together, they are still close friends: "Albert appreciates larger women. He would like to see me healthy but he doesn't want me to lose too much weight – or my big booty."
However, Sarah has found that there is a price to pay for having a big behind. Being a size 7XL on top and 10XL on the bottom (UK sizes 30 and 36), costs her up to £400 a month on clothes from specialist shops.
Even everyday tasks become a struggle when you have a bigger bum than Kim Kardashian. She often has to wiggle in sideways through doors, and broke a toilet while staying in a hotel: "When I checked in, I asked for a suite because I knew the bathroom was going to be too small. But when I got to the room it wasn't very big at all and the bathroom was even smaller. Later, when I was trying to get off the toilet, it cracked!"
Though she loves her curves, Sarah suffers mobility issues and relies on disability benefits of £750 a month. Taking steps to tackle the problem, she is doing six workout sessions a week.
"I hated it in the beginning but I'm starting to enjoy it now. Doctors have always told me I needed to lose weight to be healthy but they don't tell you how. I've tried every diet going but I'm allergic to a lot of stuff. I do have a problem with portion control and I get tempted by ice cream. That's my weakness."
Since grabbing the attention of bum-lovers around the world, Sarah sees modelling as a way of being able to change people's perception of beauty: "I'm trying to make the most of what I've been given. I used to be ashamed but now I hold my head high. If I can inspire others to embrace their curves and be proud big, beautiful women, I would be very happy."
By Jack McKay
Got an iPad or iPhone? Reveal Mag is specially designed to fit!