Peaches Geldof's death at the age of 25 has sparked tribute messages from celebrities including Simon Cowell, Lily Allen and Phillip Schofield.
Police were called to an address near Wrotham in Kent at lunchtime on 7 April, where
Peaches was declared dead
. Kent Police have so far described her passing as "unexplained and sudden". Investigations are ongoing.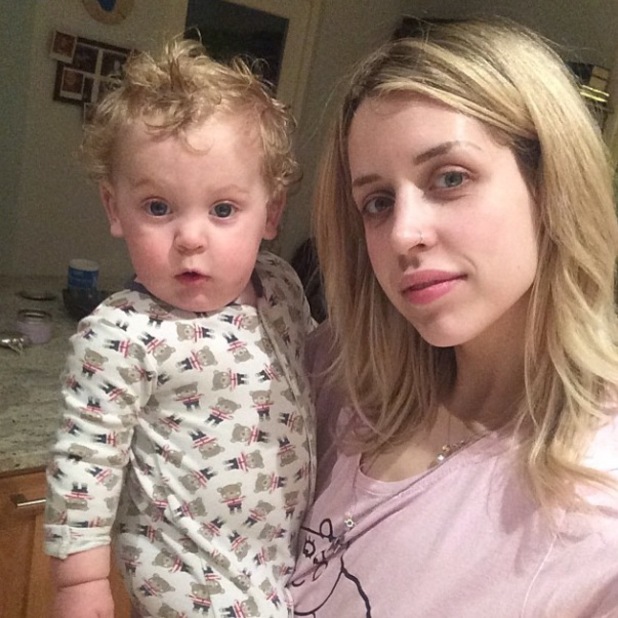 Peaches leaves behind husband Thomas Cohen and their sons Astala, nearly two, and Phaedra, nearly one.
Here is a selection of tweets posted after the tragic news was announced on 7 April.
Katie Piper
So sad to hear of the news about
Peaches Geldof
, 25 is too young and so unfair for her babies, thoughts with all the family RIP.
Simon Cowell
So sad to hear about Peaches. Rest in peace.
Lily Allen
My thoughts are with Peaches' family at this awful time. I hope they get to grieve in peace. Peaches, rest in peace gorgeous girl
Ellie Goulding
I don't believe it. Even if you think you've got it all figured out, some things still can't be explained or understood. Two beautiful children. RIP Peaches
Phillip Schofield
Utterly stunned at the terrible news of the death of Peaches Geldof! The dreadful loss of a really lovely woman
Kelly Osbourne
Words seem inadequate 2 express the sadness I feel about @peaches_g death We are here 2 support U @pixiegeldof1 stay strong my little Pepsi!
Michelle Keegan
Totally devastating news about Peaches Geldof. My thoughts are with her family and 2 babies at this awful time. Taken too early
Katie Price
So sad so tragic so young ,shocked!RIP Peaches Geldof ,my love and thoughts go to her husband & family her children and the Geldof family
Helen Flanagan
Completely and utterly heartbreaking to hear about Peaches Geldof so sad and so shocking my thoughts are with her family. So sad.
Sharon Osbourne
Devastated about @peaches_g. Sending condolences & respect to the Geldof family. It's unimaginable what they must be going through right now.
Davina McCall
Unbearable news about peaches geldof. Thinking of her family at this terrible time. RIP.
Coleen Rooney
Can't believe what I have just heard. RIP Peaches Geldof, such sad news.
Martin Kemp
RIP Peaches Geldof, what do you say, my heart goes out to Bob and all his family, I truly am saddened by this horrible news!
Alexandra Burke
I can't believe Peaches has passed away.. I feel so numb. I've never met anyone so kind before. She was a beautiful person...My heart goes out to her family and her kids... Praying for them all xxx RIP Peaches
Lionel Blair
My deepest sympathies to Bob Geldof and his family. The news of Peaches Geldof is most tragic. So shocked.
Myleene Klass
The news of beautiful Peaches is utterly devastating, God bless her babies. RIP mama xxx
Joe McElderry
Just heard tragic news of peaches geldof. Thoughts are with her family. So sad :((
Holly Willoughby
Just heard about Peaches, so unbelievably tragic. So shocked and sad. Sending my thoughts and love to her family.
Fearne Cotton
I'm beyond shocked and saddened to hear about Peaches. Can't quite digest it. Thoughts and so much love to the family.
Jamie Oliver
Very sad to hear about the sad loss of Peaches Geldof aged 25 years old such a shame thoughts and love to her whole family
Boy George
Poor sweet Peaches Geldof. We spoke only a month ago and she looked like an angel. This is truly sad. Poor Bob! RIP
Paris Hilton
So sad to hear the news about Peaches Geldof. ☹ She was such a beautiful & special soul. My thoughts & prayers go out to her family. RIP
TOWIE's Jessica Wright
So sad so young & 2 children she's leaving behind. Thoughts & prayers to her family rip Peaches so tragic. Life can be so short. Love lots, worry less, laugh always & live to the fullest. Really shocked & saddened. Love to the Geldof's xxxx
Danielle Lloyd
Words can't describe how devastated I feel.. Very sad day such a beautiful friendly lovely person great mother and amazing friend
Danny Cipriani
Horrible to hear the news about Peaches Geldof. Devastating for the family and two young children. Prayers and thoughts are with them.
Peaches Geldof: Her life in pictures
Copyright: Rex Features Dennis Stone