Distraught at the side effects of her condition, Faye Cockman, 26, had hit rock bottom – until a new boyfriend came along to save her…
Glancing at her boyfriend sleeping soundly, Faye Cockman felt for her phone in the dark. It was early and the sun hadn't yet risen but, being careful not to wake him, she slipped out of bed and crept to the bathroom.
The early days of any relationship can leave even the most confident of people feeling a little insecure but Faye had more reason than most to want to check her appearance before anyone saw her.
However, she wasn't worried about boyfriend Rob seeing her with bed hair or smudged mascara – Faye was terrified he'd see her beard.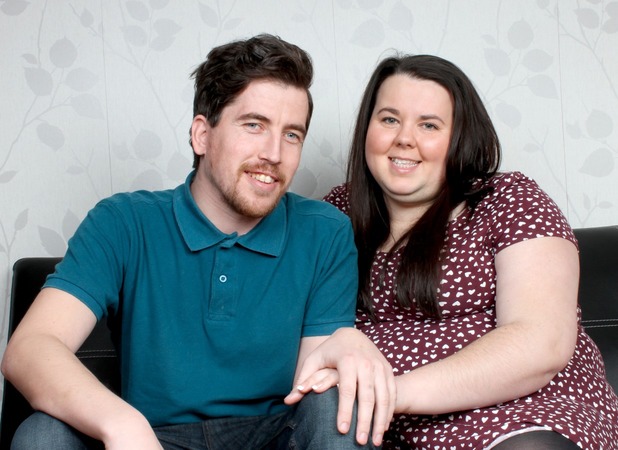 Then aged 19, Faye managed to hide the problem for six months by using her secret stash of men's razors and shaving gel to get rid of the evidence before Rob woke up.
But when she finally told him the truth, his response not only shocked her, it helped give her back the confidence her condition had shattered.
"Being a girl and growing a beard destroys every shred of your self-esteem," says Faye, now 26, from Hertfordshire. "At one point I was so depressed I thought I couldn't go on. But Rob has helped me come to terms with it. He literally saved my life."
Faye's problems began around puberty.
"I was 11 when I first joined a slimming club. I weighed nearly 12st then and by the time I turned 13, I was 13st," she says.
"It affected me so badly. All my friends were slim but while they'd eat bags of crisps at break time, I'd eat an apple and still put on weight.
"Nothing made any difference. I ate my dinner from a side plate to make sure I had tiny potions, went to the gym, spent hours on an exercise bike. You name the diet, I tried it."
And there were other changes to her body that she couldn't understand. "When I was 14 I noticed the odd longer hair growing on my chin. Mum would pluck them out. But then there were more. As well as being on my chin, I noticed hair growing along my jawline, where men have sideburns, and thicker hairs along my upper lip too. It was devastating."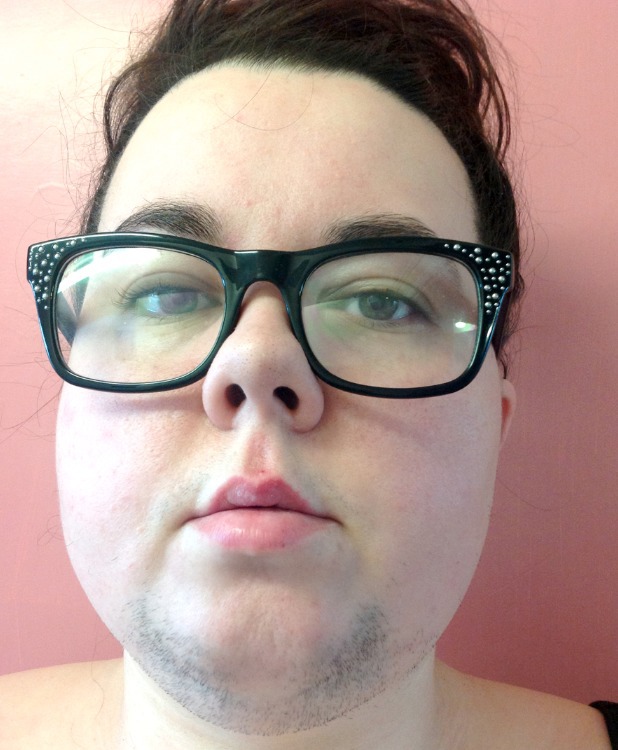 Aged 15, Faye snapped one day as she looked in the bathroom mirror and, picking up her father's razor, she shaved off the unsightly hair that was causing her so much misery: "My mum was really upset with me. But I couldn't live with it. She was right though. After that it got worse and I had to shave every single day."
Aged 18, Faye was finally diagnosed with polycystic ovary syndrome (PCOS). "Suddenly everything made sense – why I couldn't lose weight, the hair growth, not getting my period until 17, even my monotone voice."
The doctor advised Faye to lose weight to help bring the other side effects under control: "He said I needed to get below 11st. But no matter what I tried, I just kept getting bigger."
Distraught about her facial hair, Faye sought professional help at beauty salons. "They all said laser treatment wouldn't work as the problem was hormonal, so the hair would just grow back. They warned me waxing could make it thicker and darker, so shaving was my only option."
As the problem worsened, it began to affect every aspect of Faye's life. She dropped out of her place on a hairdressing college course and began to self-harm.
"I heard boys say things like: "She's got better sideburns than us." Sometimes I wondered if it was worth going on."
But just as she hit rock bottom, Rob Ferguson, 32, came to the rescue, in January 2007. "We met online and I could talk to Rob for hours. He was so gentle and for the first time I started to believe that, despite everything, a man could really like me just for being me."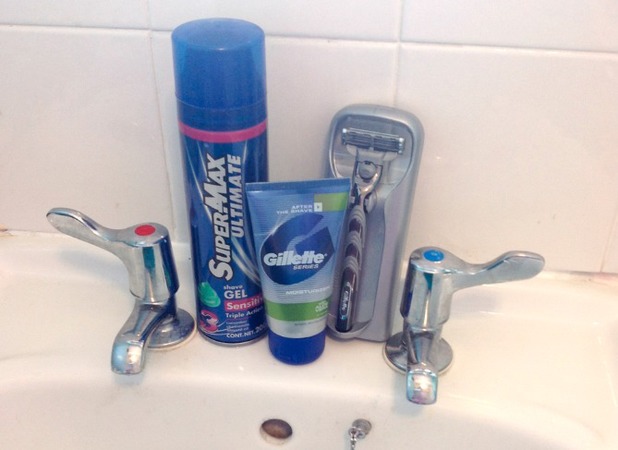 Within weeks, they were a couple. Faye was smitten but there was still one thing she couldn't bear to tell him – that she had a beard. 'Keeping my facial hair under control wasn't easy. I'd shave early each morning before he saw me but by the afternoon I had a distinct shadow and had to shave again.
"I put on extra layers of concealer and foundation whenever we met and wore a scarf to hide my chin. And I wouldn't let Rob keep his eyes open or touch my face when we kissed.
"After six months, I decided I had to tell him. When I blurted it out, Rob said he already knew – he'd known since the first week we met but it didn't matter to him. He hadn't wanted to upset me by mentioning it. I knew then he was the one for me.'
With Rob's love, Faye grew stronger, even finding the confidence to get a job as a part-time teaching assistant. "He's given me back my self-worth. When we're out, he can sense if I'm feeling self-conscious and is forever telling me I look beautiful. It's like he understands that I need to hear it more than maybe other people do. But we laugh about it too – he even tells me if I've missed a spot shaving!"
Now happily engaged, the pair are looking to the future. "Having PCOS can make it very difficult to have children, so we've talked about adoption or surrogacy. For now, I'm concentrating on trying to bring my weight down – I'm a size 22 now – with new drugs. Then hopefully everything else will sort itself out.
"But no matter what happens, I know I'll always have Rob standing by me. His love makes me stronger every day."
If you suffer from PCOS you can get support at
verity-pcos.org.uk