This is the sweet moment that Mila the elephant met one of her kind for the first time in 37 years.
The African elephant is 41 years old and, having been kept on her own in a circus since she was four, hadn't seen another elephant since.
But her first meeting with Mary, an Asian elephant, couldn't have gone better, as the two gently wrapped their trunks around one another.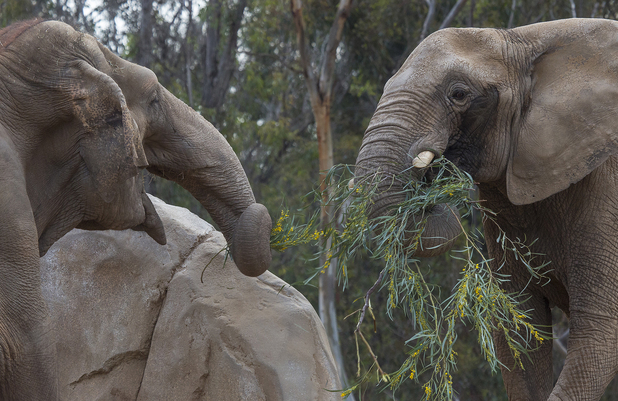 The two had been slowly introduced to each other through a protective barrier. But staff at San Diego Zoo decided it was time for the friendly giants to interact without any obstacles.
Keepers were ecstatic to see that the elephants took to each other well. Mila was the first to be let out into the yard and started tucking into some hay, before Mary walked over to join her.
Both animals nibbled on the snack. A few minutes later, Mary smelled Mila and then rubbed her face on Mila's body.
Animal experts confirmed that this is a positive start and Ron Ringer, the lead keeper at the zoo, said: "This is a great behaviour to see because they were both calm and accepting of each other and it's one of the types of things we look for with animal introductions."
Since Mila had been adopted by San Diego Zoo, the staff had been wanting to introduce her to the rest of their herd of elephants and they decided the best way to start this was through, Mary, a dominant member of the zoo's herd and also relatively calm.
Zookeeper Robbie Clark said: "Mary was curious of the newbie while Mila was surprised to find something as big as her on the other side of the wall!"
The interactions will continue until the pair are ready for introductions to other members of the herd.
Check out the video of this sweet moment:
What do you think of this story? Let us know by commenting below as the best comment across the site each week wins £50!