It's always gutting when you lose something important or expensive - but an engagement ring is definitely one of the worst items you could misplace.
A study carried out by Endsleigh Insurance has revealed some of the weirdest ways that people have lost that all-important bling, and we couldn't help but chuckle at these unfortunate stories.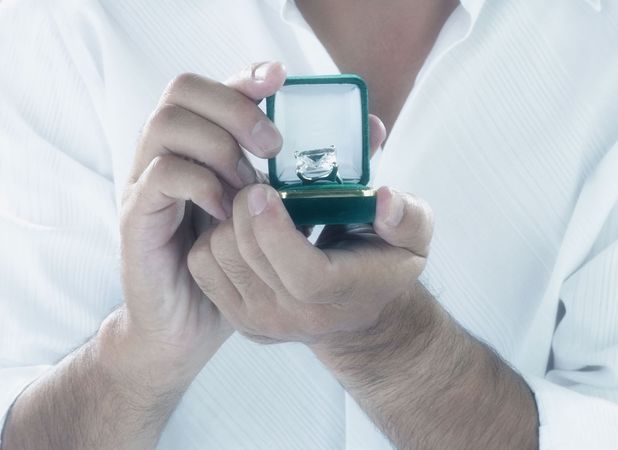 Luke O'Neil, 33, decided to make his proposal different by mixing it up with some DIY – yes, really. The Sheffield-based lad purchased a new set of wardrobes (very romantic) and planned to pop the question once he had constructed the furniture.
However, the wardrobe set fell apart after construction, and Luke had to pack it up and return it to his local furniture store. Unfortunately, he accidentally packed the engagement ring in a plastic bag of nuts and bolts too and only realised once he'd returned the furniture. Sadly, the shop was unable to track the return and the ring has never been found.
And then someone tried the classic of putting an engagement ring in a dessert. He stuck the sparkler in the top of a chocolate muffin while he was out for dinner with his girlfriend. But after an argument, the couple ended the night early and the waiter placed the muffin in a doggy bag.
On the journey home, the man attempted to make amends by handing over the sweet treat to his girlfriend. Clearly she was still angry with her beau, as she chucked the muffin out of the window while they were driving down the motorway. Neither ring nor muffin could be found. We bet she's kicking herself!
And finally, two men were so close that they decided to propose to their loved ones at the same time on a surfing holiday. And, to get them through airport security, they put the rings in their wetsuit pockets.
But things went pear shaped when the romantic pair forgot to remove the jewellery and headed straight to the sea to catch some waves – resulting in both rings getting washed away at sea.
After these horror stories, we think the old down-on-one-knee approach is probably safest!
How did your partner propose? Tell us below, as the best comment from across the website each week wins £50.