Sarah Rollings was devastated to learn her baby had a life-threatening condition. The only way to save her was surgery – before she was even born
It's every pregnant woman's instinct to protect her baby from all possible harm. So when Sarah Rollings was told her unborn child had just a 10 per chance of surviving and the only way to increase those odds was through an operation while her daughter was still in the womb, she faced the toughest decision of her life.
However, Sarah, 34, and her husband Luke made the brave choice to go ahead with the surgery – and it worked. Baby Hope survived the pregnancy and was born in March 2013.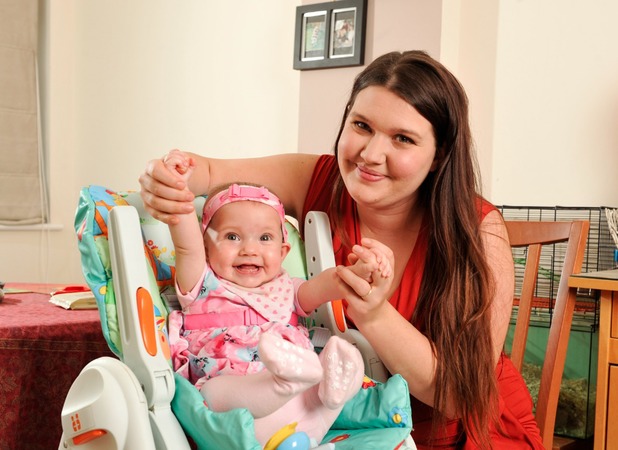 After a tough start, Hope is now strong and healthy, and the three are enjoying family life together.
"It was an absolutely horrendous time," remembers Sarah. "Luke and I were devastated when we were told our baby was so ill. We're thankful every day that she made it through."
Sarah's nightmare started at her 20-week scan. This was her first pregnancy and the couple couldn't wait to see their baby on the screen for a second time.
"I'd had an easy pregnancy, so we had no idea anything was wrong. We were excited but, as she did my scan, the sonographer excused herself, then she brought in someone else," Sarah says. "They whispered together, then they gave us the news that our baby had a life-threatening condition called congenital diaphragmatic hernia.
"It meant she didn't have a diaphragm and all of her major organs were collecting in her chest and squashing her lungs."
Sarah's unborn child only had a 10-20 per cent chance of surviving the pregnancy. The odds were so poor that the doctor offered a termination, which Sarah turned down.
"I didn't care how small the odds were, I couldn't contemplate an abortion. I had to give our baby every chance possible."
Sarah and Luke were then told about a pioneering operation, still in its experimental stages. It involved inserting a balloon into the baby's windpipe to stop fluid exiting the lungs, therefore forcing them to expand.
However, the op would need to take place before the baby was born, and the risk of miscarriage was high.
"It was one of the most difficult decisions we've ever had to make but, in a way, we didn't really have a choice. If we didn't go ahead with the surgery, our baby would probably die. If we did go ahead, it raised the chance of her survival to 50 per cent."
Six weeks later, the operation went ahead at London's King's College Hospital. Performed under local anaesthetic, Sarah and Luke watched the whole procedure on a screen.
"It was fascinating, as well as being the most terrifying 30 minutes of my life," says Sarah.
The couple were thrilled to learn the surgery was a complete success. They were told the balloon would need to be removed before their baby was born – but before they had a chance to do that, Sarah's waters broke and she went into labour at 35 weeks.
"It was very traumatic, as Hope had to be paralysed with an injection when she was born, so she didn't breathe on her own.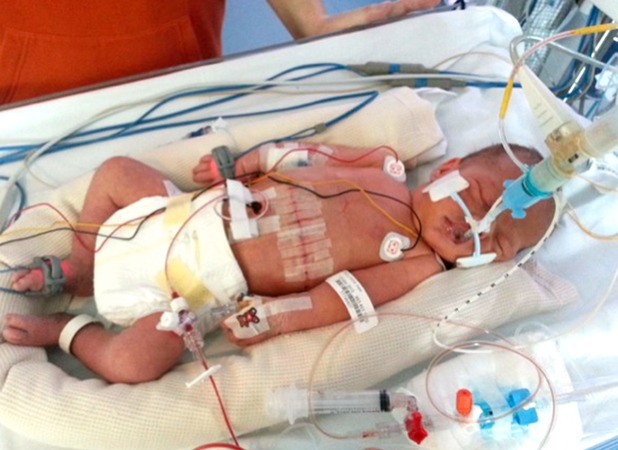 "She was immediately taken into intensive care and underwent a three-hour operation to move her organs around. Doctors then inserted a synthetic patch into her chest, as she did not have a diaphragm muscle."
Since then, Hope's battled her way back to health and now, at 10 months old, is doing well at home.
"She has the most gorgeous smile and it's hard to believe everything she went through even before she was born. We're grateful for every moment we have with her."
by Jane Cohen
Reveal's Dr Phil Hammond explains: "The first operation on a baby in the womb was performed in California in 1981 to unblock a swollen bladder. The early operations were 'open', with surgeons making a cut similar to a Caesarean section to the mother.
However, advances in imaging technology now allow most operations to be done with minimally invasive surgery, using real-time videos and ultrasound to guide tiny instruments and needles into the womb.
This has allowed us to treat a whole range of conditions while the baby stays safely in the womb, such as operating on twins with abnormal blood supplies, heart valve defects, heart wall defects, diaphragmatic hernias – as with Hope – and even cases of spina bifida.
In a specialist centre, the risk of harming the baby and mother is usually less than the risk of not operating, and most operations are very successful."