Everyone has their favourite toy, the dirty old one they've had forever - but that they still won't throw away.
So imagine how upset two-year-old, Daisy Young was when her soft toy, Bunny, went missing at the shops.
But thanks to Twitter, the two best friends have been reunited - and Daisy couldn't be happier!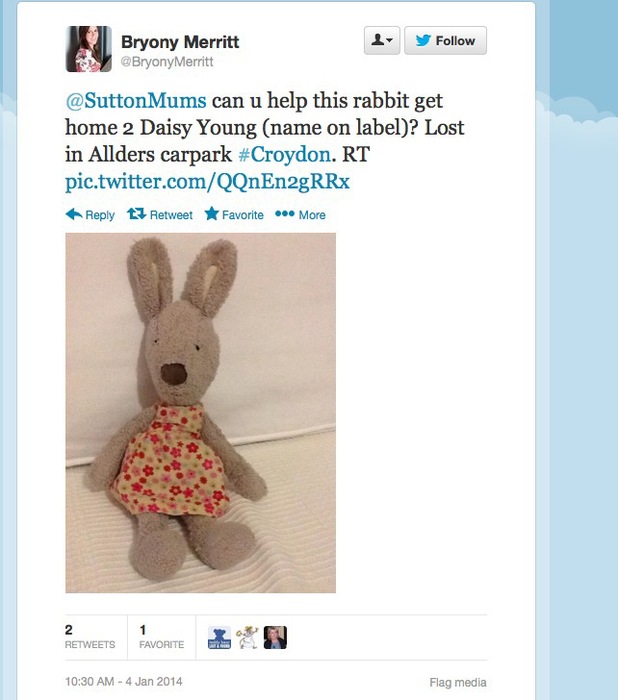 The toddler from Surrey was first given the soft toy by her grandma when she was just 10 months old and the two had been inseparable since.
But Daisy's mum, Hayley Sworn, realised that Bunny had gone missing after the family had gone sales shopping in Croydon.
Hayley, a primary school teacher, presumed that the toy was gone forever and, to save Daisy's tears, was planning to buy another one.
However, Bunny had been found by Bryony Merritt and, seeing Daisy's name on her tag, decided to try and track down the owner - via Twitter.
After being seen by 50,000 people, it was eventually spotted by a friend of the family.
After being contacted by Hayley and her fiance, Kieron, Bryony sent Bunny back to Daisy, saying: "Dear Daisy. Here is your bunny, home safe and sound. We had a lovely time together - walks in the woods, jumping competitions, etc. But Bunny missed you and wanted to come home."
Hayley is quoted in the
Daily Mail
saying: "We didn't think we would ever get it back. It's very treasured and it goes everywhere with her.
"I let Daisy open the envelope and she was so thrilled. She said: 'I love my Bunny'.
"I do keep checking every day that we've got her. We're going to be vigilant from now on."