Sarah Ward, 28, once feared she'd never have children. Now she's fallen pregnant with triplets just weeks after giving birth to her first baby.
"Any woman who has ever had problems getting pregnant knows it's a pain like no other. The grief of getting your period and knowing that, once again, you haven't managed to conceive is heartbreaking.
I understand the feeling. I'd been trying for a baby with my partner, Benn Smith, since we'd got together in September 2011 and it seemed it would never happen.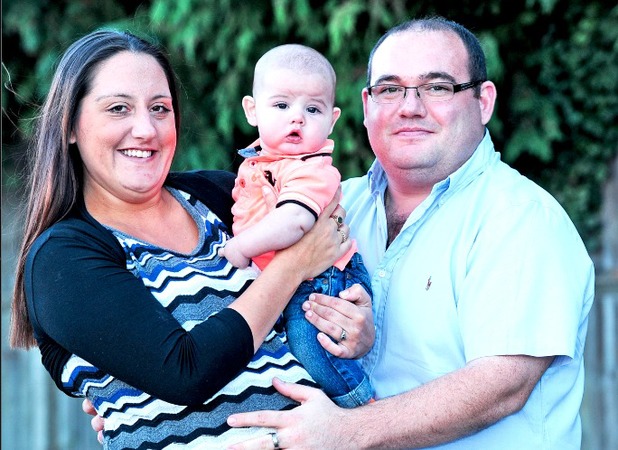 I first met Benn on a holiday in Turkey in July 2009 but at that time we both had partners so, despite thinking he was lovely, we stayed in touch as friends. Two years later, I returned to the same hotel with my parents to discover Benn lying by the pool.
Both now single, our friendship deepened. We shared our first kiss and, when I arrived home in Crayford, Kent, Benn came to visit that very night.
I knew Benn was the man for me and he was equally convinced, so within weeks, we started trying for a baby. Each month brought fresh disappointment and I started to doubt I was ever going to be a mum.
It seemed everyone around us was getting pregnant. I tried to be pleased but I couldn't help wondering when it would be my turn.
When a year passed, I started to fear something was wrong. I booked an appointment with my GP in September 2012, when my period didn't arrive. I didn't dare hope but a test confirmed I was pregnant.
As my bump grew, we moved into a new house and, after a textbook pregnancy, I gave birth to our gorgeous son Freddie on 1 June 2013.
Being a mum was everything I dreamed of. Freddie was a happy baby and we agreed we wanted another.
Because it had taken me so long to fall pregnant, I was sure it would take just as long the second time. So when Benn and I made love again for the first time four weeks after Freddie was born, we didn't use any contraception.
A month later, I noticed my period was almost a week late. 'You better not be pregnant,' Benn joked. Neither of us really thought there was any chance but when it still hadn't arrived a week later, I bought a test. Just in case.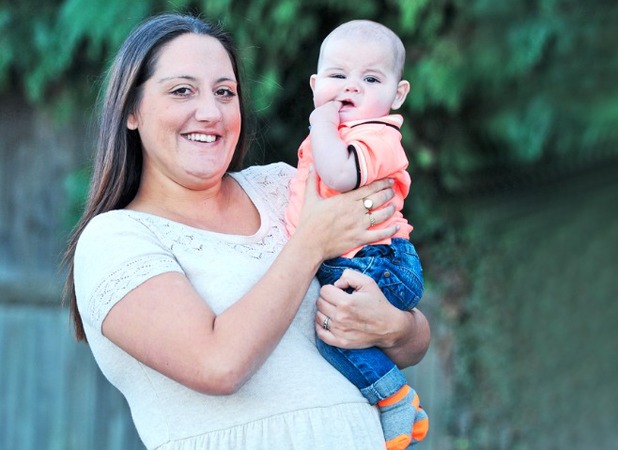 To my shock, a blue line appeared and my eyes flew from the positive pregnancy test to my eight-week-old baby.
This couldn't be happening.
Benn was equally stunned. I had no idea how we would cope but as the news started to sink in, my worries gave way to excitement. Yes, it had happened sooner than we'd thought but having another baby would complete our family.
'You're so big already,' my friends gasped and, laughing, I explained I hadn't lost my baby weight from Freddie yet. 'At least I'll only need to diet once,' I joked.
We got the date for our first scan and as we sat in the waiting room, I prayed this baby would be as well as Freddie. My name was called and, going into the room, I knew exactly what to do. After all, we'd been there just a few months before.
I hopped onto the bed, lifted my top and lowered my trousers as the sonographer smeared jelly across my bump. I peered anxiously at the grainy image, as Benn squeezed my hand.
'Do you know how many you're having?' she asked, examining the screen intently.
'Pardon?' I gasped, thinking I must have misheard. 'Am I having twins?'
The sonographer shook her head. 'No,' she smiled. 'Triplets.'
My mouth dropped open. I was carrying three babies, not just one. Suddenly my big bump made a lot of sense.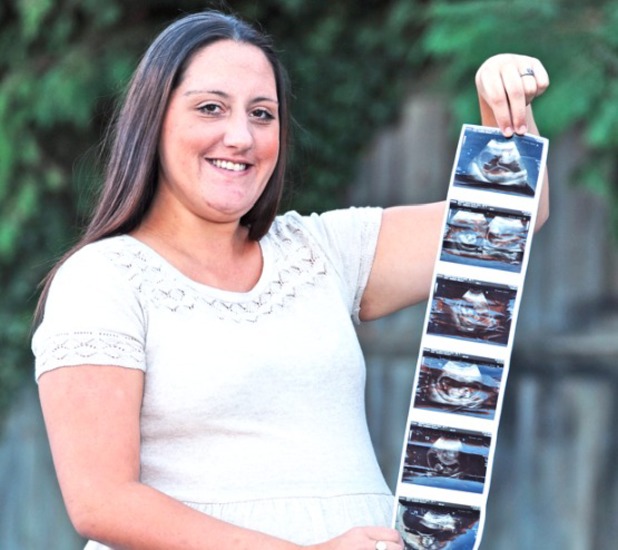 'Are they OK?' I stammered.
'They're absolutely fine,' the sonographer said, pointing out three heartbeats. She confirmed they were non-identical and were due on 28 April 2014.
'We'll have four babies under one,' I whispered outside, in tears of shock. Though we both have twins in our families, we'd never considered a multiple pregnancy.
For the rest of the day, Benn and I alternated between tears and big cheesy grins. We were shocked, terrified, ecstatic and worried all at once.
At another scan the following week, doctors warned that having triplets put me at high risk of premature birth and told me terminating one baby would give the others a better chance of survival.
'No way,' I said firmly, as I gazed at the screen. Having four babies would be scary but I loved them all so much already.
By just 14 weeks, I looked ready to pop. 'At least I'm getting good use out of these maternity clothes,' I joked to Benn. In fact I've never stopped wearing them since I was pregnant with Freddie.
With four babies to look after, money will be tight and we'll need to move to a bigger house. I'm already looking at quad buggies and trying to work out how many clothes and bibs we'll need. I've calculated I'll be changing 40 nappies a day and making 20 bottles.
We know it'll be crazy – Freddie will only be 10 months old when the triplets arrive! No matter how short we may be of time or space or money, the one thing we won't be short on is love for all our little ones."
By Kelly Strange