After two decades of wanting a second child, Sharon Young now has triplets for Christmas.
Sharon Younger's life has been turned upside down. Having had her son, Kyle, 21 years ago, it's been a rather long time since the sound of a newborn's wail has woken her in the middle of the night.
But now the 40-year-old is having a crash course in caring for not one, but three tiny babies at once as Christmas arrives, getting through nearly 200 nappies a week and almost as many Babygros and bibs.
Despite surviving on just four hours' sleep a night and being on a continual cycle of feeding, burping and changing, Sharon couldn't be happier. She has waited an astounding 20 years for these little ones and no amount of dirty nappies or night-time feeds will taint her happiness.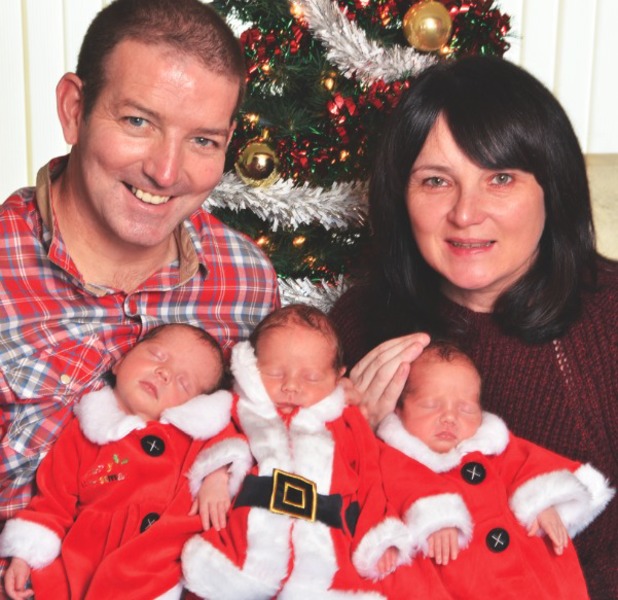 "Nothing could bring me more joy. It had got to the point where I thought I'd never have another baby – now I have three," says Sharon from Hadfield, Derbyshire. "Yes, it's hard work but I'm loving every minute."
Having grown up with three siblings, Sharon had always imagined a future where she'd need a big family home, space for several bikes in the shed and a pile of little shoes by the front door.
Aged 18, her son Kyle was born and she assumed the happy day would soon come when she could give him a brother or sister. But despite trying for years, nothing happened. "It was devastating," she says. "Every time my period came, I'd sob in the bathroom. It seemed so unfair. What I wanted seemed simple but I had no control over making it happen."
Even splitting with Kyle's dad didn't stop her longing for another child: "Although I was single and had no chance of falling pregnant, I felt envious of pregnant women at work and if I heard a stranger's baby crying as I passed by on the street, I'd have to fight the urge to comfort them."
In March 2007, Sharon believed her second chance had come when she got together with James Younger at the bar where she worked. But the divorced father to Alicia, 20, and Joshua, 16, had a disappointing confession.
"James told me he'd had a vasectomy. I tried to put on a brave face but inside, I was shattered," says Sharon.
The couple married in 2009 and, despite Sharon's silence on the matter, her feelings didn't go undetected by James. "It wasn't hard to see how much Sharon cared about the children around us. She was just besotted," says James, a 46-year-old engineer. "I decided if it was that important for her, it was important to me too, so I offered to go under the knife to try and reverse my vasectomy."
The operation in April 2010 was deemed a success. Desperate to fall pregnant as quickly as possible, Sharon kept fertility diaries, tried special diets and used ovulation test sticks every day.
But nothing happened over the following year. Aware that time was not on their side, James sold his beloved car to pay for IVF treatment. "We joked he was selling his baby to give me mine," says Sharon. "But even then, things weren't simple. Doctors discovered my egg count was low so, although they implanted two embryos, I was convinced it wouldn't work."
But it did. A pregnancy test just days later confirmed their happiness. Sharon was expecting: "Even when it was positive, I didn't dare believe it. It wasn't until our private scan at six weeks that I finally believed it was really happening."
The couple were in for an even bigger surprise, however. Not only had both of the embryos worked, one had split in two. After waiting 20 years for a baby, Sharon was having triplets.
"We told the lady to stop looking in case they found any more. We just kept laughing – I think we were a bit hysterical."
But the pair quickly got used to the idea of three babies, buying a triple pram and three times the usual amounts of hats, vests and mittens.
Despite a healthy pregnancy, Sharon suffered an attack of Bell's Palsy just before her planned Caesarean section at 35 weeks, leaving one side of her face temporarily paralysed. But all went to plan on 3 November, when Theo – weighing 4lb 11oz – and twins Lace and Madison – 4lb 12oz and 4lb 3oz respectively – came into the world.
Within five days, the whole family was allowed home. However, two decades on from her first experience of motherhood, Sharon realises just how much things have changed. 'It's completely different this time,' she says. 'No one uses talcum powder any more and we'd both forgotten how to use the bottle steriliser.
"But we're all excited – Kyle has wanted a little brother or sister almost as much as I wanted to give him one, so he's already helping out with the babies."
James is now working extra shifts to pay for an extension to make room for the triplets as they grow and they've invested in a seven-seat Land Rover.
But Sharon isn't sure their family is complete just yet: "There is one more fertilised egg that's being kept for us, so we still have the chance to have one last miracle baby!"
By Eugene Henderson & Sarah Whiteley