The average British family throws out the equivalent of six meals a week, so we asked a mum-of-three and a single girl to keep track of how much food they chuck in the bin.
A survey by Tesco on food waste last month produced shocking results. The supermarket giant found that more than two-thirds of all bagged salad and 40 per cent of apples are wasted, with just under half of baked goods destined for the bin.
And more research by the Waste and Resources Action Programme (WRAP) suggests that British families throw away the equivalent of six meals EVERY week. So we set two Reveal readers the challenge of keeping a kitchen diary to find out exactly how much grub they threw away in a typical week…
Sarah Crosby, 29, works in recruitment in London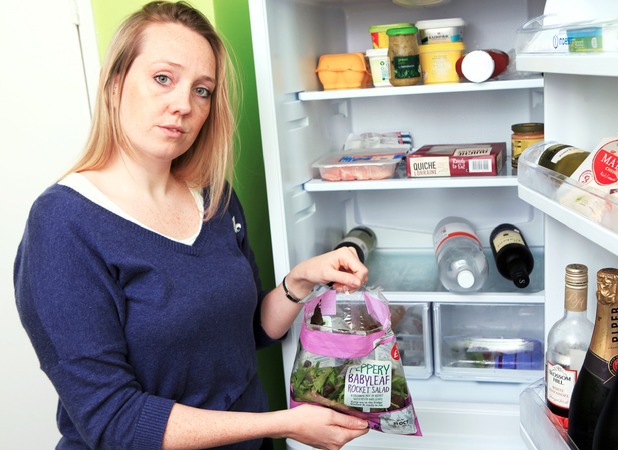 Monday
As a single girl living in London, I hardly ever do a full weekly shop as I'm out most nights. Yes, this is probably more expensive, but I think this means I waste less food. But this morning, when I get to work, I find last week's satsumas on my desk. I forgot to take them home with me on Friday and they've gone mouldy.
Tuesday
Leftover stir-fry for lunch. I hate having the same thing twice but it's the only way to make sure I don't throw food away. Being a single shopper means I have to do this a lot – it's impossible to buy for one.
Wednesday
Tonight I've got a date and we go out for a curry. After too many poppadoms, I can't finish my pilau rice and naan bread. Normally I wouldn't think twice about it, but now I'm realising it's not just food from the supermarket that ends up in the bin.
Thursday
I completely forgot about the hummus and carrot sticks I opened on Monday and I can't face them this afternoon. I'm not at work tomorrow, so I throw them away.
Friday
I take my cousin for afternoon tea for her birthday. We're too full to finish it, so we take home a box of scones and cakes, though only one gets eaten. I realise the milk's gone off, so that goes down the sink.
Saturday
I make a sandwich for lunch but the tomatoes and lettuce are both off.
Sunday
I've finally got time to go food shopping so I check the cupboards. A loaf of bread and two fajita wraps are covered in green spots so out they go.
Sarah says: "I'm usually really careful with food but where I slip up is not being in the house often enough to finish off things like salad, bread and milk. I do my best but, as a single person, there are some things you just can't help wasting."
Victoria Briand, 33, is a teacher and mum-of-three from Worcester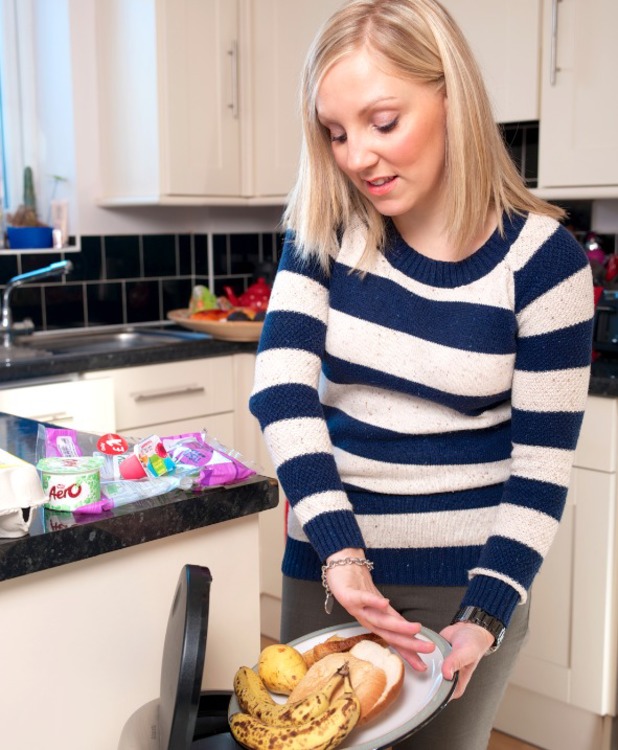 Monday
Having three boys – Joseph, five, Noah, two, and 11-week-old Sebastian – it's hard to stay organised when it comes to food. But even I'm surprised when, on day one, I already have something to report. I find a bowl of tuna in the fridge, left over from Saturday's sandwiches. I'd put cling film over the remainder, thinking we'd use it, but now it needs throwing away.
Tuesday
At breakfast I realise the orange juice has been open for nearly a week, so I throw half the carton down the sink and open a new one. I also spot a packet of ham that's going tough, so that goes too.
Wednesday
We have our food shopping delivered every week and, between working and looking after the boys, my husband Geoff, 33, and I never have time to check what we have left in the cupboards, so we always buy the same things. When the order arrives today, I throw away bananas, grapes, a half-eaten bag of salad and an avocado to make room for the fresh replacements. I also chuck the last of the broccoli, courgette and cucumber. When I put three onions away, I discover we already have four in the cupboard. We'll never get through them all before they go off.
Thursday
The boys and I make biscuits but Joseph gets a bit carried away weighing out the icing sugar, so we have to throw loads away. For dinner, I make chicken soup with fresh bread. There's probably enough left for another serving but I throw it away with the rest of the bread. As there's five of us, it seems pointless to keep such a small amount.
Friday
Joseph and Noah fancy some crumpets and I dig out a packet from the freezer. But I can't prise them apart, so have to defrost them all. We eat our fill but three of them end up in the bin.
Saturday
To my horror I discover an unopened packet of sausages lurking at the back of the fridge nearly a week past their best-before date. I'd never risk eating out-of-date meat but I'm really cross with myself as I put them in the bin.
Sunday
I make a roast chicken for Sunday lunch and normally I'd throw away the leftovers. But now, more conscious, I'm going to make a curry with them for tomorrow night. But I still have to chuck three yogurts we'd bought on special offer (now out of date) and mouldy crusts on a loaf.
Victoria says: "I always knew we wasted food but this week has shocked me. I can't believe so much ends up in the bin. We're going to get more organised. I've already started to look at what we have left to make sure I don't buy the same things again and I'm going to resist buying things on special offer, like yogurts. If we run out during the week, I can always buy more from the corner shop."
For tips on stopping food waste and saving cash, see
lovefoodhatewaste.com
Got an iPad or iPhone? Reveal Mag has been especially designed to fit!