Pictures of two-year-old Aldi Rizal puffing on a cigarette shocked the world. But lately he's swapped his 40-a-day habit for a new addiction – food
Aldi Rizal stunned the world when it was revealed he had a 40-a-day smoking habit, aged just two. The toddler was discovered in a poor village in Sumatra, Indonesia, puffing on a cigarette while riding his tricycle.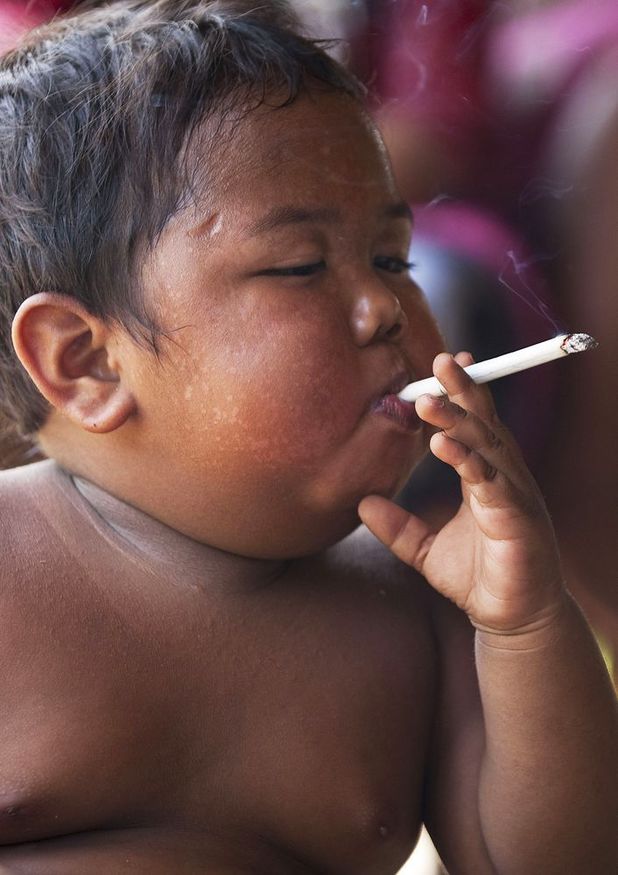 The image caused such public outcry around the world that the Indonesian Government was forced to set up a special rehabilitation programme to help Aldi kick the habit. Three years later, he is a cheeky, normal five-year-old boy and hasn't smoked a cigarette since.
But he's picked up a new addiction – food. His huge appetite has seen him gorge on junk food and fatty snacks, including three cans of condensed milk a day.
Today, he weighs nearly 4st – double what he should healthily weigh at his age. And although X-rays have found that Aldi's lungs have not been affected by his smoking, further CT scans have revealed he has a thickening in the muscles around his heart, which could be the result of overeating.
Medics have now urged Aldi's mother, Diane, 28, to put her son on a strict diet. But the family may find it a struggle not to give in to the strong-willed little boy.
'It was very hard when Aldi stopped smoking,' says Diane. 'He got bad headaches and he'd demand a lot of toys. He banged his head against the wall if he couldn't get what he wanted and have terrible temper tantrums.
'But it finally worked. Now he doesn't ask for cigarettes but his appetite has got bigger. He eats a lot and I know he is larger than his friends.
'The doctors have said there is a thickening around his heart and this is a worry. But it is hard to get him to lose weight. We've tried diet medicines but they don't work either.'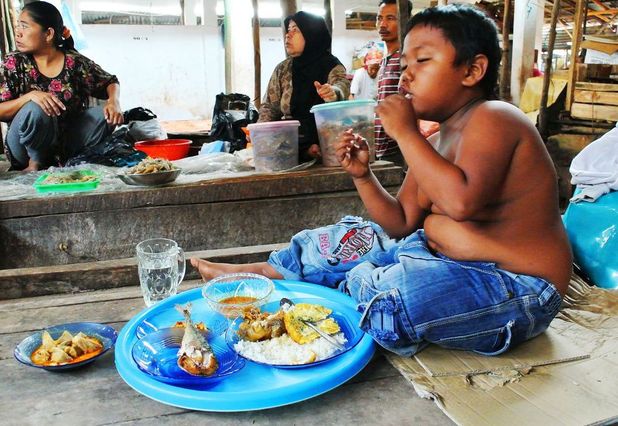 For the Rizals, life hasn't been the same since pictures of Aldi smoking were broadcast around the world. It is unclear when he started smoking but Diane and her husband, Mohamed, believe the youngster picked up the habit after stealing cigarettes from his grandmother.
Soon, he was smoking a staggering two packs a day. 'I was pretty shocked when I found out that he was smoking so much,' says Diane. 'It was terrible.'
While Diane denies she ever gave cigarettes to her son, she says he could easily have picked them up in the marketplace where she and her husband work: 'I'm certain he wouldn't even do it behind my back now. But there are many people still offering him cigarettes.'
Alarmingly, the sight of young children with cigarettes is not unusual in Indonesia – where there is no minimum age limit on smoking. According to the National Commission for Children's Protection, nearly two per cent of Indonesian children start the habit aged just four.
But since Aldi's story made headlines, the Government has launched a campaign to combat the problem. Under its instruction, 'the smoking toddler' was flown to Indonesia's capital, Jakarta, for rehabilitation treatment.
Today, Aldi still sees a psychiatrist at regular intervals, as well as a nutritionist who aims to get the youngster to lose a stone.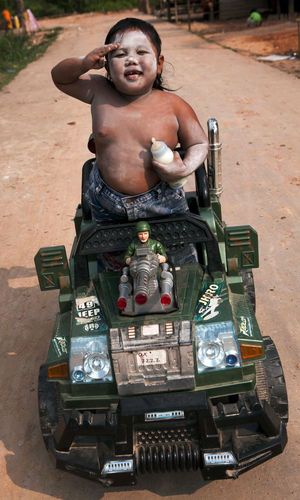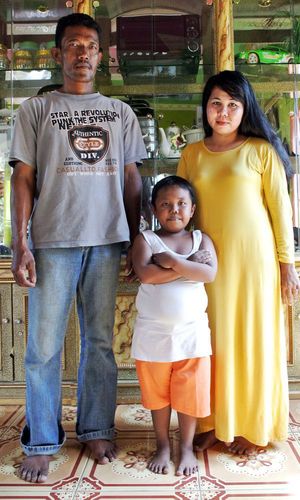 Despite all this, the clever schoolboy is already a year ahead at school. In his spare time he helps his parents at the market, where his bubbly character wins him lots of attention.
Diane hopes there will be a time in the future when Aldi will be able to put his bad habits behind him once and for all. 'People still ask if he's the "smoking kid" and it can be really annoying,' she says. 'I much prefer it when people come to talk to him just because they like that he's a funny little boy.'
by Hannah Mouland
Aldi's story featured on new TLC UK show, Body Bizarre, Mondays at 10pm