As part of National Adoption Week, Leanne Stockton, 34, tells us how a decade of misery and longing came to an end when a special little girl changed her and husband Phil's lives forever.
"We were at a friend's house playing a silly game of "Mr and Mrs" when I was asked if I could have anything in the world, what would it be? My answer was automatic – a baby. And with that, I started crying.
For a decade, Phil, now 36, and I lived with the pain that something was missing in our lives. We'd go on nights out with friends, plan a holiday or move house but there was no escaping what we wanted the most. Anyone who has struggled to have a child will know exactly what I mean.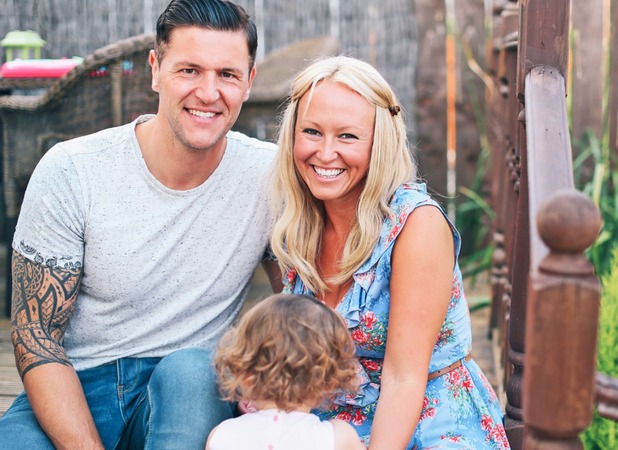 It took four failed IVF attempts and £13,000 before adoption brought our gorgeous daughter Mollie* into our lives but I'd go through it all again to feel her wrap her tiny arms around me.
I met Phil on a night out in 2001. I was just 22 but there was something about this funny, handsome lifeguard that made me sure he was the one and I was ecstatic to become his wife in July 2003.
Shortly after, we bought a spacious three bedroom house, perfect for raising a family. It was a foregone conclusion – we'd have a child. Probably two. But a year on, it was still just us.
Our doctor referred us to a specialist. Tests showed our chances of conceiving naturally were low. I hadn't seen that coming and it floored me. We were young, fit and healthy. I hadn't considered it would be so difficult.
We were told IVF was the best option but while some couples were getting three attempts on the NHS, in our area of the North East we would only be given one.
The pressure was on. I had hormone injections twice a day for 10 weeks. My stomach was sore and swollen, black and blue. I was exhausted, suffered nausea, headaches and put on half a stone, but kept reminding myself we'd have a baby at the end.
Only we didn't. It was devastating but we tried to remain positive. We saved £4,000 and in November 2006 had IVF for a second time. However, this time was worse. I had to inject steroids and my face ballooned for six weeks. Again, I focused on the reason we were doing this – and again, it failed.
Over the next year we scrimped and saved to scrape together another £4,000. We cancelled our gym memberships, internet, mobile contracts and tried everything to make it work – alternative diets, acupuncture, even Brazil nuts.
But the process was taking its toll. As a school teacher I was surrounded by children every day and as each friend, relative and colleague had another baby, it felt harder to keep plastering on a smile in front of them.
It didn't help that people could say the most insensitive things, like, 'Don't you want children then?' Phil tried to protect me from it but in the end, we started to avoid christenings and children's parties and shut ourselves off.
When our third attempt in November 2007 didn't work, we decided something had to change. We sold our lovely family home and bought a two-bed flat. Phil and I went on holiday, got two puppies and tried to enjoy life.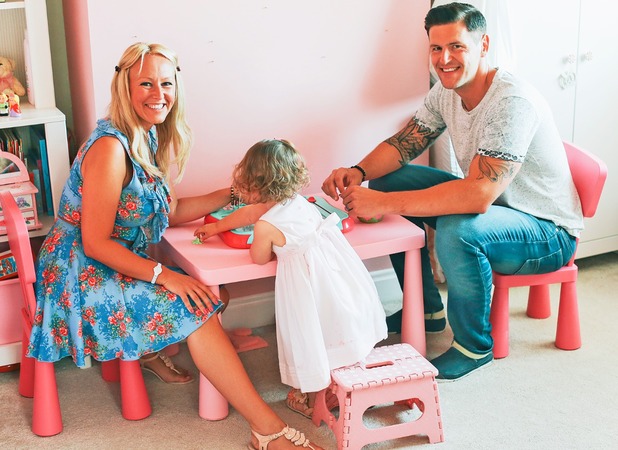 But we never gave up hope and in time we realised we were only masking over the issue. So in November 2010, we used the money from the sale of our house for a fourth attempt at IVF. It would be our last chance. We felt positive – yet the test came back negative.
We were drained – physically, emotionally and financially. We had to stop for our sanity.
Although we'd spoken about adoption, we had apprehensions. There were many difficult questions to face – like, could you really love a child you'd never met?
Then one morning, Phil saw a young woman on TV talking about being adopted. She said nothing could replace the bond she shared with her adoptive parents and it hit home just how much an adoptive parent can shape a life. It made us realise not only was it something we could do, but something that we had to do.
We approached a few agencies, but chose Redcar and Cleveland because they were the friendliest. Any concerns were banished once we'd attended the training sessions and talked to other couples. Far from the gruelling, invasive process we were expecting, we felt confident and relaxed for the first time in 10 years.
Within 12 months, we had been matched with Mollie*. Phil and I were so nervous about meeting her at the foster home.
We'd made her a photo book so she'd recognise us and as soon as we walked in, she put her arms out and ran towards us. It was an incredible, magical moment, especially when she looked at Phil and said, 'Daddy!'. We were all in tears. A week later, we took her home.
Now, it feels like we've had Mollie forever. She is the centre of our lives; beautiful, funny and a right little bossy boots. She has even started to pick up our mannerisms.
For all those years, we were so consumed with wanting a child who was a piece of Phil and me. Yet Mollie is as much a part of me as if I'd given birth to her myself. If only we'd known, we could have saved ourselves so much heartache. I hope that reading this will help turn another couple to adoption, and make another woman a very happy mum."
By Ruth Addicott and Su Karney
Across the UK 4,000 children are waiting to find an adoptive family, but for 1 in 4 it is likely to remain only a dream. And for every year a child waits their chances of being adopted fall by 20 per cent. National Adoption Week is for anyone who would like to help change this, so that every child waiting in care finds a home where they can feel safe and loved. For more information on adoption, visit nationaladoptionweek.org.uk