When mum-of-three Gemma Howden, 28, from Lampeter, Ceridigion, couldn't find time or money for the gym, she made her house a boot camp.
"Weighing in at 10lb 2oz, I always say I was born big. That was my way of coping with being a 'larger lady' – laughing it off, making a joke of it. But inside, I was far from happy.
For as long as I can remember, I've always loved food – and it showed. At school, I wore a size 14 uniform and was always one of the biggest in my class.
But it was when I fell pregnant with Summer, now six and Coley, four, that my weight really rocketed. I tucked into pizzas, chocolate, burgers.
Even when I'd given birth, I still kept eating for two, indulging in greasy fry-ups and giant bags of crisps.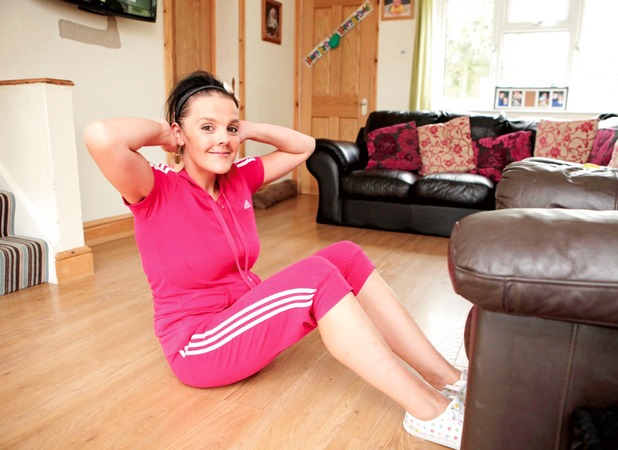 Everyone says that becoming a mum changes you and it definitely altered me. I was so big, I barely recognised myself in the mirror any more. Thanks to my mountainous meals, I was a hefty 19st and barely squeezing into a size 28.
My partner, John Shore, assured me he didn't care about my flabby figure but it was hard to believe him. 'How could he not?' I wondered miserably. 'I do.'
Desperate to push my body blues to the back of my mind, I focused on my children. They were adorable, I wanted to remember every minute, so I spent hours snapping away with the family camera.
Even when they went to bed, I loved picking up our photo albums and smiling at their chubby cheeks and pouting lips. But the more pictures I flicked through, it slowly dawned on me. 'I'm not in any of them,' I said, distraught. I was so embarrassed by my body, I always hated being centre stage. So while I had lots of nice memories of the children growing up, I wasn't a part of it.
It got me thinking. Not only did I want my little ones to have pictures of us all to look back on but I also wanted to be part of their lives too. I didn't want to be stuck on the sidelines, too fat and frumpy to keep up with them.
By the time I gave birth to my third baby, Vinnie, on Christmas Day 2010, I was determined something had to change.
This time, I was going to lose my baby weight once and for all. But although I was sure I was going to lose my wobbly bits, I wasn't sure how.
'I have three children under three,' I told my mum miserably. 'I don't have the time or money to go to the gym.'
But she had a brilliant idea. 'I've heard running up and down the stairs is good for you,' she said. 'Why not try that? You won't even have to leave the house.'
Her words got me thinking. Just because I couldn't go to the gym didn't mean I couldn't get fit. I just had to be creative.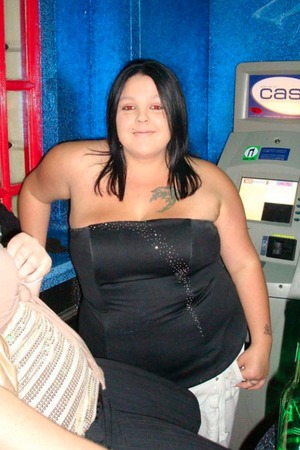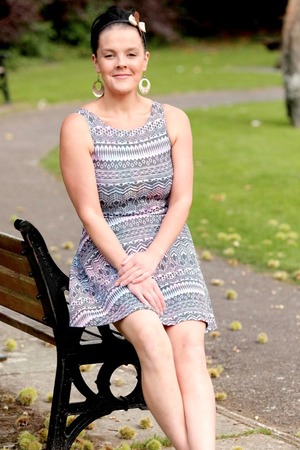 So I looked around my house with new eyes. The hallway that stretched from the front of the house to the back would be my running track and the tins of beans and spaghetti hoops that lined my cupboards could double up as weights.
It was perfect.
I wouldn't have to put myself through the humiliation of going to the gym, huffing and puffing beside some lean, lithe girl on the next treadmill or gazing at my flushed face in the ceiling-to-floor mirrors. Instead, I'd pant away the pounds in the privacy of my own home.
So I got started straight away. While the children were having their afternoon naps, I'd turn on the music channels and run up and down the stairs, back and forth along the hallway.
Whenever the adverts came on, I'd drop to the floor and do 15 sit-ups. I even hurdled the baby-gate.
I started doing 20 star jumps a day but before long, I could manage 30, then 50, then 100…
'It's like a boot camp in here,' John laughed as he saw me lunging around the lounge in my tracksuit bottoms.
At the same time, I ditched junk food. I swapped my beloved burgers for salads and soup – and I wasn't disappointed.
In my first week, I'd lost nine pounds and after a month, I'd dropped a dress size. But it was when Summer scrutinised me that I knew I was making progress.
'Mummy, where has your fat bum gone?' she asked.
And she wasn't the only one who noticed – John, friends, family, they were all full of praise for my new streamlined physique.
The compliments were enough to keep me on the right track and my arms soon felt firmer and my tummy more toned. After two-and-a-half years, I finally reached 9st and can slip into a slinky size 8 with ease.
I've thrown away my baggy black jumpers and replaced them with tight, bright dresses.
I've never felt more confident – and it's all thanks to my home-made gym."
By Harriet Rose-Gale and Sarah Whiteley