A tragic accident at the hands of her dad eight years ago put Cindy Donald, 29, in a wheelchair. But far from ruining her life, she feels no bitterness about becoming quadriplegic and is closer to her father than ever.
As Jerry Donald carefully places his daughter, Cindy, into a seat attached to water skis, her face lights up. Her smile only increases as the boat they are attached to roars to life and she is pulled along on the bumpy waves. She lives for moments like this.
Despite being paralysed for eight years, Cindy's still as much of an adrenaline junkie as ever. But what shocks most people is the fact that Jerry – the attentive dad who helps his daughter – is the reason Cindy is now quadriplegic and confined to a wheelchair.
In March 2005, Jerry ran over his then 21-year-old daughter in his car while she was sunbathing on the driveway of their house in Georgia, USA. Though she has never walked since – and her dad has admitted he wasn't looking where he was going – Cindy has forgiven 60-year-old Jerry completely.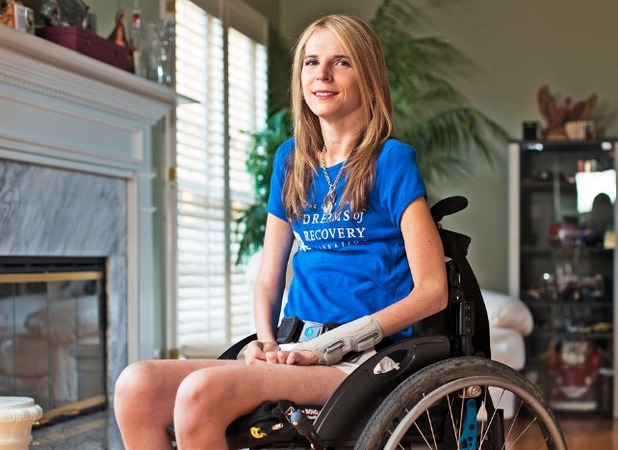 "I just can't be mad at him," says the 29-year-old. "It was a total accident but he still blames himself every day."
Growing up, Cindy always had a strong bond with her dad. He'd take her fishing and taught her to water ski when she was just seven. Always active, Cindy loved everything from cheerleading to football.
On the day of the accident, Cindy had a day off from her job as a receptionist and, desperate to make the most of the first sunny day of the year, grabbed a towel and went to sunbathe.
"Mum and I always sunbathed on our driveway," she explains. "It was much sunnier than our back garden, where the trees created too much shade."
Her mum, Darlene, had already mentioned her dad was coming home for lunch, so when she lay with her head towards the street, talking to a friend on her phone, she wasn't surprised to hear his car approaching down their road. "I looked over my shoulder and saw him stop to check the mail. I figured if I'd seen him, he must have noticed me."
But he hadn't. Jerry drove onto the driveway and into his daughter. "The bumper hit the back of my head, crushing my chin into my chest," she says. "I guess my body must have gone into shock because at first, I wasn't in pain."
When Jerry felt the bump, he thought he'd hit a bucket but when he got out of the car and realised what he'd done, he screamed for help. "He dropped down to his knees next to me, apologising over and over. He was devastated," Cindy says. "I kept telling him I was fine and I just couldn't feel my arms but by the time the paramedics arrived, I could barely breathe.
"When they were putting me into the ambulance, I told Dad: 'If I die, don't blame yourself. I know it was an accident and you didn't meant to do it.' "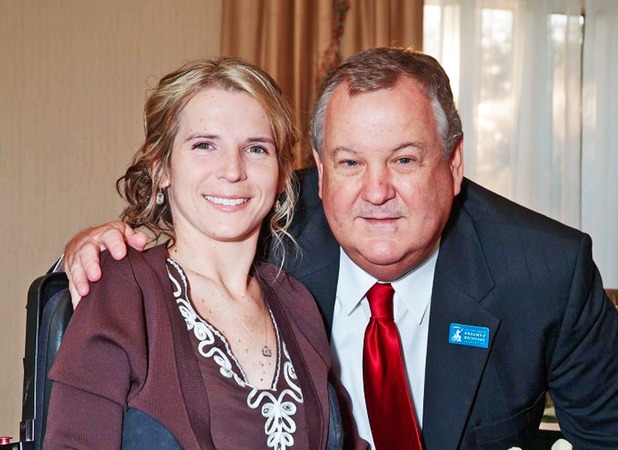 At the hospital, doctors discovered she'd broken her C3, C4 and C5 vertebrae and, despite a six-hour operation to try to fuse them back together, she was told she was paralysed from the neck down. 'It was horrible when the doctors broke the news,' she says. "We were all crying.
"My dad was terrified I wouldn't have a normal life, that I wouldn't be able to have a boyfriend or live by myself or travel. He couldn't stop saying sorry. He'd try to be strong for me but then he'd break down in tears. Even now, he can't talk about the accident without crying."
However, once the initial shock wore off, Cindy never let herself feel depressed or resentful about her situation. "I could blame myself as much as I blame him," she says. "I could tell myself I should never have laid on the driveway but thinking like that won't help."
Instead Cindy has focused on recovering and, with the help of physiotherapy, family and friends, the adrenaline addict can still get her fix. "I never let being in a wheelchair stop me. I can go anywhere, do anything – I've just had to adapt," she says. "I loved scuba diving before the accident and I still do now – I just need a little help. My friends have been so supportive and they'll do things like attach a trailer to the back of their bikes and take me hiking. We go camping and to concerts."
She's even set up the Dreams of Recovery Foundation, a charity that helps people who have spinal cord and brain injuries. It was at one of their fundraising concerts that Cindy met John Cituk, her boyfriend of four years, who she now lives with.
"We just started chatting and he asked for my number,| she says. 'He wasn't fazed at all by the fact that I can't walk. We're even thinking of starting a family soon.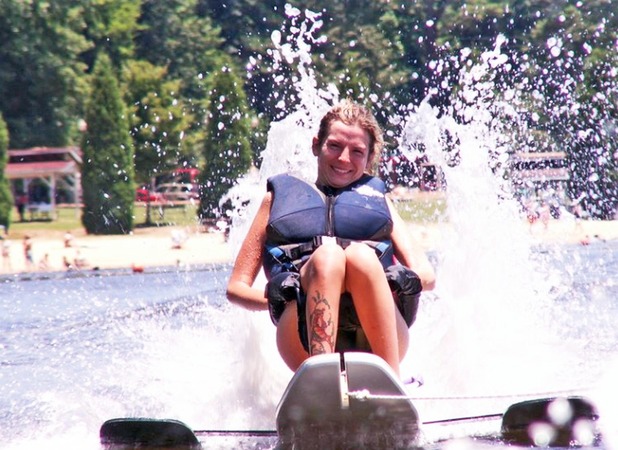 "Seeing that I live a normal life makes my dad happy. Every year on the anniversary of my accident, we try to do something together to celebrate life. On the five-year anniversary we went to Paris and Amsterdam. It was amazing.
"If anything, the accident brought us closer. I was a mummy's girl before but now I make sure we spend time together, to make sure he doesn't feel too guilty.
"Whenever we talk about the accident, I tell him I still have a great life.
"Accidents happen but mine made me the person I am today."
By Marissa Charles
For info on the Cindy Donald Dreams of Recovery Foundation, go to dreamsofrecovery.org