Gemma Osborn, 30, from Cambridgeshire, was 30 weeks pregnant when she was diagnosed with breast cancer. But despite warnings from doctors, she went on to have two beautiful babies…
"When I fell pregnant for the first time, I felt fantastic. I didn't have any morning sickness or achiness. In fact, apart from feeling slightly tired, I'd never felt healthier.
Which was why being diagnosed with breast cancer when I was 30 weeks gone – and just 27 – turned my world upside down. Not only was I terrified I was going to lose my own life, I was heartbroken that I might endanger my unborn baby – or not live to see them grow up.
Having children was always top of my priorities and when I got together with Pete Nichols, the brother of my best friend, in 2006, he felt the same. In fact, after being together for three years, we wanted to become parents so much, we decided not to wait until we were married.
After just three months, I skipped a period. "Let's not find out what we're having," I said to Pete excitedly. "I love surprises."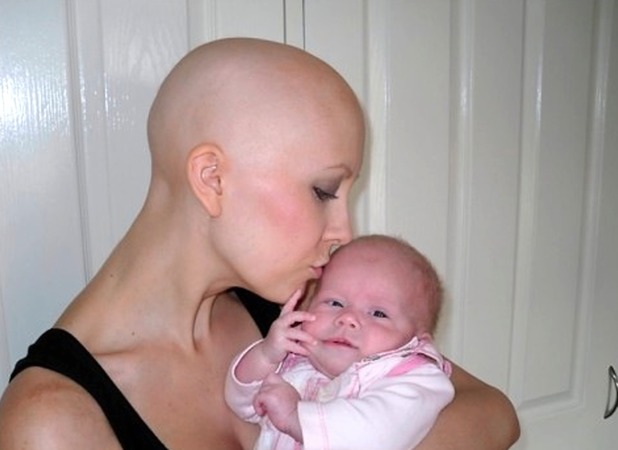 From the minute I found out I was expecting, I was ecstatic. I'd press Pete's hand to my bump whenever the baby wriggled and spend hours looking at baby clothes. Although it was months until I was due to give birth, I couldn't resist buying babygros and blankets.
I even loved my growing body. Determined to take care of it, I smothered my bump and breasts in oils and creams to prevent stretch marks.
That was how I discovered the lump in my left breast at 25 weeks. I was sure it was nothing and my midwife agreed, saying it was probably a blocked milk duct. But when it seemed to grow harder over the following weeks, we agreed it was best to go to my GP. Just in case.
I was still so convinced it was nothing that when a biopsy showed I had an aggressive form of breast cancer, everything seemed to crumble around me. Being a mum, growing old with Pete – everything I'd taken for granted suddenly seemed uncertain. "I don't want to die," I stammered.
But there was no time to feel sorry for myself. The doctor told me I needed to start treatment as soon as possible but the most effective chemotherapy might harm my baby. So, my head spinning, I agreed to a planned Caesarean at 32 weeks, when the child would have a greater chance of survival.
Those two weeks were the hardest of my life. Instead of focusing on my bump, my attention was now on my lump. I'd check it every day, convinced I could feel it spreading inside me. All my joy at being pregnant disappeared as the cancer left me feeling claustrophobic in my own skin.
My worries only stopped on 16 June, when Gracie was born weighing 4lb 1oz. As soon as I saw her tiny scrunched-up face, nothing else seemed to matter. I was a mum – and even more determined to fight the disease.
Just nine days after giving birth, I started a course of chemotherapy. Some people who've had cancer say they hated losing their hair, that they didn't want to put their body through the gruelling treatment. Not me. I'd have done anything to get rid of the cancer growing inside me.
But what did upset me was when the doctors warned me that I might be left infertile. I had a brother, and Pete was one of four, so I'd always imagined having a big family.
"At least you have Gracie," I told myself, determined to stay positive. It was thinking of my gorgeous little girl that kept me going through my five months of chemo and the following double mastectomy.
My consultant told me that if my periods were going to return, it would be within six months. When that came and went, Pete and I resigned ourselves to the fact that we wouldn't be having any more children.
Over the next few months, I started to recover, feeling back to my normal self. There was just one downside to this.
"I need to stop eating so much," I joked to my friend, patting my expanding, rounded tummy. My appetite had grown recently and all I wanted was milk and Marmite.
"Isn't that what you craved when you were pregnant with Gracie?" Pete reminded me. "Imagine if you were now?"
But the idea seemed so far-fetched, we didn't take it seriously. In fact, I even became convinced that my symptoms – my bloated tummy, and needing to wee more often – were signs of ovarian cancer.
"I don't feel anything abnormal" my GP assured me. "Are you sure you can't be pregnant?"
But even though I told her it was impossible, she made me do a test. It came back positive.
I was so shocked, Pete and I bought our own pregnancy tests. They said the same thing. We were having another baby.
Incredibly, a scan showed I was 17 weeks pregnant – this time, with a little boy. I was terrified the doctors would advise me to have an abortion but they assured me that after six months, the chemotherapy should have no negative side effects on my son.
Finley was born in January 2012, and he's the perfect addition to our family. We call him our miracle baby and Gracie my angel – if I hadn't been pregnant with her, I'd never have checked my breasts and discovered the lump.
I've now been in remission for three years and my regular checks show I'm cancer-free. Every day, I look at my children and say a silent thank you that I have them both – and that they have me."
Finding breast cancer early could save your life. Breakthrough Breast Cancer encourages you to know the signs. Text SIGNS to 70500 to receive your free handy TLC guide – standard network rates apply.