Twilight super-fan Cathy Ward has spent almost £8,500 covering her entire top half with tattoos linking to the hugely successful vampire novels.
But not only do the tattoos serve as a striking tribute, they also remind the 52-year-old of her incredible six stone weight loss.
Cathy, who works as a baker at her local Morrisons supermarket in Reading, began to pile on the pounds after the shock death of her mother in 1999.
Speaking to the
Daily Mail
, Cathy, who reached a size 24, said: "That's when I started going really hell for leather doing what I wanted and abusing my body.
"I was sitting down, overeating, just vegetating all the time. I was ashamed of myself and what I looked like."
The turning point came when a friend handed her a copy of the first
Twilight
book at the end of 2009.
Gripped by what she was reading, Cathy quickly went on to read the remaining three novels before buying the DVDs and accompanying soundtracks.
Exercising in front of the films became a frequent habit and the weight quickly started to drop off.
In order to mark her success, Cathy visited a tattoo parlour and had a perfect copy of the New Moon poster emblazoned across her back.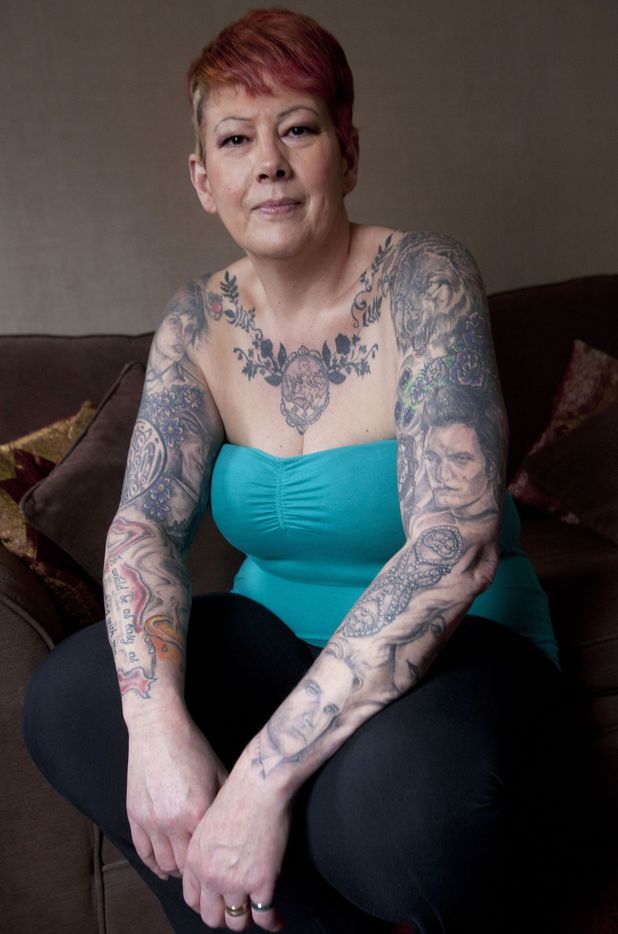 Since then, the self-confessed member of Team Edward has had multiple tattoos inked on her upper half, including the wolf tribal symbol and the Cullen family crest.
She said: "I've had about 91 hours of tattooing now and it's costing a small fortune." However, Cathy's body art is not over yet – "By the time I'm finished, when [my] body's completely covered, we're looking at between £17,000 and £25,000."
And although husband Colin, to whom she's been married for 21 years, appreciates Cathy's body art, some family members are less than impressed. Despite the negative reactions, Cathy is still determined to add to her tattoo collection.
"This is me, this is what I like, this is what does it for me. It keeps me feeling young. It's keeping me permanently broke but no matter what the cost, I am not stopping!"
My Tattoo Addiction featuring Cathy's story will be screened on Channel 4 on Thursday, October 10, at 10pm.Gemma Bradish