Kirsty Owen jumped onto a railway track to retrieve her handbag – then a train came hurtling towards her. This is her story of how she was hit by a train and survived
When Kirsty Owen looks at her horrific scars in the mirror she knows she is very, very lucky to be alive.
That's because, just three months ago, on 13 June, the 22-year-old hairdresser was almost sliced in two by a fast moving train as it passed through an empty station at night in Anglesey, North Wales.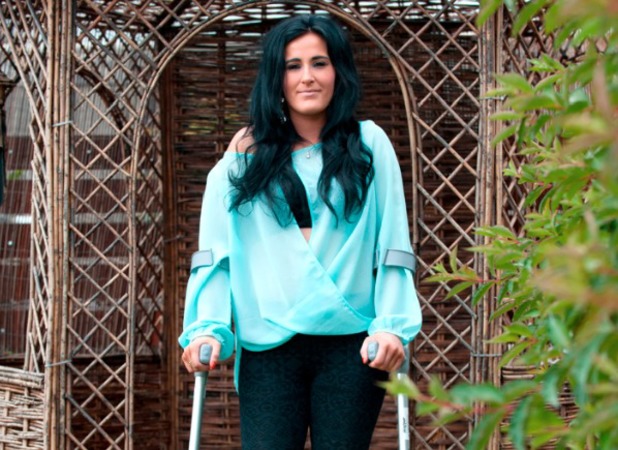 Shocked medical staff at the specialist medical trauma unit she was rushed to said they'd never seen anyone with such massive injuries still alive.
Yet not only did Kirsty defy death, within five weeks she was taking her first steps despite being told she'd never walk again.
The 60 minutes that turned her life upside down had started so differently, with Kirsty heading home in high spirits after a night out celebrating her new job.
Bidding goodbye to her friends, she headed off to Llanfairpwll station to catch a train for the 30-minute ride home. But, as she rummaged around in her £20 black sequinned handbag to find her phone, she somehow dropped it onto the train track.
Concerned about losing her phone, purse and train ticket, she hopped down onto the tracks and retrieved her bag. And in that moment, she saw the bright white headlights of a train coming towards her.
"It came out of nowhere and I tried to clamber back onto the platform," she says. "But I wasn't quick enough. I was only halfway up when the train hit me.
"Suddenly I felt the most awful searing pain as I was thrown up onto the platform. I realised I had been hit. I looked down and saw bright red blood squirting from my back right over my head. It was horrific."
Kirsty was alone at the unmanned station. With panic, she realised there was no one around to help her.
"I thought I was going to die if I didn't get help because I was losing so much blood. It was the worst moment of my life.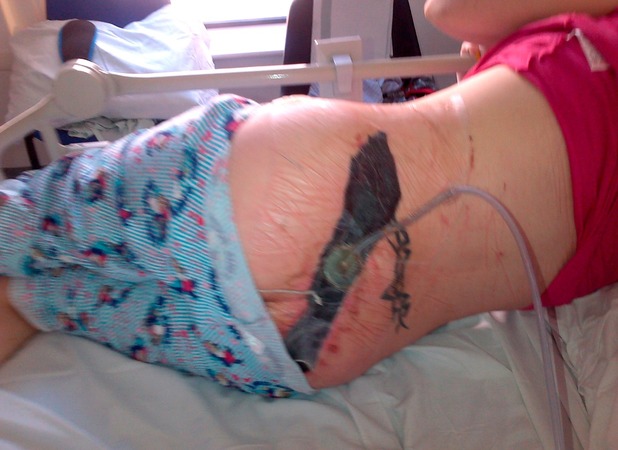 "There wasn't anyone around – it was pitch black and completely silent. I thought of my family and how I would never see any of them again.
"It was then I began screaming as loudly as I could. I felt so weak and dazed but managed to drag myself up 20 steps to a bridge where I hoped to be seen.
"I knew screaming was my only hope."
Luckily, local resident Mads Williams was in her garden when she heard the desperate cries for help and drove to her rescue. Kelly was rushed to a specialist trauma unit at the University of North Staffordshire Hospital in Stoke-on-Trent for life-saving surgery.
Once there, stunned doctors later told her they had never seen anyone still alive with such massive injuries. "I had a broken hip, a shattered pelvis and my coccyx had been completely destroyed," recalls Kirsty. "I could not feel my legs at that point because of the amount of nerve damage."
Fighting for her life in intensive care, she needed over five pints of blood. She underwent emergency surgery where doctors had to remove debris and paint from the train from her open wound to stop infection and blood poisoning. Over the next few weeks she had to undergo 13 more operations to remove infection and close the gaping hole in her back.
After a 12-week stay in hospital, Kirsty had recovered enough to be able to go home to Anglesey.While Kirsty has made a remarkable recovery from her horrific injuries so far, she admits there is a long road ahead. As well as the physical scars, she is still having terrible nightmares about her ordeal and says the last thing she sees every night before she goes to sleep is the train bearing down on her.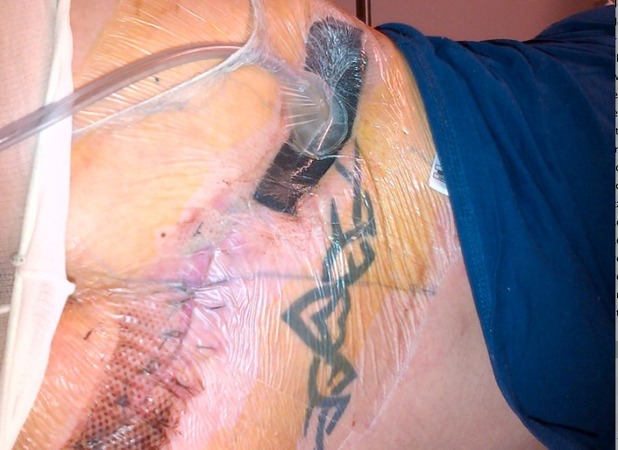 "It was so quiet that night I never imagined a train would be heading towards me seconds later. But out of nowhere I just saw these bright white lights coming towards me.
"I am just so lucky people heard my screams otherwise this would be a very different story."
Kirsty decided to speak out to warn others not to make the same mistake of trespassing on tracks, as the British Transport Police says it 'regularly' sees people going to retrieve belongings they have dropped onto train tracks, without realising the threat of danger.
"I have a long road of recovery ahead," says Kirsty. "I can now walk slowly with a Zimmer frame but I've got to have another op in six months' time.
"But I am a fighter and I'll be back on my feet again. It's just going to take time and I'm going to needs lots of physiotherapy. I won't be able to go back to work for months."
Now, looking back on that terrible night she admits: 'It chills me to the bone when I think about what I did.
"It was a really crazy thing to do but at the time getting my handbag was all that was on my mind. I still can't believe I'm alive. It's a miracle.
"If I could turn back time, I would. My purse, phone and bag were replaceable – my life isn't.
"I'm just so glad I'm here to tell the tale."
Michelle Davies