Think in order to lose weight all you can eat is lettuce and carrot sticks?
Think again! A builder from Bournemouth has managed to lose six stone by eating a diet inspired by Chinese takeaways.
Obese dad-of-one, Matt Riggs, who at his heaviest weighed 20st 5lbs, is now a healthy 14 stone - and it's all thanks to his local Chinese restaurant.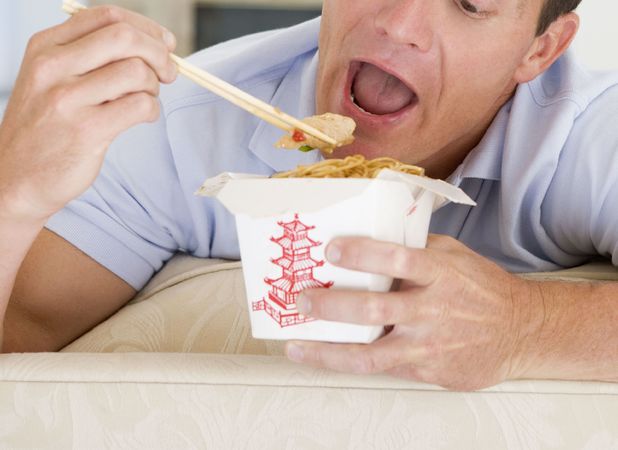 The 35-year-old takeaway-addict started binge eating and drinking up to 10 cans of lager a night when his business was hit by the recession.
He didn't realise how bad things were until he went to the GP with a suspected broken ankle. There, however, he discovered there was no break but that his ankles were buckling under his weight.
Desperate to turn his life around, Matt took the controversial decision of accepting a job in the takeaway.
He explained: "I noticed that many of the customers were overweight and was confused why the chefs at the Chinese were slim. So I watched the way they cooked the food they ate themselves. It was basically the same but without fat."
Along with his new diet, Matt has even given up drinking lager and lost six stone in just 4 months.
Matt said: "I had hardly cooked before, but now I love cooking and have really enjoyed inventing my own recipes. I was losing a pound everyday when I first started."
His diet allows him to eat cereal for breakfast and rivita for lunch plus one of his favourite Chinese dishes such as chicken chow mein. This meal from a takeaway on average contains 860 calories and 30 g of fat - numbers that are nearly halved when home cooked.
Matt said: "People give up on other diets because they can't face lettuce or the other things you have to eat. But with my diet, you get to eat the food you like - just cooked healthily."
By Ellie Roddy