While most big white gowns only get one outing before being boxed up and stored away, these girls decided to do something different with theirs…"I trashed mine!"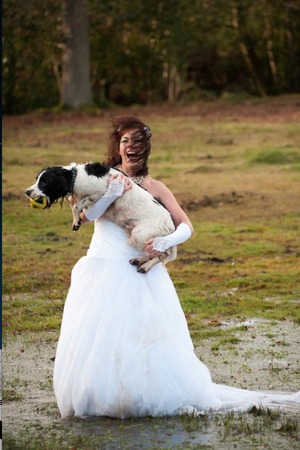 Jessie Jones, 32, from Gosport, Hampshire, did a 'trash the dress' shoot after her wedding day.
"When I got married for the first time in 2003, my wedding dress was put away in a box in the loft. I always thought it was a bit sad that it was languishing up there, unloved.
My husband and I divorced in 2009 and I met Steve, now 30, a year later. When he proposed, I knew this time around I wanted to do something unusual with my wedding dress after our big day. So when I came across "trash the dress" websites, I was instantly hooked. I'm not one for pretty posed pictures – these ones looked natural and, more importantly, fun.
We spoke to our photographer and he was really enthusiastic, suggesting a section of the New Forest that would be perfect for the post-wedding shoot.
I found and ordered my dress online – it was perfect, as was our wedding day last November. But no matter how special I felt in my frock, I didn't have any hesitation about agreeing to trash it.
A few weeks later, I got all dressed up again, this time putting on wellies and green eye make-up, and Steve and I headed to the woods. At first it felt strange to let the soft material of my gorgeous gown drag along the ground but within minutes, I'd forgotten all about it.
It felt so liberating to run about between the trees and throw leaves at each other. We even took our dog, Sebastian, and when he jumped up at me with his muddy paws, I just laughed.
By the end of the day, my dress was covered in dirt – and my cheeks were aching from smiling so much.
My dress only cost £218 but I would have done exactly the same if it had cost £5,000. It gave me just as many wonderful memories as our wedding day did."
"I sold mine for £2,200!"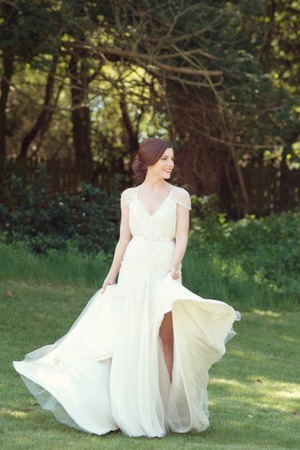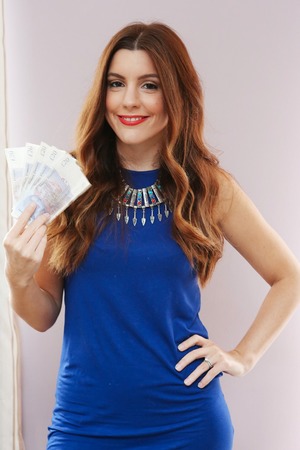 Caroline Lennox, 29, from Newcastle-Upon-Tyne, had already sold her dress before she got married.
"I was so excited when Kenny Dobson, my boyfriend of eight years, proposed to me while we were on holiday in Seville in 2011. Kenny, 29, and I picked a date two years in the future, which gave us plenty of time to save up – and for me to find the perfect dress.
But although I found plenty that I liked, some that made my bridesmaids gasp and brought a tear to my mum's eye, I couldn't quite find The One.
Finally, nine months into my search, I did. It was beautiful – the perfect mix of elegance and classical, of embellishment and lace. But at £3,300, the Jenny Packham dress was completely out of my price range. Heading home, I scoured the internet to see if I could buy it secondhand but, because it was part of a new range, there were none for sale. And those that were similar in style to my dream dress were still extremely expensive.
But as I browsed through my options, it suddenly hit me. If I could sell my dress afterwards for what these women were asking for theirs, I could afford it.
So I set up an account with a specialist site and was ecstatic when I found a bride-to-be in Essex, who was willing to pay £2,200 to wear my dress after me.
On my wedding day in May 2013, as my bridesmaids helped me slip on my dress, I felt incredible. Everyone spent the day complimenting me and, for once, I felt as beautiful as they told me I was.
Four weeks later, I didn't feel at all sentimental or emotional as I packed the dress up to send to its new owner. What would I have done with it? Left it in the loft, probably. It was too gorgeous for that. Instead, it's nice to think it made another bride as happy as it made me."
"I transformed mine into a new outfit"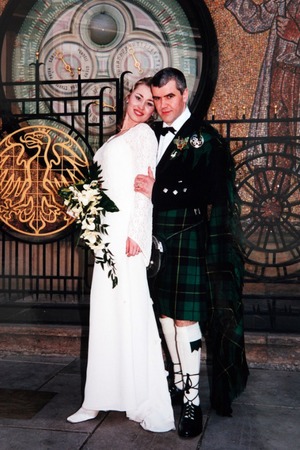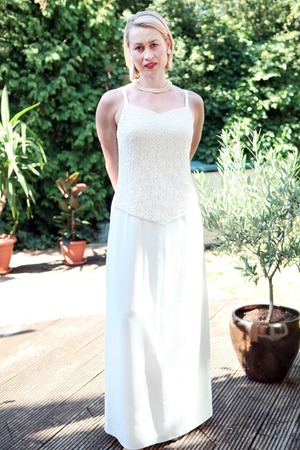 Lenka Gourdie, 39, from London, tailored her dress so that she could wear it again.
"As soon as my boyfriend of three months, Allan, 46, proposed to me in December 2002, I knew I wanted to have my wedding dress made. It always seemed silly to me to spend a fortune on a dress that you only wore once and then put away, never to be seen again.
Plus, I was lucky that my family are really into fashion – I've got my own handbag website, bagservant.co.uk, and my aunt had been making clothes for me for years.
I knew exactly what I wanted when we sat down to design it together. But not only did I want a simple train with an elegant cream bodice, one of my specifications was that I'd be able to alter it easily.
Because even then, I knew I wanted to change my dress into something I could wear after the wedding. I'm a very practical person and the thought of designing something I knew I'd never wear again just seemed a waste.
On my wedding day in March 2003, I felt stunning in my made-to-measure dress. But after removing the sleeves, shortening the train and changing the straps, I felt equally gorgeous in it when I wore it in the months to follow for posh evenings out. Putting it on brought back all the happy memories of our big day. I even turned the long sleeves into a shrug that I wore over strappy tops.
Now I've lost weight, I haven't been able to wear it as much, so I'm thinking of taking off the skirt and turning it into into a top – it would look great with skinny jeans and heels!"