By Jennifer Wiley and Su Karney
He's almost two, yet Frankie Phillips is the size of a three-month-old. His mum, Samantha, 28, tells us he's earned the nickname Frankie the Fighter
'As a mum of seven with one on the way, I know a thing or two about children.
My kids are my entire world. But nearly two years ago that world was turned upside-down following the birth of my son Frankie, when my fiancé Billy, 27, and I found ourselves accused of not feeding our newborn baby properly. Worse, doctors refused to let us take him home.
A doting stay-at-home mum, it was the worst accusation anyone could make – not protecting and nurturing my son.
It wasn't until Frankie was 10 months old that doctors realised their mistake and diagnosed him with a rare form of dwarfism.
Russell-Silver Syndrome (RSS) is rare and the most common type affects the seventh chromosome. Frankie's type affects the 11th chromosome and is so unusual that only six other people in the world have it.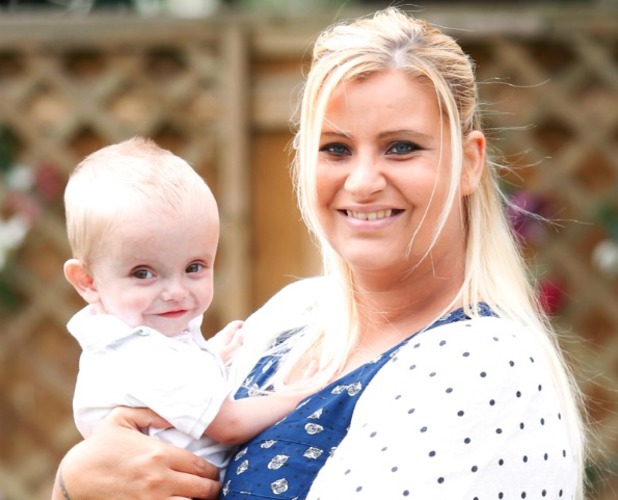 So, although Frankie will develop at a normal rate mentally, the tallest we expect him to grow is about 3ft 6in. He has low muscle tone, trouble coping with heat and has had serious struggles with eating.
And though we will be celebrating his second birthday next month, Frankie weighs just 14lb – the same as the average three-month-old baby.
But for what he lacks in size, he more than makes up for in fighting spirit.
When I discovered I was pregnant in February 2011, Billy and I were thrilled. Our home in Swindon was already fit to burst with six giggling and sometimes squabbling children – Destiny, now 11, Tyrese, six, Shaniya, four, Rio, three and twins Sienna and Savannah, two – but there was plenty of room and love for one more.
However, this pregnancy was fraught. At seven weeks I was wrongly told I had miscarried and three weeks later there followed another scare when the baby's heartbeat didn't show up on a scan.
I suffered bleeding and the baby's heartbeat was faint until, at four months, a consultant insisted the baby would only survive another 72 hours.
Yet my mother's instinct told me the child inside me could make it.
At my 20-week scan, doctors realised the baby wasn't growing properly.
Regular growth scans showed the same. Three weeks later, I fainted and doctors wanted to deliver the baby but I begged them to wait to give him a better chance at survival.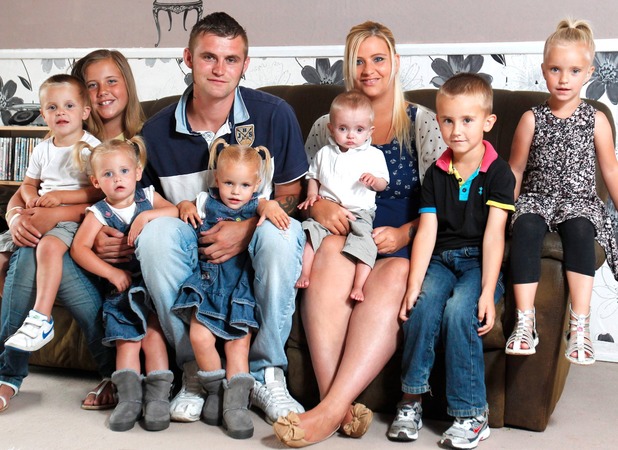 On 26 September 2011, at 27 weeks, Frankie made his arrival. It was touch and go and doctors said they came within 10 minutes of losing us both after I began bleeding heavily. But following a successful Caesarean, our son was born weighing a minuscule 1lb 15oz.
Frankie was 12 hours old when I first saw him. He was so little and had tubes everywhere. I was terrified of letting myself get attached in case he didn't make it.
But as I stroked his leg in the incubator for the first time, it jolted outwards, as if to tell me he knew I was there and to show me how strong he was.
The next month passed in a blur. Because Frankie was so premature, our twins were only eight months old. Every day I had to tear myself away from them to visit our poorly son and then wrench myself away from him to go home again.
Just as hope was on the horizon, doctors established Frankie was struggling to eat and he had to be tube fed through his little nose.
Two months passed and all I wanted was to take him home. I did the training so I knew how to feed Frankie myself but still the doctors wouldn't discharge him.
I discovered why – they didn't think I'd be able to cope because I had so many other children. I was shocked. As his mum, I would care for him like no one else could.
I begged them to reconsider and, after a visit from social services, Frankie was allowed home. We were overjoyed, but it was short-lived. I took every care to feed Frankie correctly but he wouldn't grow.
He ended up spending eight of the first 10 months of his life in hospital. He just wasn't gaining any weight.
Then, a doctor told us Frankie couldn't come home because they thought we weren't feeding him properly. They labelled us bad parents when all we wanted was for our boy to be happy and well.
At 10 months old, Frankie was sent to Bristol Royal Hospital for Children, where a genetic specialist uncovered the truth. Our son had RSS. It was the reason he couldn't feed properly and didn't grow.
I was just relieved we had a diagnosis.
Two days later we took our son home for good. And though Frankie has his problems, life's been amazing. He's the star of our family now – Frankie the Fighter.
The only thing that upsets me is when strangers stare and ask rude questions like: "What's wrong with it?" I've had people call him a freak and say I should never have had him. I think there must be something wrong with people if they can't see what a gorgeous, loving boy Frankie is.
Every milestone will be a hurdle for him to get over but I know he'll get there. He'll just fight that bit harder.'
For more info, visit facebook.com/littlegiantsrussellsilversupportpage