by Tracy Gayton and Sarah Whiteley
Liz Sutcliffe, 24, discovered her two-day-old son Maison had a cancerous lump that had been growing since he was in the womb
'As my son, Maison, sits in the garden watching the birds flit from tree to tree, his face crinkles into a smile and he turns to me, pointing upwards excitedly.
Rosy-cheeked and bright-eyed, he's the picture of health. Only three fading scars on his body hint at everything he's been through in his brief seven months of life.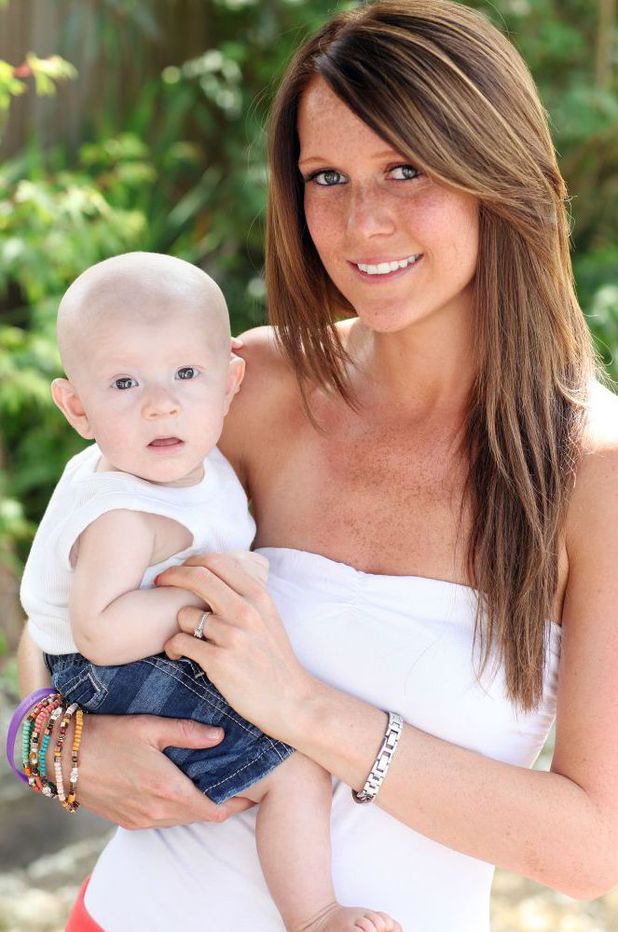 Maison was only two days old when my boyfriend, Louis Larman, discovered a lump in the baby's tummy. To our horror, it was cancerous, and it had been growing since before he was born.
Everyone thinks their baby is special but to us, Maison was more than that – he was our miracle.
Louis, now 25, and I met as teenagers and moved in together in Essex when I turned 22. I was a bookkeeper and he ran his own car-park business. Although we were young, we had our future planned.
"One day, we'll have two kids," we agreed. "Maybe three."
But just months later, my periods stopped and I was diagnosed with polycystic ovary syndrome. I wasn't ovulating and without producing eggs, I couldn't conceive naturally.
I was distraught. But Louis wouldn't let me stay down. We went travelling to Asia, making the most of being young and free.
And my sister, Hayley, promised to carry a baby for us if we needed her to. But we didn't. Because, in April 2012, something incredible happened. I began to feel a bit different. Though I didn't dare hope for it, I did a pregnancy test.
A blue line appeared but it took another seven tests before I could believe it. We were going to have a baby.
Within days, morning sickness kicked in, but I was so excited, I didn't care. I rested and watched my diet obsessively, like the books advised – after all, this might be my only chance to be a mum.
When Maison arrived four days late in January 2013, weighing 7lb 10oz, we were delighted. He had a shock of thick dark hair, just like his dad. We thought he was perfect and the doctors agreed, letting us go home the next day.
But just a day later, Louis was changing our son's nappy when he noticed a lump bulging out of his tummy.
Gently, I felt Maison's abdomen – it seemed hard. And there were purple bruises along his nappy line. That afternoon he couldn't settle. We debated giving him Calpol, but decided against it. After all, he was still so young.
Later on, a midwife visited and said he was fine. Two days later, another midwife agreed. But nothing could soothe my worries – especially as Maison was now bruised from his waist to toes.
So when he was nine days old, we took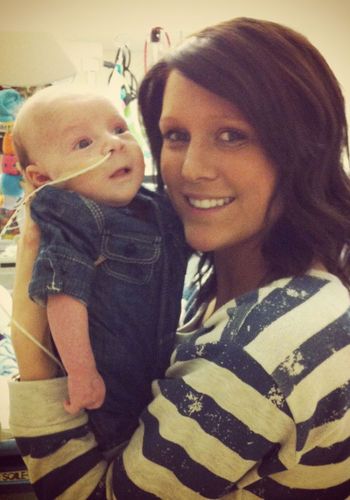 him to Southend General Hospital. The doctor said he'd never seen anything like it and ordered an emergency scan.
My unease was growing but nothing could have prepared me for the results. "Maison has a tumour," the paediatrician said. "It's 10cm and is restricting the blood flow to his legs, which is why they're bruised."
I burst into tears while Louis asked: "Is it cancer?"
But they couldn't answer us. Instead, they transferred us to Great Ormond Street Children's Hospital in London. There, despite more tests, doctors still couldn't tell us what the tumour was. After five days, they decided to give Maison chemotherapy – just in case.
My heart ached. Just days ago, we'd agonised over a teaspoon of Calpol. Now I had to sign a consent form to allow him to have the harshest treatment available. Guilt overwhelmed me as Maison threw up and his hair fell out.
But the treatment wasn't in vain. At 19 days old, they diagnosed our little boy with embryonal rhabdomyosarcoma, a rare kind of soft tissue cancer attacking his bladder and prostate gland. The paediatrician said the tumour was so large it must have been growing before he was born. He'd never known of it before.
Had Maison had cancer inside me?
"Did I do something wrong?" I asked, my voice cracking. But he assured me Maison was just unlucky.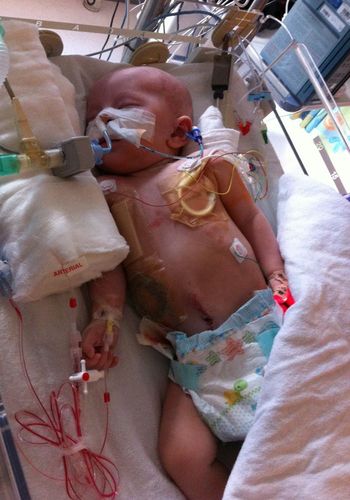 Now they knew what was wrong, doctors inserted a Hickman line for future rounds of chemotherapy to shrink the tumour before removing it.
The gruelling treatment made Maison tearful and clingy. He was hooked to so many drips, we couldn't even hold him. All we could do was stand next to his cot, stroking him for hours. He had no resistance to germs, so we couldn't take him out – and the only visitors he was allowed were our mums, but we got through it, somehow.
In March 2013, Maison was allowed to leave hospital but only for six weeks. Then, he had to return for a 10-hour operation. It went well but the surgeon had to remove his bladder and prostate, leaving him infertile. But we were just relieved he was on the mend.
Since then, time has passed in a never-ending cycle of hospital visits. Maison's having preventative chemotherapy and is due to have his last treatment this month. His little head's still bald, but he can drink from a bottle and is eating solids now.
Maison's start to life has been full of pain, yet he's the sweetest, happiest little boy. Because it's simply unknown for a baby to be born with embryonal rhabdomyosarcoma, nobody can tell us what the prognosis is. We're just taking each day at a time.
For us, the fact that Maison was conceived at all was a blessing. Is it too much to hope that – having been granted one miracle – we will now get another?'